Axl's Medical Journey to speak and catch up
Welcome! 
This
 is your chance, a rare opportunity to be apart of an ocean of possibilities for our little boy & his challenges with Pierre Robin Sequence. 

We are Raymond Dominguez & Rosemarie Ferranda, proud parents of Axl Ray Anthony, this fundraiser will directly benefit his developmental future... 


On March 1st, 2017, our Axl arrived in his very own signature style, hand in the air, stating, "I have arrived!" 6lb 14oz, He is quite a photogenic little guy. Axl was full term & nothing was predetermined to be amiss.
And here's where Axl's journey began... Axl had a rough start feeding, but not all babies latch immediately. Bottle feeding delivered about the same results, just drinking at a slower pace. About 8 hours after birth we were alerted that Axl had a cleft palate. We were discharged to see our pediatrician at 5 days old.
Axl was 8 days old when we met with the Cleft & Craniofacial Team at Barrow Neurological. Here's where things got interesting & a lot more complex. Cleft Palate, Weight loss, feeding difficulties, Dr Browns Specialty Feeder Bottles, specific feeding positioning, etc... Fish-out-of-water, lost, worried, yes, yes, we were and sent home to follow up with our primary care physician. 
Amid weight check appointments with our pediatrician & the Cleft Center, Axl was admitted at 17 days old to Phoenix Children's Hospital for Failure To Thrive (FTT). A feeding  tube (NG) tube was urgent & specifically a neonatal one, as his tiny size wouldn't allow for an infant one. As any two anxious, worried parents we found ourselves drowning in medical terminology; literally lost, mentally-emotionally and physically exhausted. We had consultation with BCCC/PCH Chief Craniofacial Plastic Surgeon. In all of her composure, knowledge & years of capability, she explained briefly, Pierre Robin Sequence & Central Complete Cleft Palate. She assured us both that life-saving surgeries would be necessary and timely. BIG SIGH.  So much to take in, no time to waste, so you just dive right in along with the experts.
March 28th, 2017 At 28 days old, Axl underwent his 1st surgery, to keep the medical terminology and the full monumental details to a minimum I will continue in simple terms. Our fragile, 6lb 11oz little superman had mandibular distractors placed on both sides of his lower jaw and also tubes placed in both ears. Walking into the PICU department witnessing Axl in this fragile condition was entirely overwhelming, sensing absolutely helplessness and still so very lost in all of this. After 30  hours of intubation, we were able to hold him, & 24 hours after, discharged to home with NG Tube & pump, home apnea monitor, and activator for the MD devices.
For the following 71 one days, every 6 hours, turning the end of the device with an activator tool, completing one complete turn each time. For only one week we did ear drops every 8 hours. We kept track of when he ate, how long it took, whether it was bottle or NG tube, wet/dirty diaper, antibiotics and pain meds, skin to skin contact time and noted anything out of the ordinary. We definitely saw the results of our every detailed accomplishment with our little fighter. 
8 days transformation
30 days transformation (April 27)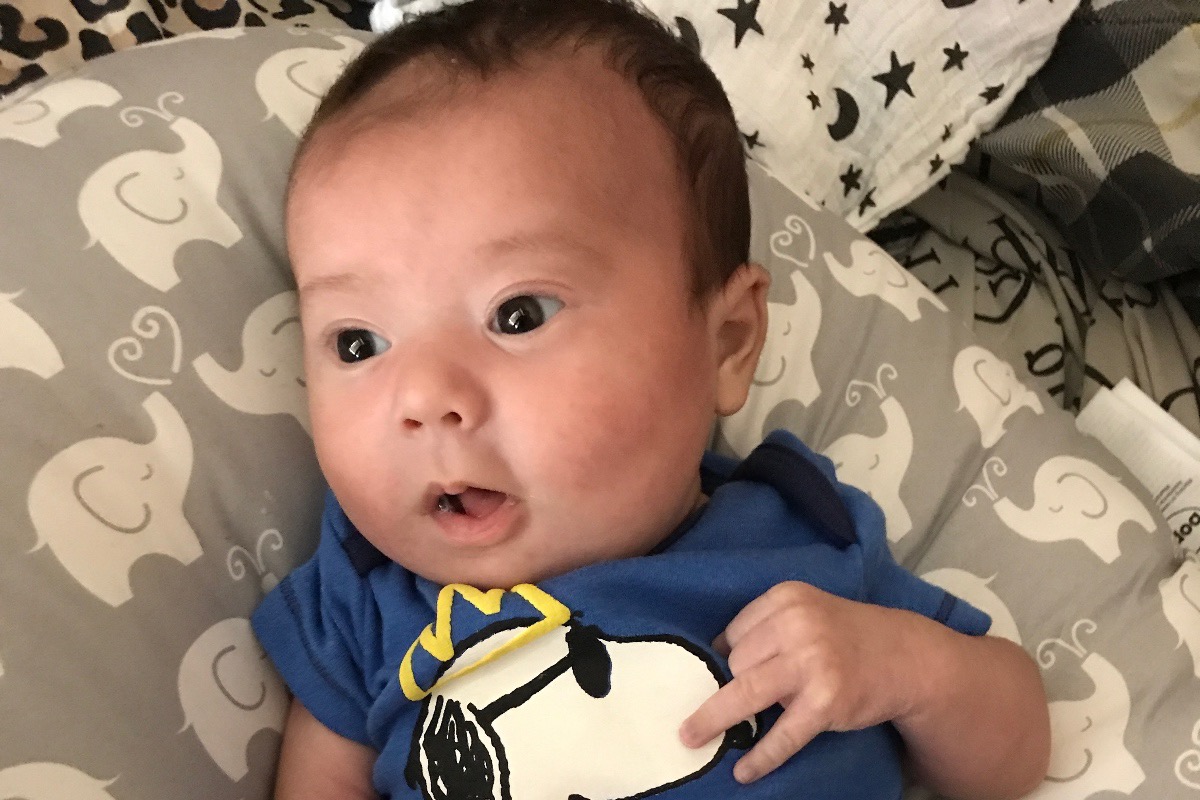 March 28th, 2017 to May 10th, 2017 
Awaiting going back for extraction of the bilateral distractors
May 11th, 2017, (2mo1wk3D) Axl's 2nd surgery was the extraction of the mandibular distractors placed to aid the growth of his small lower jaw. The transformation of round-the-clock activating, antibiotics and pain management and food intake proved to be gratifying but we weren't out of the woods yet. His mandible was brought forward allowing his tongue to settle in & with weight gain he should be ready for palate reconstruction at 9months old.
Sutured and Bandaged 
Swollen but meds & resting & fluids were key to comfort & going home.
Can you just admire that jawline? What a miracle! What a road ahead to travel... hope and faith will carry us through. 
Follow up doctor appointments filled our calendar and in August 2017 Axl was cleared by Dr Cordero, SLP of Barrow Cleft & Craniofacial Center for palate repair so we decided to celebrate with attending a Dodgers game here in Phoenix. That was a fun time, Axl loves people watching! And the Dodgers beat the Dbacks!
From the distraction process to palate repair there were well over 100 doctor appointments, two surgeries, three procedures & four hospitalizations. Which brings us to palate reconstruction, in December 2017 (9mo1wk). Axl's palate is a Central Complete Cleft, a split from the uvula, which hangs when you open your mouth to the hard palate, which is most common & even his submuccous above the soft palate. We can't decide which is harder, surgery at 28 days old or 9 months or even 3 years old?
Here's the pre-op moment handing him over; the longest 2&1/2 hours.
Recovery Room was terrifying. His breath smelled toxic, his oxygen levels were dropping, it was a scary three hours before we got to a room & three sleepless days before we were able to be released home. 
..And Axl's Nana, Nadine was an integral part of making it happen! All happy faces as we got the news to go home! The journey continued...Getting home seemed to be a mirage. The first few days were extended naps, sporadic drinking episodes, keeping the meds & antibiotics on tap. The last 4 days of the 2 week period were by all means unhinged. From no sleep, overtired-cranky, no drinking to creative syringe feeding, & absolutely nothing to bring contentment; day 15 was like someone flipped a switch. Axl was starting slowly to feel better, getting used to his new settings, of course this would take time, and time it has.
2018 had routine pediatrician appointments, post-op appointments with our Craniofacial Surgeon & parent requested appointments with our Speech-Language Pathologist(SLP). We were referred by our SLP when Axl reached 18 months old to the school district's Early Intervention Program. We had them evaluate, but we were planning to sell our home and move, and so they would need another referral and Axl would need to be 2 years old to receive their help. 
2019 was much like 2018, routine checks with our pediatrician, only 2 appointments with our SLP (requested by mom),  a dentist appointment with a cleft specialist, a 2 year post-op with our surgeon & a psychologist @ Barrow, and our ENT decided a total tonsillectomy, partial adenoidectomy, new ear tubes and frenulectomy would be in Axl's best favor, so July 8th (2yrs 4 mo old) Axl conquered his 4th surgery. 
So in bringing everyone up-to-date, Axl will be 4 in March, he stands 38 1/2 inches tall & 33lbs. He's "long and lean", like his pediatrician says. Due to Axl's congenital diagnosis of Pierre Robin Association w/ Central Complete Cleft Palate, the timing & recovery intervals of his life-saving surgeries contributed to greatly missing milestones that babies born routinely reach mostly without issue. 
And here is where we are reaching out & your kindhearted, unique opportunity will go to help our little man grow exponentially...
In addition to Axl's Pediatrician, Craniofacial Plastic Surgeon, ENT Specialist, Audiologist, Gastroenterologist, Chiropractor, Pediatric Dentist & Speech-Language Pathologist..
 - Axl should have been seen by a Pediatric Geneticist, once diagnosed with PRS, and so we have now added one at Cedars Sinai in Los Angeles bc any more time we do not have.
- Axl now requires being evaluated by a Developmental Pediatrician because our assigned SLP failed to treat his speech-language deficits, social & cognitive communication issues or offer any therapy sessions to treat these issues
- Axl now requires physical & occupational therapies to address fine motor skills; gross motor skills; sensory integration; social integration skills; self care, daily activities & executive functioning; behaviors for developing play skills & interests; adaptive behaviors for successful transitions & participation with others
This avenue of fundraising will directly intercede for us as Axl's parents. Fighting anything medically related requires mental, emotional and physical strength as well as money. Axl's medical journey and developmental future requires all of it. With Dad (Ray) as the sole provider, these funds will unequivocally assist (here's where the money raised will be used) with insurance deductibles, doctor fees and facility costs for procedures, specific intrinsic therapies and other elements necessary for Axl's long-term prosperity.
He loves anything to do with water (such a pisces), He loves Mickey, Cars (the movie), Toy Story and Finding Nemo. He loves being outside. He intently watches the credits at the end of a movie as if he's reading them. 
Any amount is more than enough. And we are so grateful!
Sharing his story is spreading awareness.
And the ultimate gift of hearing the sound of his voice & the day that he utters the word "DAD" will forever change the world.
All money will be used directly for any medical costs for Axl's care in preparing him for Kindergarten 2022.

Organizer
#1 fundraising platform

More people start fundraisers on GoFundMe than on any other platform. Learn more

GoFundMe Guarantee

In the rare case something isn't right, we will work with you to determine if misuse occurred. Learn more

Expert advice, 24/7

Contact us with your questions and we'll answer, day or night. Learn more