If you're reading this, then you probably already know Andrew Norton and if you don't, you should.   Andrew is not just a great friend, son, brother, boyfriend, roommate, colleague, and neighbor, he is a FIGHTER with balls of steel and a heart of gold. (Well, now one steel ball....but you get the point!!!)
Just over 7 weeks ago, Andrew was diagnosed with an aggressive form of Stage 1B Testicular Cancer. Cancer, being the bitch that it is, can really derail someone's life in more ways than one. So, in addition to providing physical and moral support throughout his battle, we would now like to rally to provide him a little financial support to help offset his incredibly high medical bills.  Andrew is not one to discuss this part of his battle, but it's a part that is challenging as insurance did not pick up much of his costs.  And, knowing Andrew,  you all know he would do the same for any one of his friends, his family, and even a complete stranger, so anything you can contribute would be greatly appreciated by him! 
With a huge thanks to his wonderful girlfriend, Taylor Stahl, and his amazing roommates and friends for taking care of him through the tough treatment stage, please join me in raising some fast funds to help offset the pile of bills he is facing. It would do worlds of good towards his continued fight and mental outlook!
For a quick reminder of what he has gone through, please read his personal Facebook post below and see for yourself his fierce dedication and determination to beat his cancer, first hand. 
Thanks in advance for joining Andrew's Army with any financial assistance you can spare and for passing this on to anyone you know who might like to contribute.  Every cent is appreciated. 
Go Fight Win!
Andrew writes:
Just over 6 weeks ago, while on my backpacking trip through Europe, I discovered a small lump on my right testicle. At the time it was painful, but nothing I was worried about. I monitored my symptoms very closely and decided to get it checked out as soon as I got back. 
I met with my doctor and he ordered an ultrasound, just to make sure it was nothing serious. After my ultrasound, I took the long way home along the coast to reflect I get a call from my doctor. I'll never forget this phone call, his words were: "Hey Andrew, the ultrasound is reading mass, NOT a cyst, M-A-S-S, mass." So this is where everything got serious, pretty quickly.
Fast forward a few days to Tuesday, August 21st, 2018. I met with my Urologist to go over the ultrasound results and what my options were. Only option was surgery to remove the mass (90% prognosis) to get rid of the cancer and cure me completely. Perfect, let's do it. 
Friday, August 24th, 2018 - surgery went great, recovered for a week, and scheduled follow up appointments to asses my post-op progress and reveal the results of the Pathology report. 
Friday morning, August 31st – I got good news and high fives from my Urologist. The surgery went perfect, my scars looked great, no visible cancer markers during surgery, and my CT scans were negative. We left his office with big smiles and tears of joy. Barring any unforeseen results on my Pathology report, I was stoked on the news and ready to put this all behind me. 
Friday afternoon August 31st – We walked across the hall for the next (more nerve racking) appointment with my Oncologist. Curveball; I was diagnosed with the more aggressive form of Stage 1B Testicular Cancer and further treatment would be required. My team of doctors sat down and informed me that the cancer cells had started to spread to my lymph nodes, and if I did nothing, there would be 60% chance of recurrence within the next 1-2 years. By then, the cancer could spread to my lungs/heart/blood, etc...
Option 1: Close observation, expect to come in for exams, CT scans, and extensive blood work 4 times a year for the next 2 years - 60% chance of recurrence. 
Option 2: Surgery to remove the lymph nodes from my abdomen, 6-week recovery, very invasive and complicated surgery - 10% chance of recurrence.
Option 3: The recommended, and my least favorite option - an aggressive 3-week chemotherapy treatment - <1% chance recurrence.
After a lot of thought and consideration, I decided to move forward with chemotherapy. They told me it wouldn't be easy and that I would probably lose all my hair and gave me an entire book full of other side effects. But I figured these guys over at MD Anderson Cancer Center probably know what they're doing so fuck it, let's go for it.
I am now currently 90% of the way through my treatment. I have had good days, and some really bad days,  I have lost some of my hair, but am starting to feel more like myself again.
The reason I'm sharing all of this is because maybe it can help someone else. It would have been easy to lose my head, think "why me", and feel bad for myself. But there is always one thing that you can always control in life no matter what your circumstances are, and that is your attitude. Control what you can control and keep a strong mindset.
I went into this thinking, I'm going to beat this thing, and kick cancer's ass and that is exactly what I'm doing. Without the love, support, prayers, and positive thoughts from so many of you it would not have been easy, so, thank you. 
A special thanks to my girlfriend Taylor for being with me every step of the way, I seriously could not have done this without you by my side. Thank you to my family, for coming down to spend time with me and support me, and to my roommates and friends that stopped by to see me, bring me food, or just to hang out.
Another, HUGE thanks to my team of doctors and nurses at Scripps Torrey Pines MD Anderson Cancer Center. I was very fortunate to have been referred to the best doctors and the highest-level cancer care available.
Finally, a massive thanks to my employer and co-workers at Housecall Pro for being so supportive and encouraging during this time.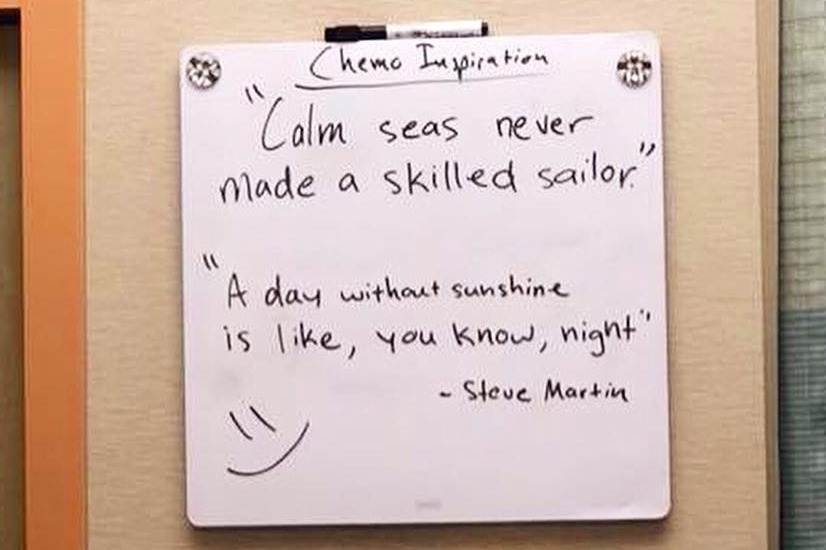 Fundraising team: Check your Nuts foundation (3)
Carter Lescault 
Organizer
Raised $710 from 8 donations
San Diego, CA
Taylor Nicola 
Team member
Raised $1,890 from 17 donations
#1 fundraising platform

More people start fundraisers on GoFundMe than on any other platform. Learn more

GoFundMe Guarantee

In the rare case something isn't right, we will work with you to determine if misuse occurred. Learn more

Expert advice, 24/7

Contact us with your questions and we'll answer, day or night. Learn more