. When I was two and a half years old I was diagnosed with Neuroblastoma. Neuroblastoma is a cancer that effects young kids in between the ages of 2 and 3 years old. When the doctors found the tennis ball size tumor on my spine in between my heart and lungs they gave me a %25 chance of surviving. After an extensive 14 hour operation the doctors got the cancer out of me with no problems. At age 5 I was given a cancer free diagnosis and moved on with my life
. At age 15 I got up like any other day and began to get ready for school and got in the shower, Suddenly I blacked out and when I woke up I was missing half my vision. Worried and confused I went to school and fought through the pain, when I came home I still had my vision gone.
I called my emergency nurse mother to let her know what had happened. She left work and got me immediately. After a MRI scan of my head doctors came in and told me I had a stroke. This was caused by an A.V.M deep in the center of my brain. There was only one thing the doctors could do to help me because the AVM was too deep in the center of my brain to operate and any attempts to do so would most likely kill me, if not cause more damage. So they did a procedure called Gama-knife radiation. 2 years later I had another stroke that left me with a huge head ache, nauseated and a little weak on the left side of my body. Fearing for my life, I suddenly realized I'm not going to be around forever so I wanted to build something that would out last my life.
Then one day out of nowhere I ironically came across this idea about longboarding across Canada for a cause. Longboarding was my life and my passion, it was what I did that made me feel free from the mental entrapment I was in and kept me active and healthy. So it only made perfect sense to do it. So I called my dad and asked what he thought about me longboarding across Canada. He loved the idea as much as I and we teamed together to create a non-profit organization supporting the coast to coast against cancer foundation, as well as the heart and stroke foundation, We packed are bags and flew to the furthest coast from home.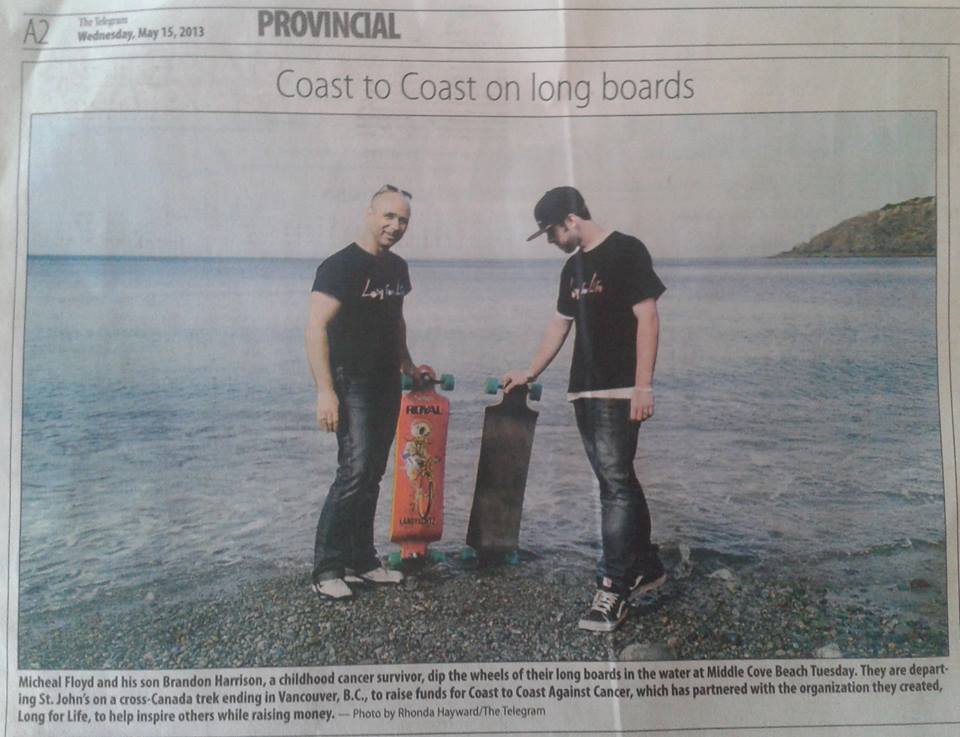 After a grueling 115 days and 5400 kilometers we got from St. Johns Newfoundland to Lake Louise Alberta. There we stopped, took a break and drove to Red Deer for our second annual heart and stroke longboarding fundraiser. After riding around for about an hour I got off my longboard and bent down to pick it up with my left arm but my left arm just didn't work, so I went to kick it up with my left leg but it didn't work or move either . Enveloped in pure confusion I called out to my dad till he looked at me then I collapsed to the ground. I woke up 3 days later from a coma on my 20th birthday. Turns out I had another stroke that paralyzed the entire left side of my body
. I could not feel or move anything on the left side. i spent 105 days in the hospital recovering and the last 3 years in therapy learning to walk, and longboard all over again. the summer of 2016 im planning to finish the last 1100 kilometers of my cross canada trek. i dont know if ill finish it all in 1 go, but 1 step, 1 push, 1 pedal, and 1 kilometer at a time im going to finish this.