Dollars for Dylan                 #DollarsforDylan
We'd like to ask for your prayers and support for Dylan Kage Guzman-Barton. Please add him and his family to your prayer list.
Dylans Delivery
On Feb 27 around 8:15 pm, Dylan's Dad, Ernie rushed Dylan's mom, Sarah to the Lumberton Regional Medical Center 14 miles away. While driving, Ernie called the hospital and let then know what was going on. A team of medical personnel were standing by when they arrived. An emergency C-section was performed. In just a few moments,
Cruz Kage Guzman-Barton entered the world kicking and screaming. He weighed 6 lbs. 4 oz.  While the nurses were taking care of Cruz, his identical twin brother,
Dylan Kage Guzman-Barton was delivered. 4 lbs. 3oz. He was not breathing and had the faintest of heartbeats, the medical team resuscitated him, and he was transported to the New Hanover Regional Medical Center Neonatal Intensive Care Unit (NICU) 1.5 hours away in Wilmington NC.
At some point between going into labor and delivery (approximately 30 mins) he had been without oxygen. We aren't sure how long he was without oxygen.
At the New Hanover Regional Medical Center NICU.
While in Wilmington he suffered from seizures and stopped breathing on 4 different occasions. His NICU team is providing unbelievable medical care. The entire team is phenomenal.
However, Dylan had a collapsed lung and was placed on a ventilator to assist in his breathing. Currently he is still off the ventilator and receiving oxygen. His latest EEG shows some brain activity, but nowhere as much as a normal child. His doctor stated that most infants who go through the type of trauma Dylan has, do not live.  Dylan is fighting the odds.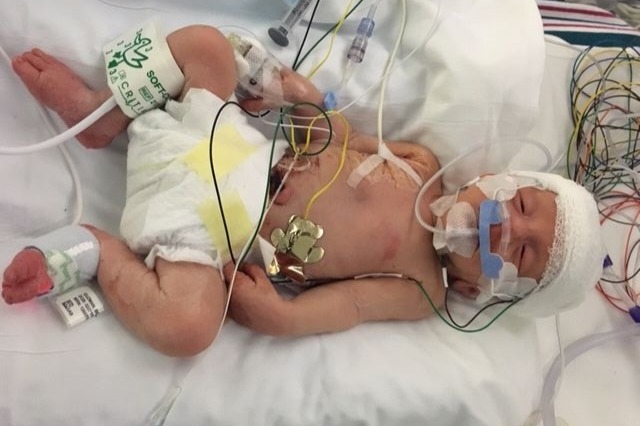 According to Dylan's medial team, we can expect a long road to recovery. At this point we are all hoping and praying that Dylan will recover with minimal long-term effect. We ask that you join us. With 4 children at home, Dylan's family splits time between home and the NICU in Wilmington.
Sister Vaida and twin brother Cruz at home
Please support Dylan and his family to help with the cost of medical, travel and room and board expenses while Dylan is in NICU in Wilmington NC by donating and sharing his link
https://www.gofundme.com/9sfbb7-dollars-for-ylan?teamInvite=QRYx3gEkwmbIITPOI0DeuBGYCQAMS3CQJygDrUs6qXhEc2OdIGsla7nPSMzkVnF6
 Thank you so much for your support!
Fundraising team (2)
RickandMiranda Woodell Barton
Organizer
Raised $525 from 8 donations
Pembroke, NC
Janetta Cheek
Team member
Raised $150 from 2 donations
This team raised $900 from 17 other donations.