Send Melody to San Francisco!
My name is Melody Sherard-Redman and I recently graduated from the University of Akron with a B.A in Sociology/Criminology. I began my educational journey at Akron U in the early 80s. Twenty five years of marriage and 4 kids later at the age of 50, I decided to go back to school to pursue my dreams. This fall I will be embarking upon the journey toward the M.A./Ph.D. joint program at Akron U and Kent State University. My focus will be in the area of Criminology/Deviance and its effect on the family. I would like to raise social consciousness within the disciplines of sociology and criminology by writing about the results of the research I will conduct.
Now that you know a little bit about me, let me explain why I need your help. I've been invited by the American Sociological Association to present my paper "The Effects of a Modern Day Peculiar Institution on the Black Family" this August in San Francisco, California. ASA is a national non- profit organization of sociologists seeking to provide accurate, peer reviewed research and data to impact our society. This is a phenomenal professional opportunity for me to present my paper and represent The University of Akron's Sociology department, network with sociologists from all over the nation, present relevant social problems, and gather new knowledge. 
I have estimated that the entire trip will cost around $3500 (flight, meals, transportation, and hotel).I do not have the funds to afford the trip. Currently, my only source of income is a pension I receive as the widow of a veteran. As it stands now, I have received $800 in funding from the University of Akron and $300 from dear friends. Any amount would help me reach my goal. Blessings! -Melody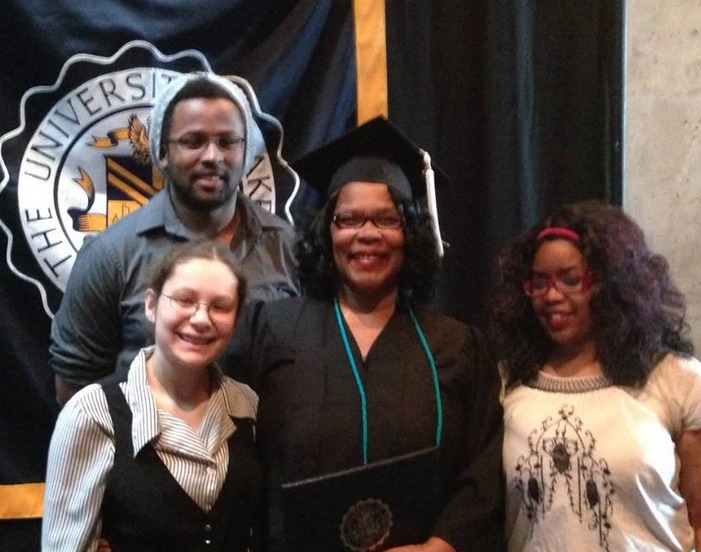 (from left: my daughter in law and son, me, my oldest daughter)
Organizer