This fundraiser is to raise money for Abbie's medical and traveling expenses for her to receive a Selective Dorsal Rhizotomy (SDR) surgery on August 12, 2014 in St. Louis Children's Hospital. The surgery is to correct the spasticity and pain in her body that is associated with her form of cerebral palsy. She also has to have a follow-up surgery two months post operation.  Additionally, she will need intense physical therapy 5 days a week for six months, and 3-4 days a week for the next year.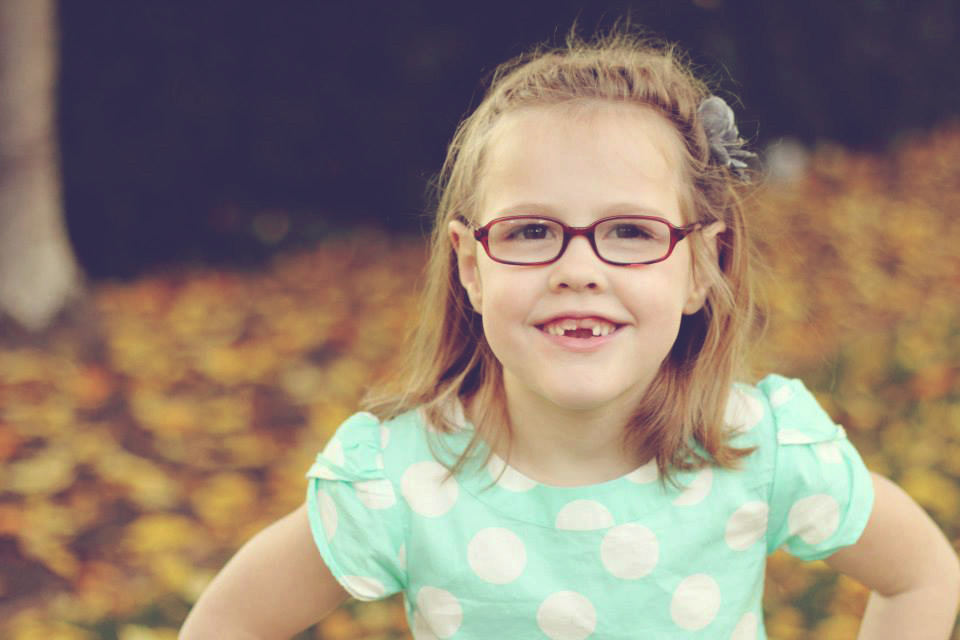 Abbie's Story by Abbie's Mom, Krista:
After a pregnancy full of complications, Abbie and her twin sister Emmie were born at 34 weeks. Abbie weighed 4 lb 4 oz and Emmie was 2 lb 7 oz. After staying in the NICU for about 3 weeks, with no complications, we were able to bring our little girls home. At about 6 months of age, I noticed that Abbie was not hitting the milestones like Emmie. She seemed weak and I felt like something was not right. I brought this to the pediatrician's attention. He told me that it was normal for preemies to be a bit delayed and not to worry and give her time. At about 18 months old, Abbie was not walking, just starting to crawl. I knew something was wrong.
 I obtained a referal and went to Primary Children's Medical Center in SLC, Ut. Within minutes after reviewing Abbie's cat scan, the neurologist diagnosed Abbie with Hemiparetic Periventricular Leukomalacia. In simple terms, Cerebral Palsy. Since then we have been doing everything possible to help Abbie. She has worked with a physical therapist and an occupational therapist since she was 18 months old. She particiaptes in a hippotherapy program too. All of these things have helped Abbie, but as she grows older, she is in constant pain because of the spasticity in her legs. Abbie is a very smart and high functioning little girl, and very determined. She loves to spend time with our family. She loves school, putting on plays with Emmie, singing, and playing outside. She is very sensitive to other peoples' feelings. It is very difficult to see her struggle, but she seems to always look on the bright side. When she trips, (many times a day) she jumps back up and says, "I'm okay!"
About a year ago, I felt like I needed to find something to help with the pain she was experiencing. I was also worried about the long term effects on her knees, hips, and ankles. Through many hours of searching, I found the ST Louis Children's hospital web page that explained in great detail about a surgery called Selective Dorsal Rhizotomy (SDR). St. Louis Children's Hospital employes Dr. T. S. Park, who is one of the leading neurosurgeons in the world specializing in cerebral palsy and spasticity. Spasticity is extreme tightness in the muscles that inhibits the muscles from moving properly, leading to gross motor delays. There is zero benefit to spasticity and Dr. Park and his team have found a way to remove it. Through a procedure called Selective Dorsal Rhizotomy ("SDR"), the nerves that cause spasticity can be cut allowing the child/adult the ability to move more freely. I knew this would benefit Abbie, but I felt like it was impossible and so far out of reach! 
After watching Abbie struggle daily with physical activities and pain, I was determined to find a way to help her. Through a group page on Facebook, I found other parents of children who had gone through SDR. I talked with them and asked questions. One mom encouraged me to call St. Louis. I contacted the ST. Louis Children's Hospital and started the process to see if Abbie would be considered a candidate for SDR. Within a week of submitting all of her paperwork and video evaluation, I recieved a phone call from the hospital. They told me that Abbie was a perfect candidate for this surgery. She also explained that Abbie would be able to do things that she struggles with now. Some examples are, run and walk without tiring so easily, jump, crawl, improve her posture, and be able to participate in all physical activities alongside her peers. Abbie's surgery is scheduled for August 12. Abbie will have to stay in the hospital for 6 days and then stay in the area for a few more days before returning home. At home she will have intense physical therapy, 5 times a week for 6 months and then 3-4 times a week for the next year. This will help her to regain strength and retrain her muscles. Two months post operation, we will return to St. Louis to have a heel cord extension surgery. I am feeling so blessed for this life changing event to be happening, but realizing that the expense is huge. We are asking for support from you to help make our daughter's life better. All funds will be used for medical expenses, travel, lodging, and commuting to and from therapy everyday.
We are so grateful that Abbie was chosen as a candidate for this surgery. We thank each one of you for being an "Angel for Abbie" We can't do it without you!

Organizer
#1 fundraising platform

More people start fundraisers on GoFundMe than on any other platform. Learn more

GoFundMe Guarantee

In the rare case something isn't right, we will work with you to determine if misuse occurred. Learn more

Expert advice, 24/7

Contact us with your questions and we'll answer, day or night. Learn more