Baby Arianna & Family (Medical Expense)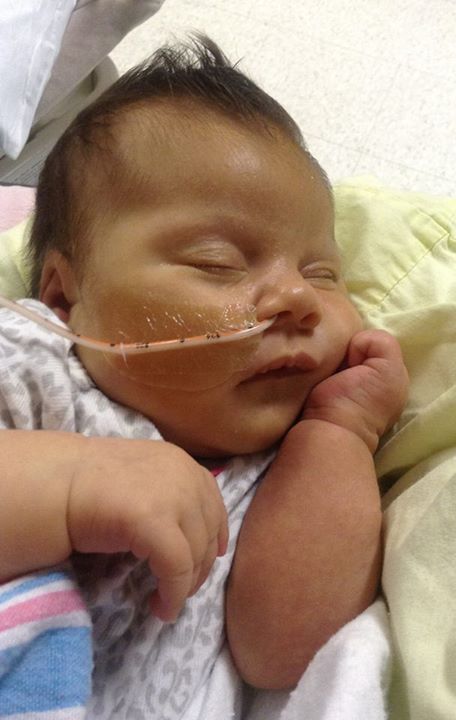 Arianna was born on 04/02/14 at 35 weeks to a diabetic mother. She is my grand daughter! Her mother had an emergency c-section and then Arianna was transported to another hospital because of breathing problems. At 2:30 a.m. the hospital called and said to get down there that they were trying to keep her alive until we got there because she had gone into cardiac arrest.Worse call of my life!
By the time we arrived they had her stabalized and had called another hosptial in Miami to have the helicopter sent to pick her up and transport her there which she has been since 04/03/14.
Arianna has Hypertropic cardiomyopathy which is thicking in the heart wall which sometimes happens with babies with diabetic mothers. Her's is moderate to severe. She is on a beta blocker medication and we are told that she most likely will grow out of it but it will take time.
Along with the heart issue Arianna has reflux in her kidneys because she has two ureters on each kidney instead of one and they are twisted and causing reflux..When she urinates the flap does not close properly so the urine goes back up. She will need reconstructive surgery when she is 1 to 1 1/2 years old.
She will have to stay on antibiotic until then..If she keeps getting urinary infections she will have to have surgery to put a bag in for her to urinate in until she is old enough to do the surgery.
Miami Childrens Hospital does not have a Ronald Mcdonald House for parents so my daughter is staying in a apt. down the street from the hosp. which they own and charge at a reduced rate.They also don't offer any kind of help with food either for parents that stay to be near their children.
My son in law(Arianna's daddy) just started his own business cleaning carpets,tiles, upholstery and flood cleanups when Arianna got sick so he hadn't really had a chance to get his business going.
They are now two months behind on their rent as well as utility bills and the apt. she is staying in by the hosp.They also have a 11 year old daughter.
The stress from having a very sick baby is so overwhelming in itself that I would like them to concentrate on Arianna getting better and not have to worry about other financial problems such as getting evicted from thier apt. or having the electric turned off. Every little bit helps and will be much appreciated! Please Pray for our Arianna and family and please share this on your facebook and friends!

Organizer
Becky Weedall Wilson 
Organizer
Lehigh Acres, FL