Optometry School Equipment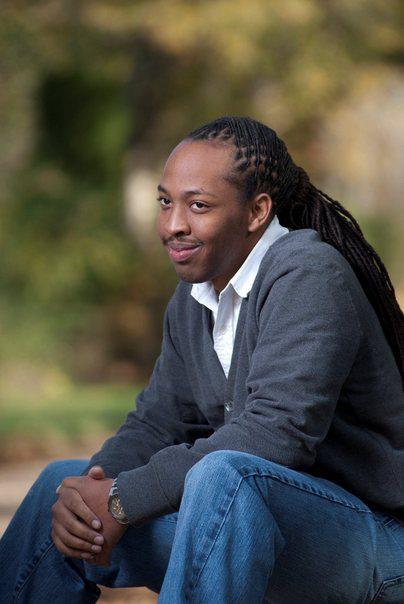 As a lot of you know I left my job as a Nuclear Medicine Technologists at the Birmingham VA to go back to school to obtain  an optometry degree from the University of Alabama at Birmingham (UAB) School of Optometry. I am reaching out to all my friends and family in hopes that collectively you all would be able to help me afford the equipment that is necessary as I'm almost finished my first year and will be venturing into the skills portion of my schooling soon. My family and I have been dependent on and living off of loan money that I receive for school. However, the cost for my school equipment is not included in my tuition and cost of attendence so I would consider it a blessing if you could make a donation that would enable me to afford the equipment I need to succeed. I have also included below not only a copy of my grades from my first two semesters, but also the receipt from my equipment purchase. Despite having a wife and young child I'm still putting in the work and doing very well so you know that your donation will not be in vain. Thank you all in advance and God Bless!
The cost of the equipment is $3,162.50 but I have the goal set at $3,450.00 to cover the fees associated with Gofundme.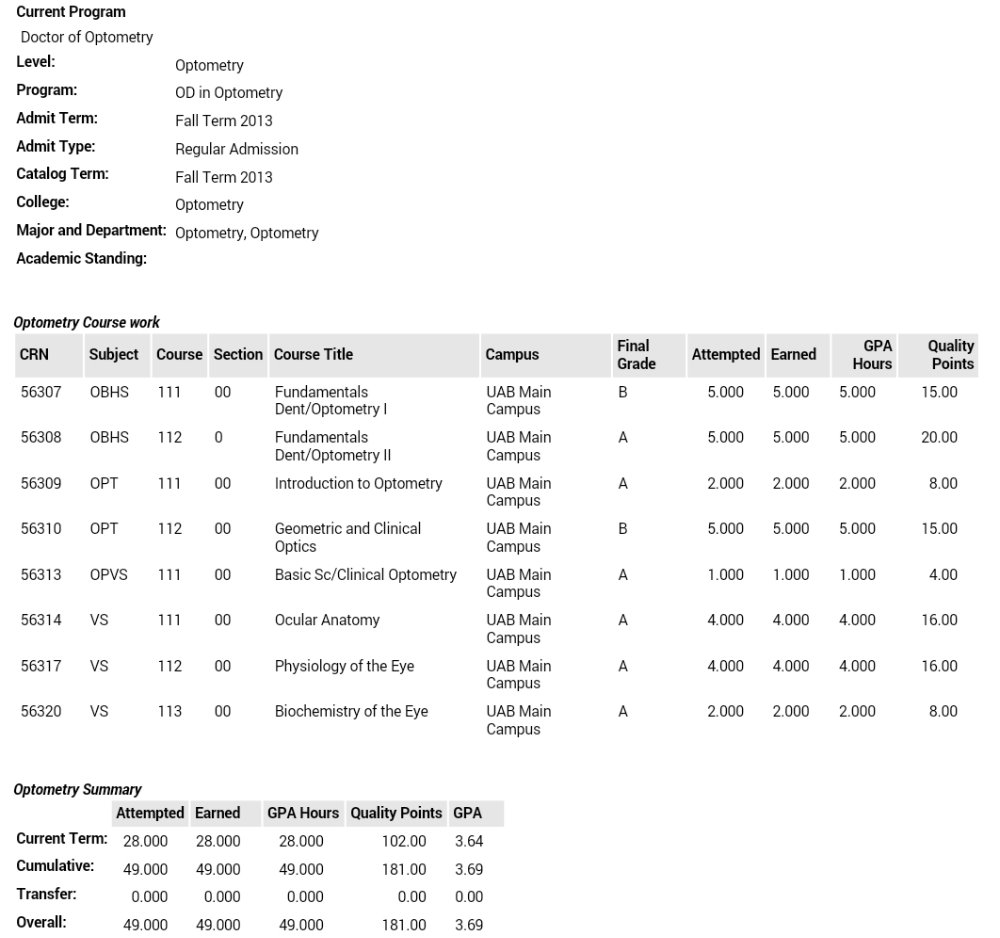 ORDER DETAILS:
Item: UAB First Year Equipment Kit - UAB
Quantity: 1
Description: UAB First Year Equipment Kit Includes:  Trial Lens Set with Choice of Carrying Case, Deluxe Frame, .25, .50, .75, 1.00 JCC Set in Case, 8-Well Flipper, Pediatric 8-Well Flipper, Lens Clock, choice of HRR Color Test, Expanded Amsler Chart Set, Amsler Grid Pad, EZ View Horizontal and Vertical Prism Bars, S22 Prism Set, Randot Stereo Test, Lorgnette Occluder, Short Handle Multiple Pinhole Occluder, Maddox Rod & Occluder, +/- 0.25 Flipper, +/- 2.00 Flipper, SMD Test Card, Pioneer Trial Clips with Level in Shatterproof Case, Plastic PD Stick, Tape Measure, Retinoscopy Paddles with Axis Compass, Feinbloom Low Vision Test and Near Test, Rotochart, Luedde Exophthalmometer, Worth 4 Dot Attachment, Metal Red/Green Glasses, Tonometer Tip, and choice of Tonometer Tip Cleaner
TLSCase: All-in-One Case with Free Small Case - 75.00
HRR: Laminated Version
Tonometer Tip Cleaner: Large Tonometer Tip Cleaner (6 ports)
0.25FlipperGrip: No Color Grip
2.00FlipperGrip: No Color Grip
EngravedNameplate: Tyrus Agee
UAB First Year Equipment Kit - UAB - 1668.00
Price (each): 1,743.00
Item Total: 1,743.00
______________________________ ___________

Item: Welch Allyn Professional Stethoscope
Quantity: 1
Description: 5079-135
Price (each): 74.00
Item Total: 74.00
______________________________ ___________

Item: Heine Beta Set 3 - UAB
Quantity: 1
Description: BETA 200S Single Step Ophthalmoscope, BETA 200 Retinoscope, Finoff Transilluminator, Retinoscope Cards, 2 - BETA NT Lithium Battery Handle,   NT 300 Charger, C Battery Adaptor, Heine Zipper Case
BatteryIndicator: Yes Add 2 - 160.00
Family Practice Kit: No
EngravedNameplate: Tyrus Agee
Heine Beta Set 3 - UAB - 898.00
Price (each): 1,058.00
Item Total: 1,058.00
______________________________ ___________

Subtotal: $2,875.00
Sales Tax: +$287.50
Grand Total: $3,162.50
______________________________ ___________ 





Organizer
#1 fundraising platform

More people start fundraisers on GoFundMe than on any other platform. Learn more

GoFundMe Guarantee

In the rare case something isn't right, we will work with you to determine if misuse occurred. Learn more

Expert advice

Contact us with your questions and we'll answer, day or night. Learn more