Help Disabled Vet's Blind Service Dog
Hi, I'm Tim. I am a disabled veteran and this is my service dog Spartacus. A couple of months ago, Spartacus woke up blind. As horrible as that is, it was just the beginning. I rushed him to my vet who immediately sent me to a canine ophthalmologist where I was told that Spartacus had diabetes and was in imminent danger due to a condition called ketoacidosis, which is considered a dire, life-threatening emergency. Spartacus spent the next several hours enduring a variety of tests and treatments, some invasive, some painful, some scary, but all necessary to save his life. Suddenly sightless, frightened and confused, sick and scared, Spartacus was finally placed in a kennel for the evening. Four days of hospitalization followed in which he gradually improved, his condition changing from critical to guarded to stable and eventually, on the fifth day, he was released. For the next month he would spend one day a week in the hospital for a full day's testing of his insulin treatments in order to fine-tune the dosage and stabilize his diabetes. It took six weeks, but Spartacus was finally declared stabilized and eligible to see the canine ophthalmologist about his eye sight. The diabetes had caused cataracts but only an expert could tell whether they were operable or were so severe that he would be blind for life. Hoping against hope, I brought him to just such an expert and after consultation and a lot of testing, she gave me the good news that Spartacus is an excellent candidate for cataract surgery and has a good chance of recovering all his eyesight as long as he has the operation as soon as possible. As you can imagine, I was overjoyed! But there was the cost - $6000. And first Spartacus had to have dental work and minor surgery to remove some warts on his paws in order to be certain that he would have no infections going into the surgery. Another thousand dollars. Spartacus has now had the dental work and minor surgery and we are ready to schedule his cataract surgery, but with the cost of his initial emergency hospitalization, weeks of testing, medications and supplies, I am unable to muster the funds to pay for the surgery on my own. And so I'm asking you for help. Spartacus is a service dog trained to assist me if my military service-connected condition becomes an emergency. But if he can't see, he can't work, and I know that will just break his heart. But Spartacus is so much more than a working dog. Like all dogs - like your dog - his loyalty is unquestioning, his spirit boundless, his devotion complete and his love unconditional. And just like you and your dog, I love him as much as he loves me. A friend once asked me what I would give Spartacus if I could give him anything in the world. I said that I would give him the ability to see colors. I can't do that, but with your help I can give him back his normal vision. As I drove home alone that first horrible night last February, a rare winter thunderstorm raged around me, and every time a flash of lightning split the darkness and illuminated the empty seat beside me, I felt a pang in my heart that dwarfed the thunderclaps. I promised myself at that moment, as I have promised Spartacus every day ever since, that I would do everything within my power to restore his sight. Please help me keep my promise by donating if you can and/or sharing this request with everyone on your friends list. Thank you so much, Tim and Spartacus
This is Spartacus finally getting to rest at the vet's after the grueling first day he went blind.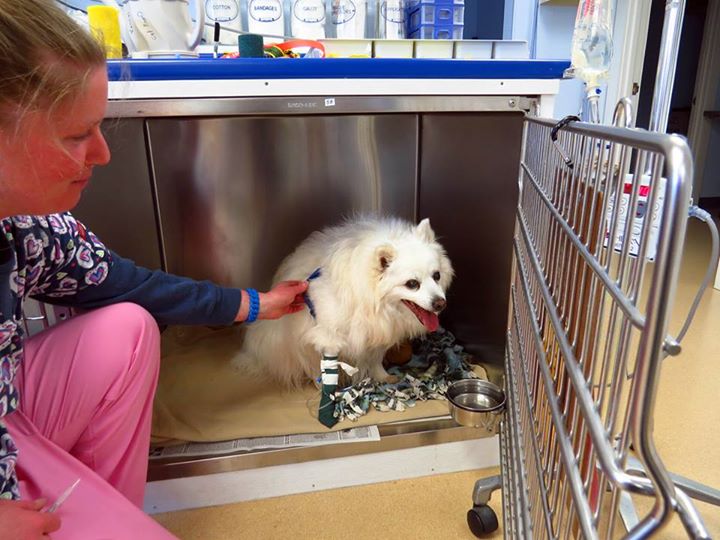 First night home after four nights in the hospital. Sad, scared and confused...
Happier times walking along the Cape Cod Canal...
And on the swing...
Spartacus's favorite toy - a stuffed hedgehog that he's had for years. He used to chew on it every night before going to sleep. He hasn't touched it since he went blind.
His baby picture...
Spartacus and I by a Huey, the type of helicopter I rode in in the army...
In his favorite place...the dunes at the beach. Spartacus is a beautiful dog with a beautiful spirit and my best friend. Thank you for checking out my page and helping if you can. Please share this with your friends. Thank you for caring.
Tim 

Organizer
Timothy Blair Crowninshield 
#1 fundraising platform

More people start fundraisers on GoFundMe than on any other platform. Learn more

GoFundMe Guarantee

In the rare case something isn't right, we will work with you to determine if misuse occurred. Learn more

Expert advice, 24/7

Contact us with your questions and we'll answer, day or night. Learn more