Launch my career as an artist
About me
My name is Ian McKendrick, and up until the last few years I've been blessed with an amazing family, awesome friends, and a fairly successful life. However, due to a heart attack five years ago, and a series of heart operations, most recent being a quadruple heart bypass, I was advised to give up my highly stressful job in IT and broadcasting, and to slow my life down. In fact I was told that it would be better if I followed a "passion" that would give me purpose.
The situation
Four years ago, after my third heart operation I found myself homeless, and a very dear friend took me in and helped me to get back on my feet again. It was at that point that I decided I wanted to learn to draw, so I used the last of my cash to sign up to an online drawing course and to purchase everything I needed to equip a small home art studio. 
My doctor, family, art tutor, and friends all came together to give me heaps of encouragement to use my drawing as part of my therapeutic recovery, which is what I now spend all of my time doing. I've gone from strength to strength and I'm so lucky to have amassed a large following on social media (almost 80,000 people) who have been following my journey as I've shared photo's of my progress as an artist. The main thing about this for me is that I'm so happy to have inspired many other people to take up art  which has helped them to express themselves and to achieve their personal goals too. 
How surgery (and a friend) has affected my work
My last operation (October 2015) was open heart surgery, which meant that they had to cut my sternum (the bone that holds your rib cage together at the front of your chest). To give you some idea, as I move my arms I can feel my ribs grinding and clicking together, it's almost like I have a bag of spanners in my chest! This meant that I had to stop drawing conventionally as it was far too painful to move my drawing board around, or even to use an eraser for any length of time.  Luckily, a friend who I had helped out several years ago went out and bought me the latest iPad Pro, an Apple Pencil, and keyboard, and I've now been using this to create my drawings. I have found this much easier as everything can be manipulated with my fingertips and I can draw for hours on end without any pain at all.
My work
Here's a copy of one of my most popular drawings of the organ and choir stalls at Ely Cathedral which is just around the corner of where I live.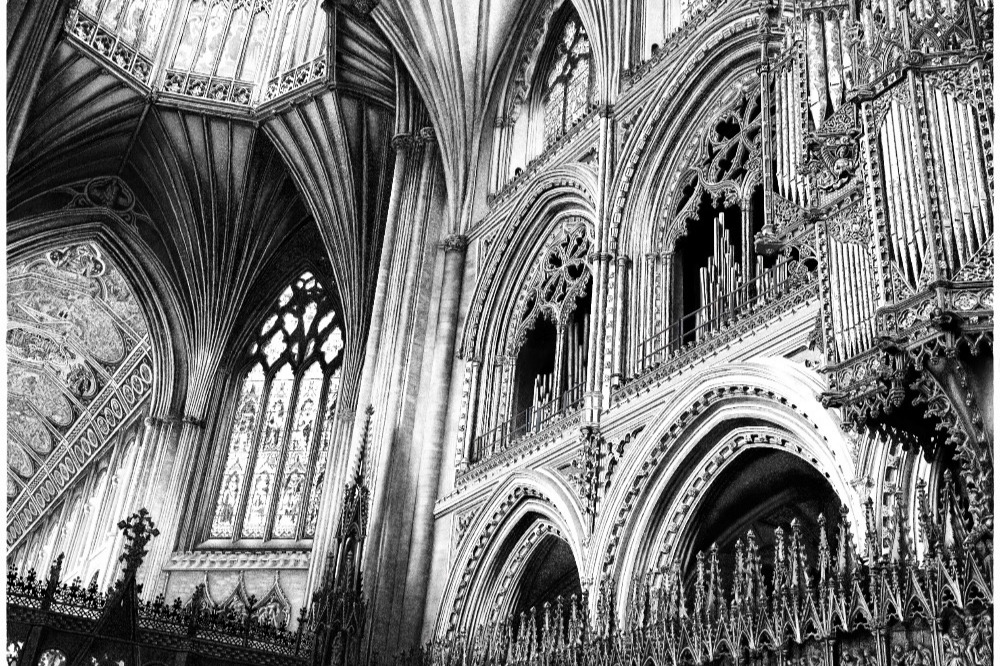 This  took me just over 540 hours  to complete.
Here's a more recent drawing that I completed of Ely Cathedral entitled "Elegant Arches"
This drawing took me over 800 hours to complete
Lola, my faithful companion
Lola is a lifesaver, she's a short legged Jack Russel terrier who suffers with separation anxiety. I take her everywhere with me. She loves to curl up at my feet when I'm drawing, and loves meeting new people and sitting up to give everyone a high-five. She's become somewhat of a celebrity in Ely, and has been given a special pass by the Dean so she can sit with me when I'm drawing in Ely Cathedral. She even has her own Instagram page
@OurLovelyLola
The problem
In December 2019 I suffered another heart attack, and in January 2020 I was admitted to hospital for more surgery. Although I now suffer with breathlessness, I'm able to continue with my drawings. However, I still find myself totally dependent on the state for their support to help pay towards my medication, rent,  bills, and other living expenses. As a result I am unable to sell any artwork that I produce as my benefits will be stopped as I'm still not in good enough health to take on a full time job.
Unfortunately my previous effort to raise funds to become an independent, self supporting artist fell well short of its goal, but I'm not one who gives in easily, so hopefully this time I will be able to get there.
What's needed
I'm attempting to raise funds to pay for a set of limited edition Fine Art Quality Giclée prints of my work which I'll be able to sell when I come out of my recovery. Each drawing will be limited to only 2000 copies, each one individually numbered and signed together with a certificate of authenticity. This funding is so important as it will help me to launch myself into a new career as a fully fledged artist.
I know that I could cut corners and pay much less for cheaper reproductions of my work, but even the best photocopies are not able to reproduce the details in my drawings which are a core part of my work.  Also, high quality, certified Fine Art Giclée prints will attract the genuine and serious art collectors that are required to make this career change viable and sustainable.
The future
All of my drawings so far have been of popular sights around the City of Ely which are created from hundreds of digital photographs taken on my iPhone. Next I would like to produce drawings of the collages  and some of the popular views of Cambridge such as Kings, Trinity, the Mathematical Bridge, The Bridge of Sighs and so on. Hopefully, I'm aiming to become a fully "recognised" artist who will eventually sell enough drawings to  be able to fund trips to places like Venice, Rome, or wherever in the world the most beautiful views and inspirational vistas call out to me.
Thank you
Thank you so much for taking the time to read my story, and thank you from the bottom of my heart if you have been kind enough to make any sort of contribution towards my cause, it's greatly appreciated. Even if you haven't been swayed to contribute, I sincerely hope that my story has at least inspired you to make some kind of change in your own life for the better.
Ian & Lola
Twitter:
Watercolourjrny
Facebook:
WatercolourJourney
Instagram:
@IanMcKendrick
Pinterest:
IanMcKendrick
Blog:
WatercolourJourney
Drawing Lessons:
DrawPJ.com
Organizer
Ian McKendrick
Organizer
England