let's get El Baoricua in the streets!
Thank you for taking the time to get to know us. We are Audrey and Paxx; and together we have created El Baoricua. This is a much needed food offer that aims to plant its roots in the heart of Santurce, Puerto Rico. Our goal is to perfectly blend together the cuisines of the islands of Puerto Rico & Taiwan, featuring local and fresh ingredients. We feel that the melting pot inherent in these two cultures -considering they are both islands- bring creativity and passion to each of their cuisines. Merging the popular cuisines of two islands on opposite hemispheres of the planet with geographical, social and political similarities is simply an spectacular phenomenon. We have called the marriage of these two parallel cultures, Asian Rican Cuisine. The two of us have vast experience in both, the culinary arts and business administration, respectively. Audrey, for instance, has worked in sales account management for a local retail clothing store, whereas Paxx has consistently worked as a cook in numerous trendy restaurants manned by world-renowned chefs, such as Iron Chef former contestant Roberto Treviño. Our talents combined are certainly promising with 20 years under our belts!
And thus, we are currently requesting a pledge from you in order to be able to complete our preparation stage for our fully operational food-serving truck. Our goal is to raise $5,000 minimum and be up and running by Summer 2014. We have already invested more than $40,500 in our mobile kitchen, including some of the equipment. But we now need that final push to become fully operational and begin serving top-quality dishes with the freshest ingredients -and love for our art as our main ingredient.
Make your pledge to support a genuinely unique and promising business venture whose only aim is to serve the most exquisite food, as you help support a local micro-enterprise and contribute to the economy of our dear island nation of Puerto Rico.
We look forward to receive your generous contribution.
Blessings & good vibes!
Audrey and Paxx.
the star of our truck: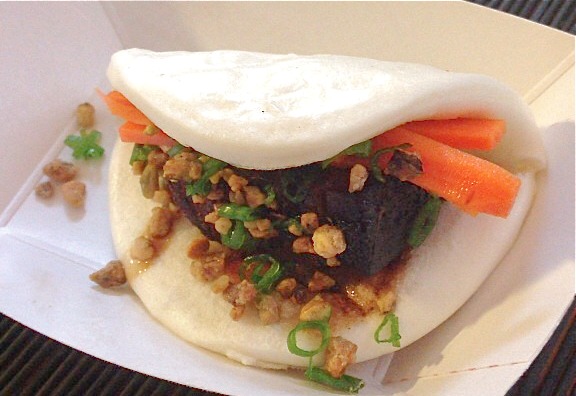 chinolatino pork belly gua bao
Organizer
Paxx Caraballo Moll
Organizer
San Juan, PR