Hello Family and Friends.
On Mothers Day,  May 14 , 2017,  our lives have been forever changed. A part of my family was taken from us. Our only dog Achilles got out of our fenced in backyard. We recently moved and have been here for about 6 months now. Unfortunately, he bit our next door neighbors foot through the tennis shoe.
The whole time we have been here, the next door neighbors 7 children have made it known that they do not like our family dog. When we first moved in, the children (ages of 6 to 17) plus neighborhood friends were always tresspassing in our backyard.  We understood kids would be kids. But things took a turn for the worse...when they started to throw sticks at my dog, screaming bloody murder towards him, and barking at him. The way our houses sit, the neighbors children can not see my back patio, just the back of our backyard. So they didnt know when Jon or myself were outside unless they came up to the fence. So we started out..off to a bad start as being neighbors. This is our babyboy and we want nothing happening to him! 
Things only intensified as the weeks went by. So we talked to the Mother and told her what her kids were doing. She absolutely did not want to engage in the conversation. She made it known that pitbulls need to be chained. Which didnt sit well with us, that she believes in the sterotypes of pitbulls, that give all pitbulls a bad reputation. (So we made sure our gates were locked up & put out signs.)The children started terrorizing my dog even more after talking to the mother. Time after time, we have talked to the kids, to stop the behavior and leave Achilles alone. They even got a tazer and kept zapping it at him on there side of the fence when they thought he was outside alone.  We tried to be as nice as we could to coexist in the community. But they have kept on tresspassing in our back yard, terrorizing Achilles and went to the length of vandilizing our sign.

Despite their behavior Jon has tried to help the kids and give them a good influence.


So they took our great dog which we understand why. Its an awful unfortunate situation on both sides. Achilles was hit with multiple blows to his face and body by a metal pole. His left eye was cut, had a massive bruise on his head around the other eye that swelled shut, and was bleeding out of his right ear.  He was suppose to go to bite quarantine for 10 days & on the 10th day we were suppose to come back and pay for his boarding fees and for him to get neutered. Which we were glad to do, we just wanted our family back together!
Well on the tenth day, we go up there to do so and they let me know that the mother had submitted new evidence, saying there were multiple severe injuries. Instead of just the foot that he had got the neighbors thigh and she had to have stitches. So in that being said it makes it not a dog at large like we recieved on our sitation, but it now became a "vicious/dangerous dog case." 
They gave me another sitation for us to go to court the following wednesday which allowed us only 5 days to prepare  our evidence, find a lawyer, and finances in order to do so. We go to court that wednesday and find out that the neighbor did not recieve any stitches anywhere on thigh. That is wasnt a second bite at all! That injury also was not put in the original statement. The original said only injury to foot and the only reason why they sitated us for a vicious dog is because they said multiple injuries. So they wont release our babyboy!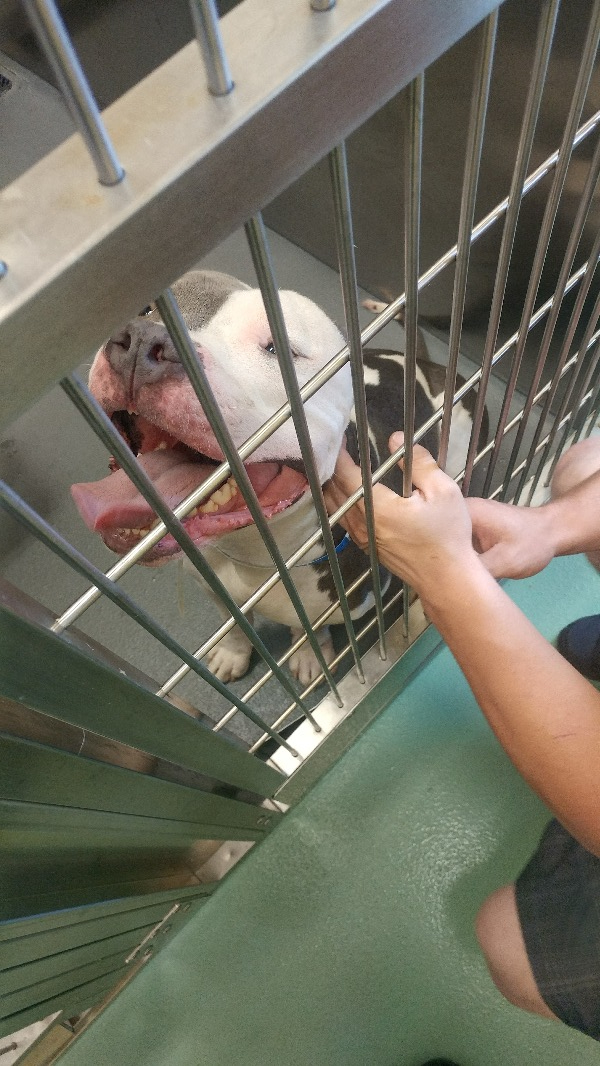 The outcome of the wednesday court date was that we are preceeding with trial. We plan to fight that Achilles is not vicious or dangerous. He has never had any kind of aggressive history at all. We have showered him with lots of LOVE. He has been well socialized with other animals and children of all ages. We are so desperately awaiting of the day he gets to come home!
So now we our struggling not only emotionally but financially to keep up with the additional bills due to our weekly and monthly finances. Achilles's 10 day boarding is $150 not including getting him neutered. But now that we are going to trial, he has to stay in until its over. By the trial date, he will be in there for 31 days. Thats 31 days without his bestfriend, my daughter, grass on his feet, blue skies, and his comfy bed. That 31 days is almost $500 in boarding alone. The lawyer fees are $1000+ and growing. We are trying to do everything we can possible. No pet owner, i could think  of, could be emotionally and financially prepared for this kind of situatuion. So we are asking for help.  
It is a sad situation for us and the neighbor. And it has taken a toll on our family.  All we want is to have our babyboy back home with us. We are asking for all of our friends and family to send positive vibes and prayers our way. And we would be forever grateful for any help we receive. Every dollar and penny counts at this point. PLEASE everyone we need as much help to bring him home to us and our daughter. They share a bond like no other. Every day that goes by our daughter asks when is she going to get him back and also asked to go to court with us to get him back. She misses her bestfriend. Our family has been a wreck since he's been gone.  We have until next friday to raise as much money for our lawyer and animal fees as possible. So please help us if you can! 



Sincerly, The Meadows and Clements family 

Organizer