How much does it cost to save a life? How about the life of one courageous "Cooper Trooper"? For the Logan family, the price tag will top $100,000 - $200,000 MINIMUM PER YEAR for the meds alone. Transportation costs, lost revenue from missing work, and future medical procedures such as a possible kidney transplant will drive the cost even higher. Ever wonder if the small amount you have to give really can make a difference?  Well, for Cooper Logan's family, it will make all the difference.
The prayers, service and love shown to the Logan family have sustained them through this unimaginably difficult time. Plain and simple, a gift of money will enable them to provide the medical services Cooper NEEDS to live. Please donate as much as you are able.  Thank you for your contribution.
Cooper's Story:
My name is Cooper Logan and I am 4 years old! I love motocross, baseball, soccer and hockey. I lived a very active, exciting life; then in September 2012, my life changed. I became very sick, running a high fever for more than 5 days, vomiting, red swollen lips and blood shot eyes. The doctors said I had a nasty virus and couldnt determine what was wrong with me. By the time the cause was found the damage was done. I was diagnosed with a heart disease known as Kawasaki Disease. It is the number one acquired heart disease in children under the age of 5. If detected within the first 10 days, the condition can usually be treated with some success. Because I didnt receive the necessary treatment within the 10 days, I developed two aneurysms on my coronary arteries.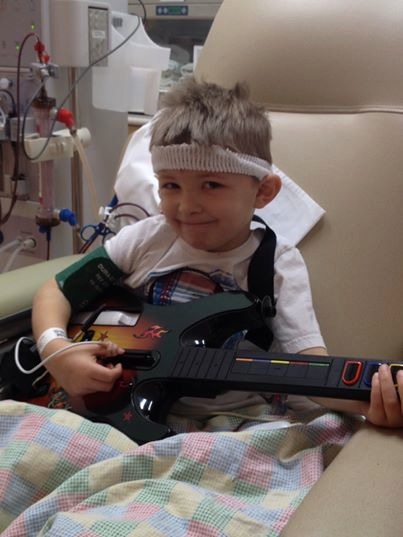 One of these is so large it is considered giant and now requires a life of anti-coagulant medications and an inactive lifestyle. My cardiologist Dr. Jone says not only will I not be able to play the competitive sports I was born to play or ride motocross like my boy Ryan Dungy, I will likely face multiple heart surgeries throughout my life.
The reality of what Cooper is facing:
Since Cooper's life changing diagnosis of KD, he has carried an incredibly encouraging and courageous attitude through it all. Aside from the multiple blood thinning medications he takes daily, he has gone to the ER 9 times, been "poked" 100+ times, developed 2 clots, had 10 regular cardiac appointments, and had surgery to monitor and more accurately assess his giant aneurysm. This alone is a tall order for a young boy to endure. Unfortunately, this has not been the end of Cooper's medical journey.
In 5-10 years, if not sooner, Cooper will have to go through heart surgery and have a bypass completed to remove the giant aneurysm. This will be the beginning of many surgeries, as a bypass typically only lasts 10-13 yrs. Even more recently, Cooper became ill while on vacation and was flown back to Denver. While here, it was found he was fighting something very different. His kidneys had failed and begun to affect the liver and pancreas. He was diagnosed with an "ultra rare" disease known as aHUS. The only way to treat it is with a medication known as eculizamab (Soliris), running an annual cost of $410k a year.
Cooper will have to remain on this treatment to best protect against another episode in addition to 6 other kidney medications (that's on top of his existing heart meds). We have learned that after 2.5 weeks in the ICU, and a week and a half in the cardiac unit that only 10% of his kidneys have recovered. For the next 3 months he will make the hour drive to the hospital, for 4 hours of dialysis, twice a week. If Cooper's kidneys don't recover after that, than a kidney transplant will be needed. Cooper not only has an exhausting next few months but an entire lifetime of surgeries, medications and extensive hospital stays to treat these two rare diseases.
This 4 year old has endured almost 3 months in the hospital, multiple surgeries, hundreds of medications but he is the talk on the floor among the nurses. His witty attitude and humor makes everyone laugh and each nurse has their own "Coop story." Cooper really is a Trooper!!! Thank you in advance for your help!
Organizer