Ajia's Victory over Cerebral Palsy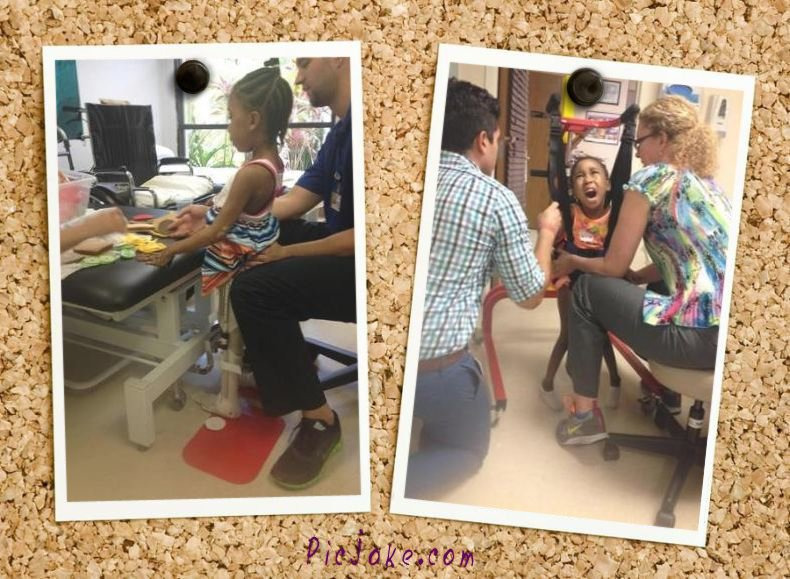 Important Update(3/24/2015)
: Ajia is scheduled to return to Florida  in May. She will return to the Paley Advanced Institute at Saint Mary's Hospital where she will have the benefit of advanced therapy specializing in overcoming Spastic Diplegic Cerebral Palsy to help her accomplish her goal to walk. We are again requesting your assistance in this costly endeavour.  Ajia has been undergoing continual therapy at a local center here at home in Connecticut. Her mom has done a great job keeping us involved in Ajia's therapy via videos of every session.  While this therepy is great for continual practice, the Paley Institute is the Gold Standard and is where her local therapist gets his instructions as to how to administer her therapy. They have highly trained specialist and equipment which will further Ajia's cause.
Please help Ajia's mom by making any donations you can.  All proceeds finance the trip, lodging, food and the actual therapy. Because this is out of network therapy, all sessions are paid out of pocket by any money we collect and any finances Ajia's mom has been able to save.  This is a huge financial undertaking and we sincerely request any and all assistance. Ajia and her mom thank everyone for their new or continued support of Ajia's cause. 
Important Update: Ajia is a five year old child who has undergone a selective dorsal rhizotomy surgical procedure. She has never walked, stood, or taken any independent sort of movement with her lower extremities. She has not been able to sit up independently because of the balance issues associated with her disability. The surgery will give her the chance to walk but requires extensive physical therapy. Ajia's mother is a single mother of two who took an FMLA (Family Medical Leave Act) to be with and care for Ajia after her surgery. Ajia's mother is a Patient Care Associate at Yale New Haven Hospital and has been employed with them for over 5 years. She is a hard worker. Yale's medical plan, which Ajia is covered under only allows payment for 50 therapy sessions. Ajia is about to max out her allocated therapy allowance and is far from finished with therapy. She is only at the beginning. This money will be used to allow Ajia to continue receiving the therapy she so desperately needs to allow her nerves, brain and muscles the opportunity to learn to work in sinc so that she can walk. It is a basic human right to be in health and have your body function correctly. She has a chance and she, as a 5 year old deserves to be able to walk, run, jump, hop, skip and sit like any other healthy child. Please help.
Ajia is almost 5 years old yet she has never taken her first step. She is the sweetest little girl with a smile that lights up a room. She is just like any other little child in that she loves to play and have fun. She would love to jump and run and hop, but sadly, she has never had the chance due to lower limb problems. Her mother tried all avenues but everyone said she would never walk until she found world renowned surgeon Doctor Dror Paley in Florida.
Accompanied by her mother,retired great aunt and newborn baby brother, Ajia had to leave quickly to go to Florida for her surgery. Her mother had to take an unpaid leave from her job with the threat of not having her position when she returns in order to care for Ajia.
Little Ajia has undergone a ground breaking surgery but now faces a long road of intense daily therapy which must be done out of state where the surgery was performed.(Picture of Ajia at therapy with her hip to feet braces being supported by her therapist,also with her new baby brother)
They must pay for daily lodging, food and transportation while away from home and family. Their lodging alone is $60 per day, not week, per day! The therapy requires that Ajia remain in Florida for at least 6 weeks with a possibility of having to stay even longer. That is over $2500 just for lodging assuming she doesn't have to stay longer than 6 weeks.
This does not include food and the expenses of caring for a newborn. They also have to have special transportation to and from therapy as Ajia must use a wheel chair for now until she begins walking(which we are all anxiously awaiting.) They also have to pay cab fare to go grocery shopping. This is a very costly ordeal, but Ajia is worth it and so much more. She is so bright and sweet, she deserves the chance to enjoy mobility like any other 5 year old girl. Please help her family afford her this chance. She needs to be able to stay for therapy for as long as the surgeon needs her there.
The surgeon was kind enough to take them right away, not leaving much time for her family to save for the expenses for this trip. Ajia's mother took a leap of faith and seized the opportunity for her precious little girl to be able to walk.
You can be a part of a miracle for this precious little girl.
Please donate a little or a lot, every bit counts and is so greatly appreciated. We will post update photos for you to track her progress with us and we promis a video when she walks!
Thank you for even taking the time to read and consider little Ajia!

Organizer
#1 fundraising platform

More people start fundraisers on GoFundMe than on any other platform. Learn more

GoFundMe Guarantee

In the rare case something isn't right, we will work with you to determine if misuse occurred. Learn more

Expert advice, 24/7

Contact us with your questions and we'll answer, day or night. Learn more