Help for Sarah Sunshine's Brain Tumor
Hi, my name is Sarah. I'm now 43 with an inoperable brain tumor.  I've been fighting/surviving this since the summer of 2013.  It's on my brain stem, so it's very dangerous to remove or even biopsy for fear of death or paralysis.  It's been treated so far with Radiation therapy.  30 treatments of radiation.  I'm seeking out financial help to pay for some of the increasing costs of my medications, regular MRIs, EEGs and Doctor appointments.  Making this site and writing this is difficult for me. Asking for help, especially financial, is not something I'm comfortable with. I don't recall asking for money at anytime during my life. It has always been important to me to be able to survive on my own. I even had trouble asking for day to day needs around the house when my fatigue is bad.  My last EEG showed so many seizures at rest that I wasn't aware of.  So now I have Epilepsy caused by the brain tumor.
Here's some things about me. I'm a Registered Respiratory Therapist.  I've been since 2000.  I'm very proud of my profession and everything that I've done with it.  I'm the sole provider of my household. My Husband has 3 children, ages 15, 18  and 18.  They have difficulties in life from a history of abuse and abandonment from their Mom.  I love being a Step Mom to them.  I'm unable to have children of my own due to idiopathic anovulation. I had part of my cervix removed due to cancerous cells.  Back to the boys...  Our youngest was in a special school for Emotional Behavioral Support.  He has progressed and made his way back into regular school with an IEP program. The other two are doing well.  They have both graduated High School and are planning out their future.  All the boys just started working and are helping out.  I used to make a great living for us all but given the situation, we live on a very tight budget now.  I'm lucky that I was smart enough to buy the maximum disability insurance I could get when I was working.  I took financial head of house hold very seriously.  I'm on disability for my many symptoms.  I'm very happy with the life I share with my Husband, Ben.  This has taken a tremendous toll on him as well.  I'm not able to work or drive due to my symptoms and he is faced with my pain and the thought of if, when or how bad will my next seizure be.  Also, has my tumor moved or growth enough to cause paralysis or my heart would just stop and I would drop.  I'm never afraid for myself.  I don't want to see Ben worry or be afraid.  Or if it's a regular one.  I wouldn't want 911 called and all that
Well, here's my story:
At the start of my story I was 35 years old. Working as a Respiratory Therapist and living with my Fiancé, Ben, and his three boys. I'm the financial support of the home. We discovered it was better for them at the time to have more Father time. Their Mom had mostly abandoned them and when she does come around, she is full of verbal abuse and negativity.  We live a happy life together. I adore them all.
One day out of the blue, I had a seizure. Thank goodness I was home with Ben at the time. I remember having a wonderful afternoon gaming with Ben, then the next moment waking up on the couch with a bunch of strangers in my home. I was told that I didn't even know who Ben was at first. A day in the ER marks the scariest thing in my life. It's still emotional to tell the story. I do remember walking out of the ER barefooted and confused. Otherwise, it was a beautiful day in April. My Physician ordered an MRI and EEG. Shortly after that, I woke up with complete numbness in my knee. Then they added MRIs to be one on my neck and back. I had a second seizure before I could get all the tests in. With that one, I sprained my ankle. They were the grand mal type, so I feel bad for my family who had to watch.  Some of my many symptoms had already started, I just had no idea it would end up being all related.  Working full time at the hospital with this going on had been taking a toll on me. But I pushed forward. I was at my Primary Doctor's office having my ankle checked when he received the MRI results. From there, it's a blur. I could see it in his face that he didn't know how to tell me, so we read the report together. Tectal Glioma they called it. Shortly after he told me, my Neurologist called to tell me. He said to make an appointment at Penn with the top Neurosurgeon as soon as possible. My diagnosis was in May. Brain Tumor Awareness Month.
Going through the motions I made an appointment and carried on with working. I went to see the Neurosurgeon. He was supposed to be the best. He told me that since the tumor was in my brainstem a biopsy would be too dangerous. He said it might kill or paralyze me. Hopefully, he said, the tumor was just stretching its legs or settling rather than malignant. He actually told me that he didn't want to risk his reputation by treating it. I was devastated. My symptoms started increasing in severity. It was to the point that I was vomiting every morning. I had symptoms before the seizure, I attributed a lot of them to the gyn issues I have. So I made appointments to get other opinions. After breaking down at work, I went on leave. I found a brilliant Physician at Jefferson, Dr. Farrell. He researched the tumor before my visit and took his time explaining it. He made sure I understood what it was our options and possibilities. He told me that it was very rare to see an active tumor of this type in an adult and there were only a handful of cases to read about when he was doing his research. I felt safe in his hands and we proceeded with Radiation Therapy. One thing everyone is in agreement on is that a biopsy or any type of surgery was too risky. The treatment had "Phenomenal" results according to the MRI!
I finished Radiation at the end of the summer. Recovering from the treatment takes longer than I anticipated. Everyone keeps reminding me that you can't plan for this, and you can't control it. It's very good advice. We are hoping that I'm in the clear and that what we continue to see on the MRI is a dead tumor. This type is expected to grow/return. The plan is: If enough years go by, Radiation might be an option again as well as chemotherapy.  The radiation may be capped out though due to residual damage.  I still have symptoms. The list changes and continues: fatigue, various numb spots, memory issues, comprehension, coordination, headaches/sharp pain in my head and some others. Things take a lot longer to do. Dr. Farrell informed/warned us that the fatigue in Brain cancer/tumors is like no other cancer fatigue that he's seen. I didn't quite understand what he meant until it hit me. Those who've had this type understand. I can honestly say that I never did. Some positives to celebrate are: the MRI improvement, vision improvement, feeling has returned in my knee, not as many dizzy spells, I loved my bald head, no vomiting and hardly any nausea.  *Adding in 9/28/18 - As far as symptoms go, the dizzy spells are regular again, severe headaches, vomiting (I just had an episode), some seizures (they are mostly controlled with medication, but I still have breakthrough ones), vision issues and memory loss.  There are more that I just can't think of at the moment.  My memory impairment makes communication difficult, then I isolate myself.  Anyone who knew me before the tumor knows how much of a life changing thing this is for me.  I was always a social, outgoing, happy Sarah Sunshine.  I was always into something, lots of gaming, camping, exercise, party planning... you get the picture.  Adding 7/6/19-My last MRI was (finally) my first stable MRI.  The tumor is still there.  So I still have tumor symptoms and post radiation damage symptoms.  I live with a baseline headache.  Then I have different types.  Migrane and sp
I worked at a long term acute care hospital for as long as I could. They have been wonderful throughout. They were a great emotional support system for me during therapy. They also raised money to help with gas, expenses and gave us food. Everyone there took and is taking such good care of me. I'm treated like family.  
Down to the ugly part. I pay each medical bill $5 a month. There are so many. Doing the bills every month was as exhausting as a work day. Sometimes I would break it down into a couple of days.  One day I spent an hour and a half on day 2 of the bills. But I felt accomplished when it was done. **Since then I handed over doing the bills to Ben.  I made too many mistakes that cost us money.  My mistakes in total cost us $1000+.  For me, being a super crazy organized person, that was a huge low that I couldn't do it anymore.  I owe still and continually for Doctor visits, MRIs, Ambulance trips(not covered at all by insurance), ER visits and other various charges. I have medical insurance, but as I'm sure you understand that it doesn't cover everything.  It's sad that I fear that if I have another seizure someone will call an ambulance that I can't afford.  It's sad that I worry about that, not me.  I wish I could increase my life insurance policy. Currently it isn't enough to take care of my family.  The financial goal amount was arrived by adding the medical bills owed, my upcoming tests and appointments. All these things have my head spinning. Like I said earlier, this is very uncomfortable for me. I didn't expect to receive anything, let alone the goal set. That number looks crazy in my eyes. However, I am most gracious for all the help I've received.  The boys just started working and helping out now.  So we're getting some footing.
I'm doing okay emotionally.  I have a lot of anxiety and grieve for my career that I worked so hard for.  I have people thinking and praying for me. I am blessed for that.  Ben and I said our vows and are now happily married. He has been amazing and so patient with me. I get frustrated sometimes, but in general I am lucky. Why do I feel lucky? I have a plan B, surgery isn't an option, but we still have chemotherapy on the back burner.
Most importantly I would rather have this happen to me over watching someone I love deal with it. I feel like I took this for my children, family or my dear friends.  Right now there are two little ones that I hope I'm carrying pain for them.  I pray to God that I can handle it, I can't help with money, I'm awkward with words but this I can do. That's how I keep positive.
                                                     *Thank You * Thank You * Thank You * Thank You * Thank You*
Radiation Time.  I was skin and bones 5'8" and 92lbs.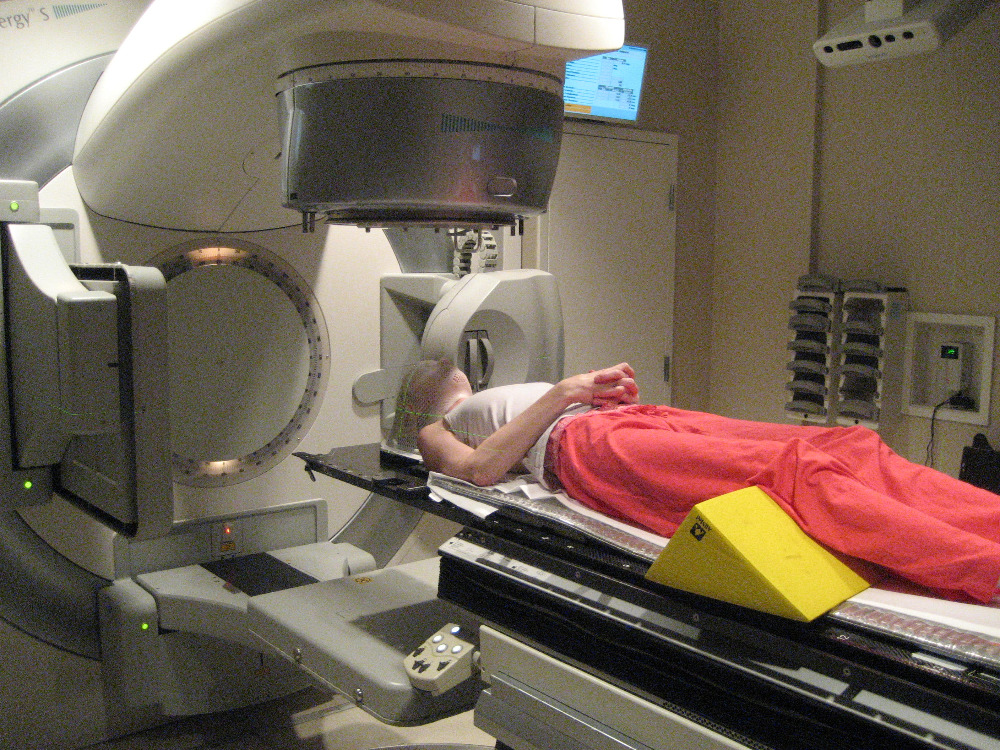 Our Wedding day at the local Court House (above)
My step boys (below)  They're all taller now
Fun times with my head
Me and Ben!  My gaming station behind me.
My hair hat.  Donated by Einstein Montgomery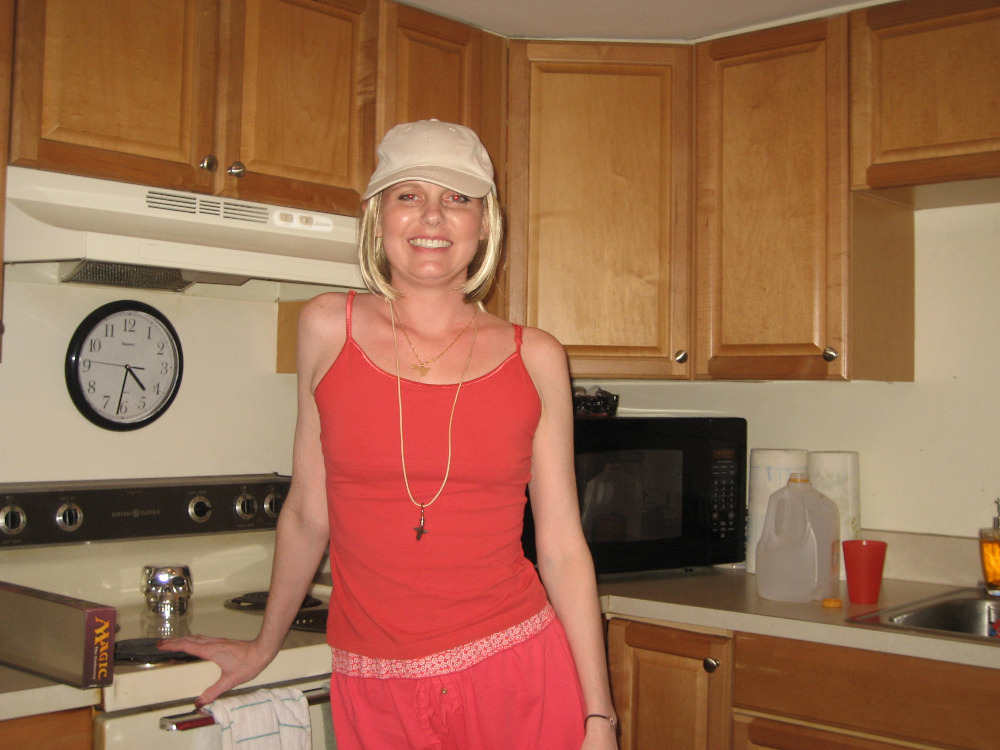 Just before my hair fell out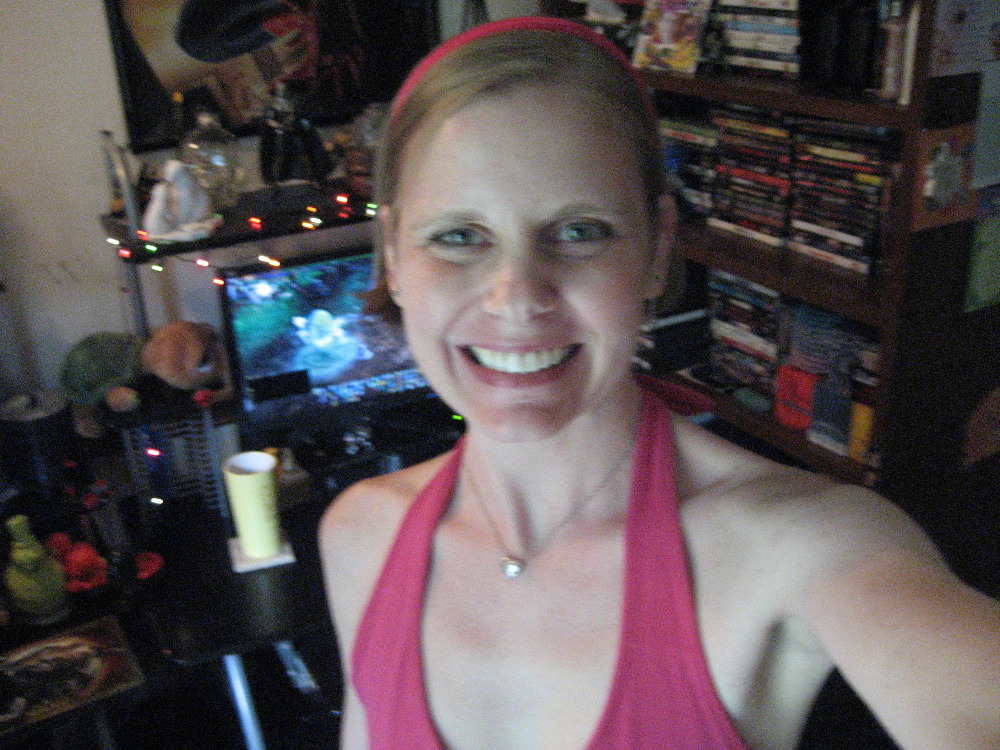 Softest hat every!  We turned the couch into a bed so I didn't have to use the stairs too much.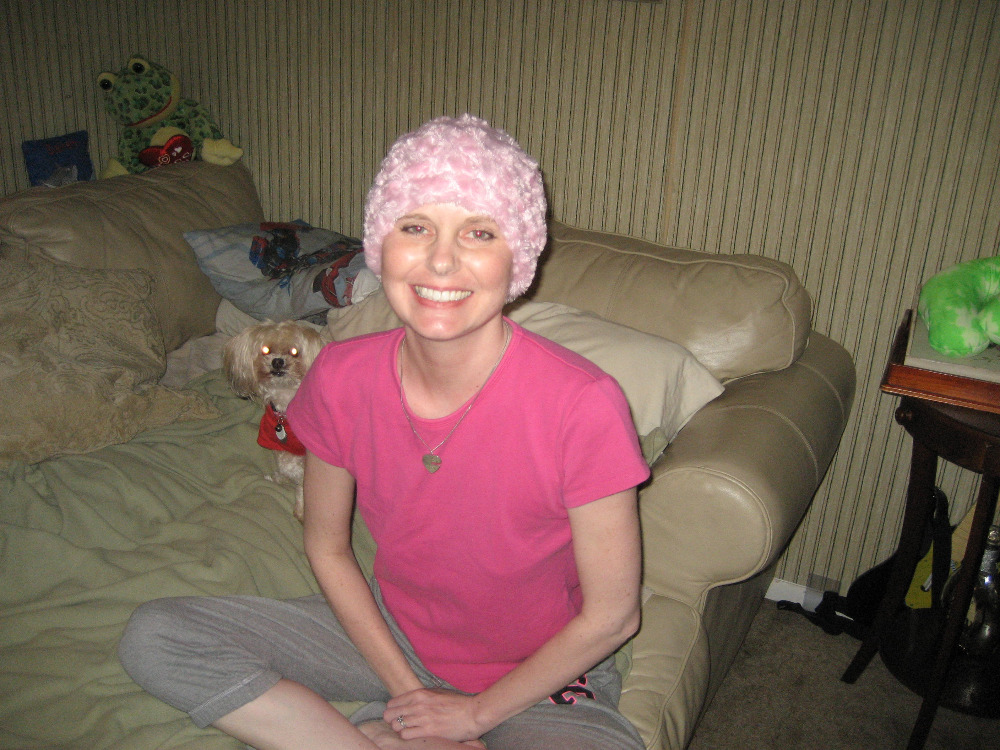 We buzzed together.  What do they say?  A family that buzzed together stays together.  LOL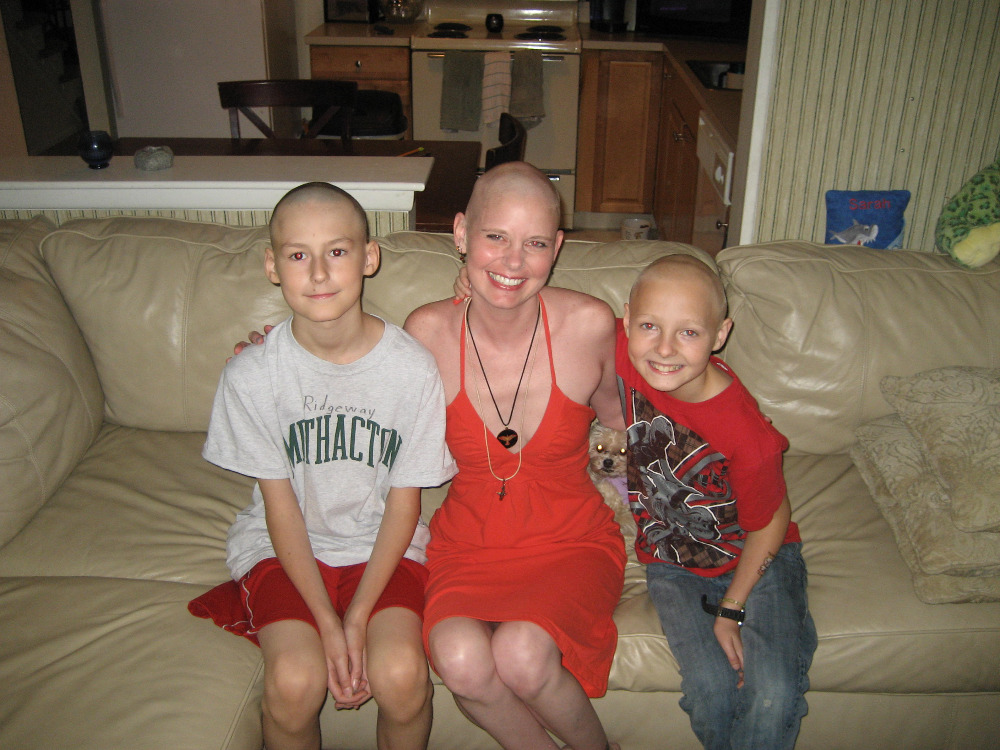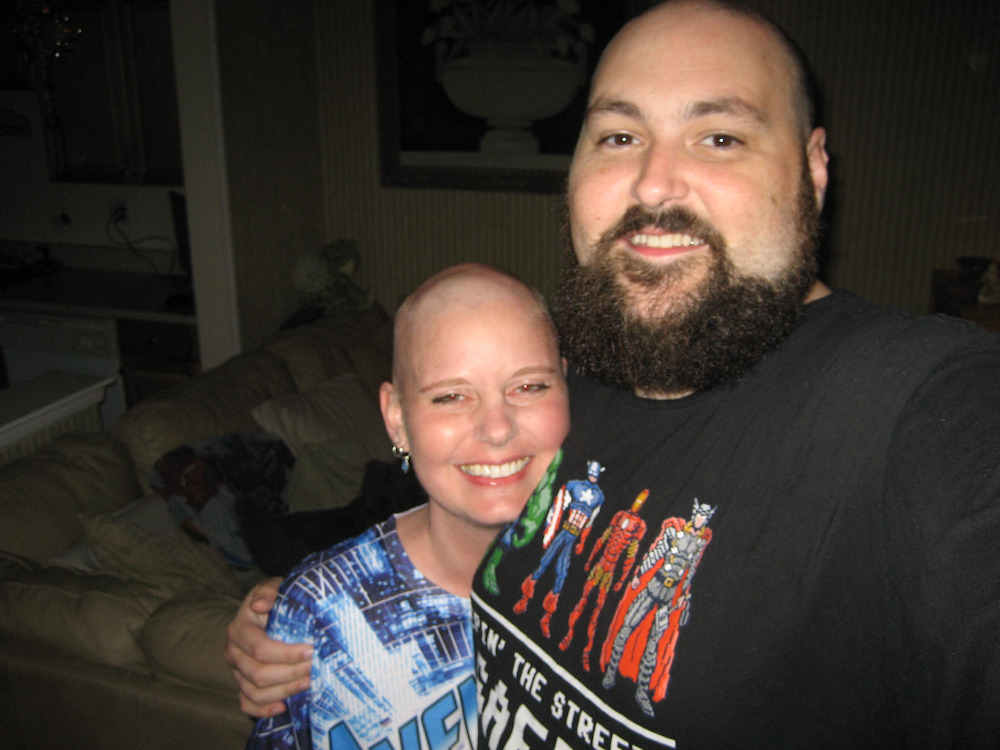 Icky Sicky days and swollen red head.  You can see above my ear was red and irritated.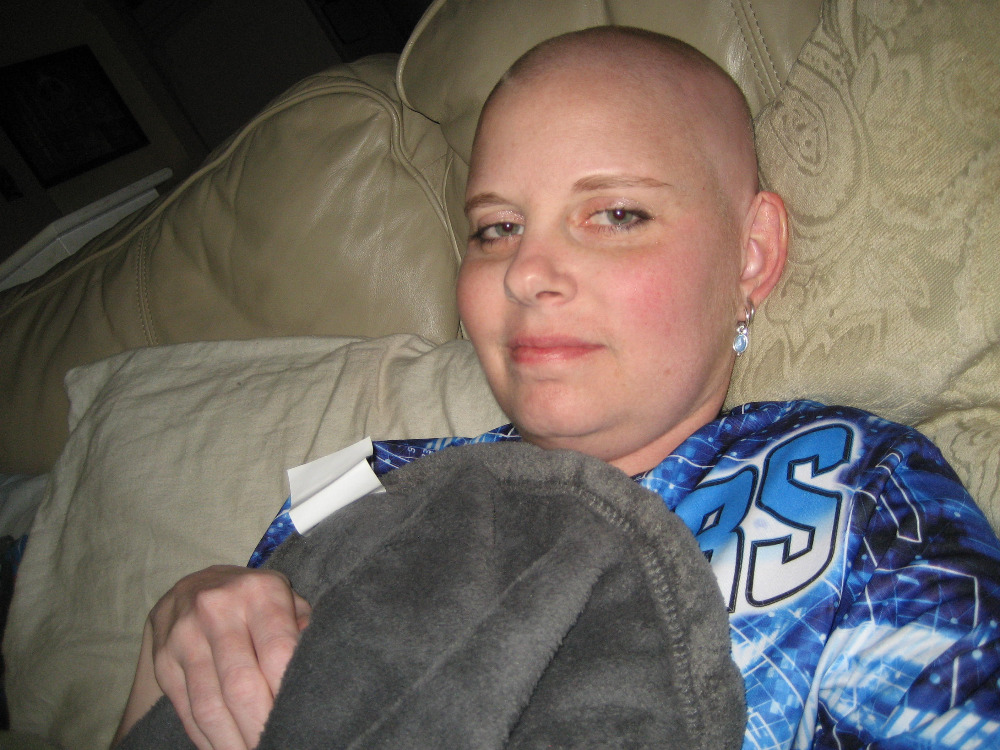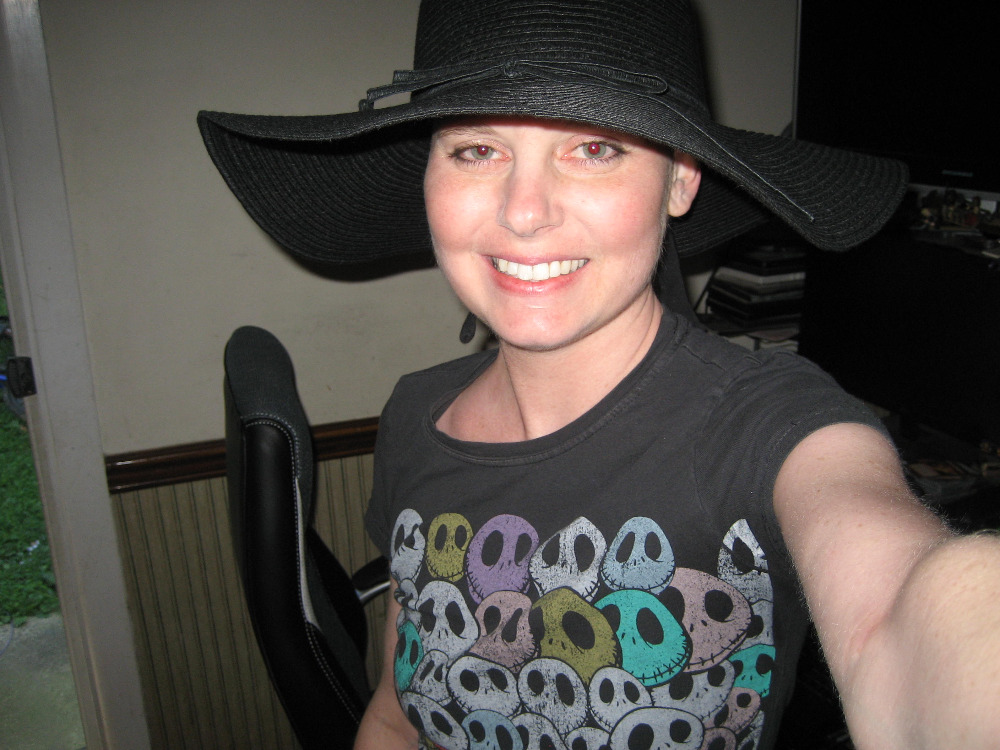 No Sun for Sarah Sunshine, but the Sun is in her Heart.
Become the first supporter
Your donation matters
Organizer
Sarah Sunshine Ridgeway
Organizer
Norristown, PA