Help Three QTPOC Fatties get to the AMC!
Dear community of friends, family, and supporters.
We are three queer fatties of color and this will be our first time attending the Allied Media Conference. We really need your support getting there!
The
Allied Media Conference
 is in Detroit, Michigan June 19th-22nd. Our workshop was accepted and we are excited to present as part of the 
Abundant Bodies track
! We have not been in any way able to afford this conference in the past and it's prevented us from even applying but this year we took a leap of faith and submitted a workshop proposal. Now that we have been accepted we want to make sure this dream opportunity becomes a reality.
The cost for the three of us to attend is pretty immense, especially considering our limited and different economic resources. We anticipated being able to cover a portion of the cost but we will need your help to get all three of us there. We hope that our vibrant community of fatties, QTPOC, friends and family will help us make this trip possible.
We need help covering the following costs:
Plane tickets $1800 (flights from Portland to Detroit are ~650 and flights from Salt Lake City are ~$550)
Housing $500 (we found an airbnb across the street from the university that would allow us to room together and cook meals to save money)
Transportation/taxis $100
Registration $150 (we were awarded an additional $150 from AMC to use towards registration but we would like to contribute more to the conference beyond that amount)
Trip Total 2550 + ~150 for indiegogo fees
Grand total 2700
Anything we raise here above and beyond this amount will go towards food and supplies for our workshop and our rewards offered here.
If you can't donate (and we totally understand that many folks won't be able to), we hope that you will still support us by spreading the word or consider donating items/skills that we can add to our rewards offered.
We do this work to leave evidence of ourselves, those of us who are simultaneously unseen and hypervisible in our queer, fat, brown bodies. Please help us in doing this work!
Thank you!
Cory, Jess, and Esther
About our workshop: 
DANGER! Excessive Consumption of Selfies

What makes our fat self-representation consumable? We'll look at the ways we make our own images and why we create these images, why they're valuable, subversive and how they can reinforce the same oppressive systems we resist. We aim to build connection and community for fat folks IRL, online and build our media presence. We'll identify the components of desirability that influences and control how our fat bodies are consumed and produce selfies documenting our exploration into fat self-imagery
About us:
esther kim is an angry queer fat korean american crafting, singing, raging, eating, selfie-ing and loving her way to liberation. she can be found online at mightyfemme.tumblr.com
Cory Lira is an fat femme of color xicana educator, wannabe writer, and cultural worker based in Portland, OR. She coaches students through their first year of college for her day job and is involved in prison abolition work, fat activism, and manifesting and fostering QTPOC spaces in her community. She presents and speaks on fatness within intersectional identity politics. You can hear some of her work
here.
 She can be found online at joteria.tumblr.com.
jess mease is a fat hapa genderqueer dreamer who is most often found in portland, oregon. they are passionate about cultivating community, empowering folks in their communities to share their narrative, and practicing radical honesty. get @ jess online at jrahrah.tumblr.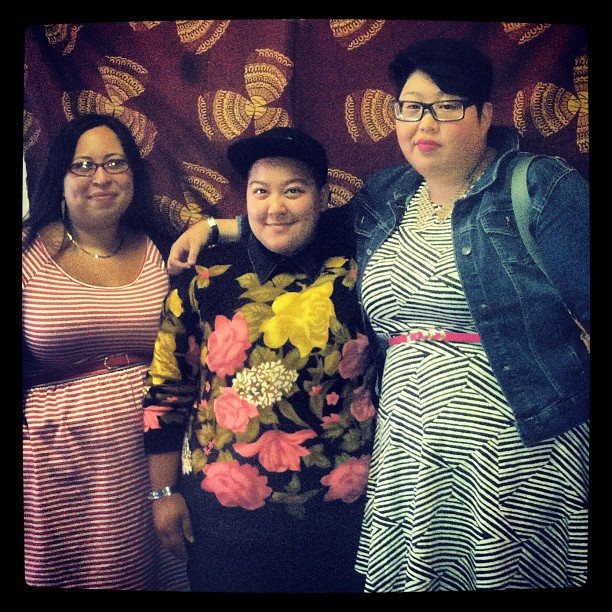 Organizer