Team Jenny Bean Hospital Care Bags
Team Jenny Bean Inc. is now an official 501(c)3 charity and we're migrating to a new online home, GoFundMe's charity platform, GoFundMe Charity. With this new chapter comes new ideas and goals and we need your help to make Jenny's dream of helping others come to life! To follow along with our next steps and continue supporting our journey at Team Jenny Bean, please visit our new fundraiser on GoFundMe Charity: https://charity.gofundme.com/o/en/campaign/teamjennybeangeneralfund

Hello everyone! My name is Mike Shaw and I am the proud father of 8-year-old Jenesis (Jenny) Shaw.  As a young cancer-fighter, Jenny was inspired by the outpouring of love and support that she received while going through treatment. When Jenny noticed that other kids didn't have the same support system she did, she knew she had to give back — even in her own time of greatest need. That day, Jenny asked her mom and I if she could give back and our lives have forever been changed.

Jenny's first plan of action was giving care bags to other children facing a cancer diagnosis. These care bags contain necessities like soap, warm socks, coloring books, crayons, toothbrushes, and even a handmade beanie for kids going through chemotherapy. To date, Jenny has delivered 300 care bags and over 2,000 toys to children facing cancer or other life threatening illnesses.

Our family has been so inspired by the amazing outpouring of support for Jenny's cause and we are excited to share that Team Jenny Bean Inc. is now becoming an official 501 © 3 certified charity. We'll be able to accept more donations and in-kind services and apply for grants to support our efforts, ultimately reaching more kids in need. Becoming an official charity gives Jenny's vision a formal structure, opening the doors to unlimited potential for growth!

With this new chapter comes new ideas and goals and we need your help to make Jenny's dream of helping others come to life!

Care Kits
What started as care bags have now transformed into care kits! We've swapped paper bags for shippable boxes so that we can take the show on the road. In addition to hospital deliveries, Jenny will now be shipping  her survival kits directly to cancer fighters at home, so that more kids can experience the celebration of hope.

Jenny is working on themed care kits that allow kids and their families to have family celebration nights (similar to what our family did when Jenny went through Chemo treatment) Themes include game night, movie night, and even Chopped night kits inspired by Jenny's favorite show on the cooking channel. If you know a fighter who would enjoy a survival kit, you'll soon be able to nominate them on TeamJennyBean.com 

Lemons to Lemonade: A Children's Book
We always wanted to share Jenny's story of tenacity and perseverance with other kids. Her story is especially poignant to cancer fighters but, just as relevant to any kid facing a challenge. Lemons to Lemonade is an easy read for all children with a rhythmic flow that creates an inspiring earworm that kids are sure to repeat. "Sometimes sour lemons make sweet lemonade." Jenny picked the title because she says, "Sometimes you have to go through your darkest times to get to your greatest."

The book goes through a series of challenges that Jenny has faced over the last two years and the ways that she has found a silver lining in it all. She says, "It's all about perspective." We had so much fun writing this book together and are looking forward to bringing it to life and sending it to children around the country with your help.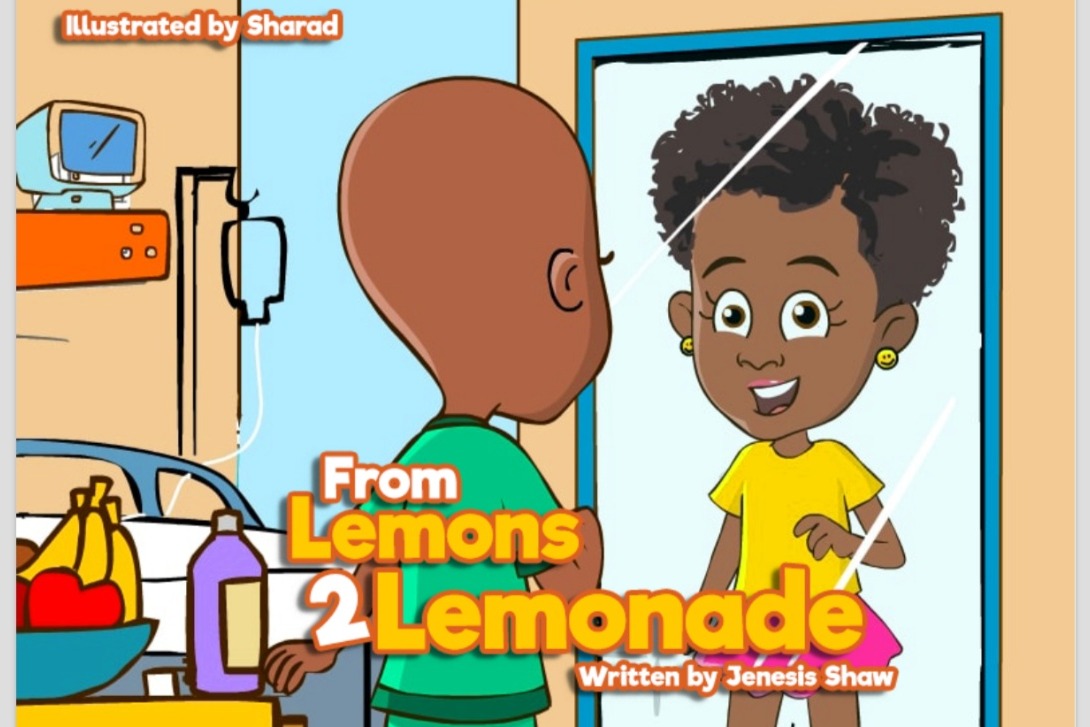 Team Jenny Bean Mascot
Jenny's first ever plush doll has been brought to life to be included in survival kits, representing hope and inspiration for kids facing all types of challenges. We have to raise enough money to get our first large run done and the larger our initial order placement is, the better we can negotiate our production cost.

Team Jenny Bean's lifesize mascot is preparing to go to hospitals, schools and community to provide "Edutainment" around childhood cancer, acceptance, the importance of physical activity and volunteering.Jenny is so excited to bring awareness to kids in her community.   



We truly believe Jenny's story is one that can help other kids facing challenges of all sorts. No matter what the odds are, you can always give back. Thank you all for your continued love and support. We're excited to embark on this new phase of our mission with all of you, the amazing supporters of Team Jenny Bean.

Please help support Jenny in her mission by donating today or sharing her campaign link: https://www.gofundme.com/teamjennybeancarebags

Jenny's Story:
On August 9, 2017, just before her 7th birthday, Jenny's mom discovered two small masses near her rib cage at bath time. Upon completing tests at Golisano Children's Hospital, she was diagnosed with Wilms Tumor, a childhood cancer that affects the kidney in kids 2-5 years of age. Solid tumors were found in her kidney and liver, but she was a-symptomatic upon her diagnosis and had no signs of illness. There was nothing to tell us anything was wrong. We thought we would go to the hospital and just get her a prescription, but when the doctors detected cancer, it ended up being a 4-day ordeal. She started treatment shortly thereafter and hasn't looked back since. Even with her diagnosis, she kept her bright smile and optimistic attitude!

Today, Jenny is sixteen months cancer free, no medicines and no treatments. We now have moved to Semi-Annual scans to make sure she's free of any recurrence and we see her kidney Dr. twice a year to follow up on single kidney function. She is truly back to being a kid enjoying things like running and track. Now that she is done with her personal chemotherapy treatment, she is more focused than ever to continue to help other kids fight the fight of their lives and give back.