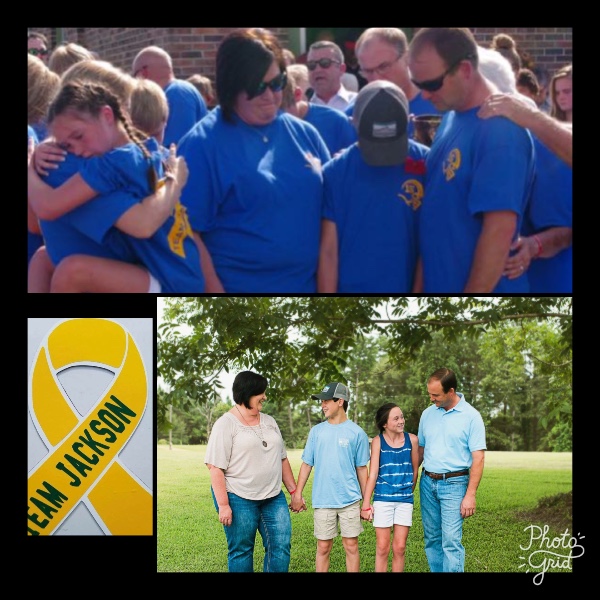 Jackson Conway is an amazing 14 year old boy from Evergreen, Alabama. He loves the Lord, all sports, anything Alabama, fishing, hunting , his friends and family.

He was diagnosed in July2017 with Ewing Sarcoma Cancer. This is a very rare form of cancer. He has a tumor in his jaw and deposits in his lungs. He is going to face a very long battle.

He will be having chemo treatments 2 days one week and then alternate to 5 days the following week. He will also likely be facing reconstructive surgery in his jaw. This is all going to be very tough on his little body.

He has a mom (Kristy W. Conway), dad (Terry ) and little sister, (Chloe). The family has been uprooted from their lives in Evergreen and are now in Houston TX. The family will be in Houston for atleast 7 months as he completes his treatment at MD Anderson hospital. He must remain in Houston as an attempt to keep him healthy. If he is sick, the treatment will have to begin again, and therefore make his journey even longer.

The family will be facing astronomical expenses while they are in Texas. The financial burden will be huge. The cost of housing alone is an extreme cost not to mention food, travel, and all medical bills. We have created this Go Fund Me as an attempt to lessen the burden and stress on his family. Please consider donating. Any amount helps. Please share this with all of your friends and family. 

Thank you for all of the support and prayers for them during this time. They know that the Lord is with them and that's where their strength comes from.

Please share this gofundme post with all of your friends and family.



JACKSON ACADEMY JACKSON ACADEMY 
Organizer and beneficiary