Helping our Gracie to get well.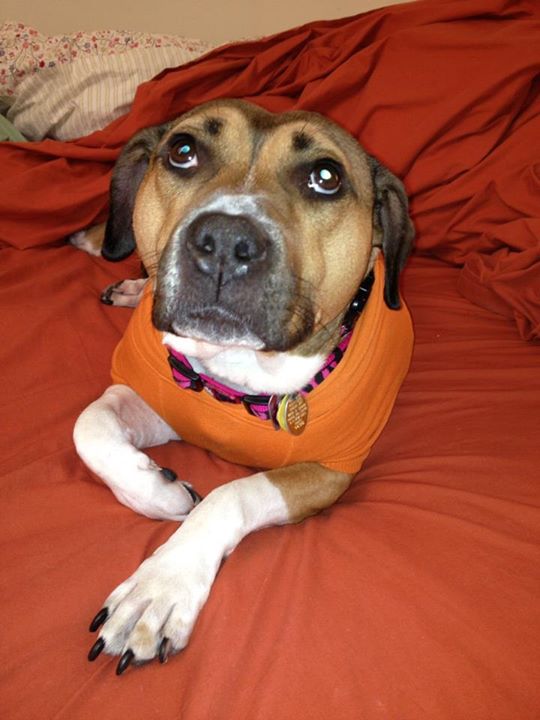 Hello friend!
Gracie is our 5 year old Pitt bull mix who has come against some hard times. She was diagnosed today with hypocalcemia, or low calcium and has been admitted to VSEC in South Philadelphia for emergent care.
Over the past month she started to display symptoms that looked like common ortho issues for an overly active dog. It started with a well visit and special attention to a possible knee injury due to a slip on the ice. A week ago she was not able to walk and diagnosed with possible sciatica. Gracie is a very compliant patient and gets her medicine, rest and follows her vet's orders. Friday, 4/11/14, we came home to her in a dehydrated, state of duress. Up until this time, all issues with her movement presented in the hind legs. Friday, she had a lame front paw and it simply didn't work. After carefully attempting to cool her down and hydrate her with cold water, she became very sick. She vomited as a result of drinking too fast and furiously. We were in contact with VSEC and our friends in the animal care field and watched her like the helicopter parents that we are. Even the cat was curious why she wasn't moving much. She showed moments of old Gracie, barking at the smell of food burning on the stove or attempting to rub up on us as we hand fed her rice and chicken to settle her stomach but she still seemed very lethargic. This morning, Sunday 4/13/2014, I noticed she had large hives on her tongue. THAT WAS IT! We quickly loaded her into the car and headed to VSEC. The initial exam has shown that she has a severe calcium deficiency which may be the culprit for all of her issues. we also we're told the "hives" were bite marks as a result to the pain she has been experiencing over the last 24 hours. We do not know the cause but the effect has been absolutely devastating to our household. Gracie is loving, affectionate and sweet. She is a far cry from the emaciated, abused dog we very first met.
The cost for her x-rays and office visits over that past month prior to today's emergency visit (4/13/2014) were close to $1000.00. Just to keep her overnight for IV medicine, and await to see an internal medicine specialist tomorrow, we had to break up an additional $1210 over 4 cards and cash literally wiping all of our bank accounts and maxing all lines of credit. The cost of her care is escalating faster then we can recover.
My hope is that she get the treatment that will allow her to spend many more mornings laying in the bed with us kicking as she dreams, winters in her assortment of custom dog sweaters while cozy in front of her favorite space heater, and barking at the sound of visitors coming up our front steps. Please help us. Gracie needs your help.
THANK YOU!!

Organizer
Layla Gray 
Organizer
Philadelphia, PA