Bella's Hospital Bills-Please help us
Dear friends and family... our baby Bella passed away yesterday April 13, 2014.

Please continue to donate and share this link on your pages so we can pay her medical bills.

There are no words express this loss.

Thank you all for your support and prayers.


'There is a bridge connecting Heaven and Earth. It is called the Rainbow Bridge because of its many colors. Just this side of the Rainbow Bridge there is a land of meadows, hills and valleys with lush green grass.

When a beloved pet dies, the pet goes to this place. There is always food and water and warm spring weather. All the animals who have been ill and old are restored to health and vigor; those who were hurt or maimed are made whole and strong again, just as we remember them in our dreams of days and times gone by.

The animals are happy and content, except for one small thing; they each miss someone very special to them, who had to be left behind. They all run and play together, but the day comes when one suddenly stops and looks into the distance. Her bright eyes are intent; her eager body begins to quiver. Suddenly she begins to run from the group, flying over the green grass, her legs carrying her faster and faster. You have been spotted, and when you and your special friend finally meet, you cling together in joyous reunion. The happy kisses rain upon your face; your hands again caress the beloved head, and you look once more into the trusting eyes of your pet, so long gone from your life but never absent from your heart.

Then you cross the Rainbow Bridge together, never again to be separated.'












Dear friends,

Our beloved Bella has been diagnosed with Lymphoma. (for those of you not familiar with this type of cancer- I have included a summary from her doctor which explains more)


She is our little 5 lb baby and we would do anything to save her. She was diagnosed on April 9, 2014.

As devastating as this news has been-WE ARE NOT GIVING UP HOPE. We are asking your help. Any donation no matter how small will be greatly appreciated. Her medical bills are more than we can handle but there is a possibility of remission and we are holding on to that. Your support is greatly appreciated!



Bella in my arms


We are trying out best to feed her.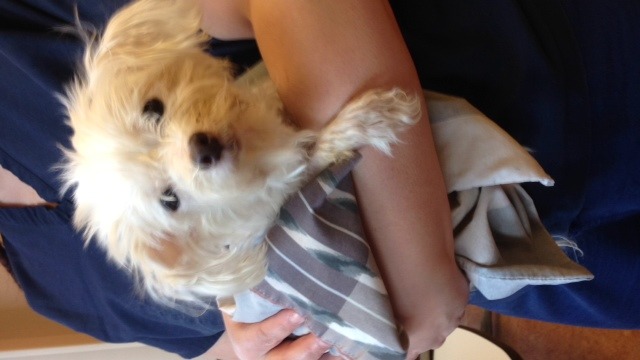 Bella in her Dr's Arms




(below is a breakdown of her condition by her doctor)
Bella has been diagnosed with lymphoma of the lymph nodes, skin, and likely blood circulation. She is an unsual case
in terms of her presentation of lymphoma (most dogs present with a "classic" multicentric form). Bella's could have a
case of atypical skin lymphoma that has secondary affected her lymph nodes and internal organs, or vice versa.
Further analysis of her cells are pending with a test called flow cytometry, which should yield additional useful
information not only regarding her cell type, but also the best way to treat her cancer.
Lymphosarcoma (LSA) is cancer of the lymphocyte, which is a white blood cell that plays a role in the body's immune
system. The term lymphoma is synonymous with lymphosarcoma. The cause of LSA in the dog is unknown, but there
have been associations with infections, auto-immune conditions, pesticides, chemicals, and other uncontrollable
environmental factors. LSA is basically a genetic disease in the DNA of the dog, but not necessarily inherited from the
parents.
LSA comes in several forms: gastrointestinal (GI), mediastinal (chest), multicentric (involving many lymph nodes) and
extranodal (involving organs such as the eyes, brain, kidney, skin, etc). Most dogs present with the multicentric form
(80-85%). This "typical" canine lymphoma patient is often diagnosed in middle aged to older dogs who present to the
veterinarian because one or more lumps have been found. Usually dogs are not showing any signs of illness and the
lymph nodes are not painful to the dog or on palpation by the doctor. Diagnosis is based upon either cytology or biopsy
of the lymph node.here are two common types of skin lymphoma in dogs: epitheliotropic and non-epitheliotropic. Epitheliotropic
lymphoma is a cancer of immune system cells (lymphocytes). In this case, the cancer is born of lymphocytes residing
in the skin or other superficial sites such as the lips and oral cavity. This disease is similar to mycosis fungoides in
people. Most dogs will present with one of the following clinical presentations: itchiness, a diffuse redness of the skin,
plaque like lesions, scaling, ulcerations or nodules in the skin, oral ulcerations, or loss of pigment at the lip margins.
The lesions can be distributed diffusely over the body or be localized to one specific area. Diagnosis of this cancer
requires biopsy - Bella's biopsy is NOT consistent with this type of skin LSA.
Non-epitheliotropic lymphoma is uncommon form of cutaneous lymphoma in the dog. This type of lymphoma may be
of either B or T cell origin and manifests in a similar manner to its epitheliotropic counterpart, although oral
involvement is rare and the formation of mass lesions is more common. In addition, most dogs will present with
systemic involvement as progression of skin lesions into the lymph nodes and other organs is rapid. Unfortunately,
this type of lymphoma is poorly responsive to chemotherapy and remissions may be short. Full weekly chemotherapy
is recommended using a combination of chemo drugs. Overall survival times are short, usually 4 months from onset
of skin lesions unless a complete remission is reached, which improves the average survival to approximately 1 year.
There is a possibility that Bella could have a less aggressive form of LSA, and the flow cytometry should help to clarify
this so we can implement the best therapy possible.
Bella's anemia could be due to decreased production in the bone marrow if the lymphoma is there vs. auto-immune
destruction of the cells vs. a combination (suspected). Whether directly or indirectly, the LSA is suspected to be
playing a role in the anemia. Treatment with immunosuppressive doses of steroids and chemo for the LSA will
hopefully help this issue resolve.
Bella in Happier Days
Please help us save our baby. I will keep you all posted on her condition as well as updating you all on doctor visits and chemo treatment. (fyi) I will be more than happy to share her medical invoices with anyone that wishes to view them.Thank you all from the bottom of our hearts.


Organizer
#1 fundraising platform

More people start fundraisers on GoFundMe than on any other platform. Learn more

GoFundMe Guarantee

In the rare case something isn't right, we will work with you to determine if misuse occurred. Learn more

Expert advice, 24/7

Contact us with your questions and we'll answer, day or night. Learn more