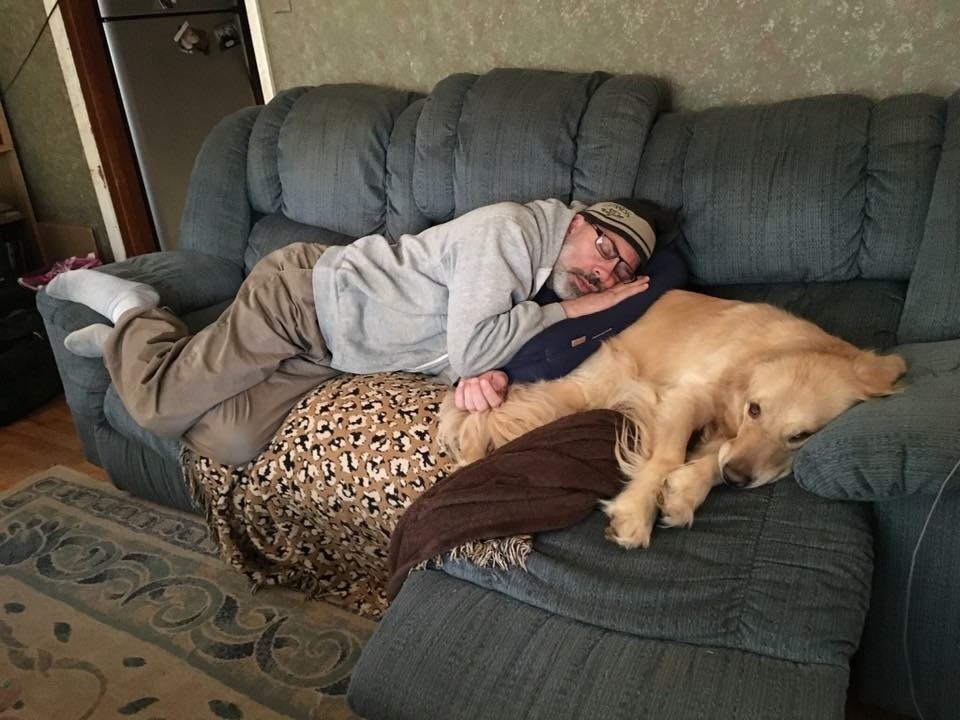 DARRELL'S JOURNEY (as written by his wife, Barb)...
In June of 2013, Darrell was diagnosed with Stage 3, possibly 4, rectal cancer. On August 1, 2013, he had his first surgery. From there, he started chemo for the first time. This involved 24 weeks, one treatment every other week for a total of 12. Two weeks after this major surgery, he started teaching part-time two days a week.
In August 2014, he had another major surgery to reverse the ileostomy (from 1st surgery). He was released from the hospital on August 15th, and a few days later nearly bled out from complications from the surgery. He was taken to the local hospital by ambulance, given blood and stabilized, then sent by ambulance to WFBMC in WS, where he stayed in the cancer ICU for about two weeks, was then moved to a regular room for two days and then released again. He then completed the first round of chemo.
During this time (early Spring 2015), he was having regular blood tests and CT scans. A lesion was found on a lung during one of the CT scans; a biopsy was performed but was unsuccessful. At that point, a decision was made to surgically remove the lesion, which was cancerous. During this time, a lesion was also found on his liver, and he had a series of multi-beam focused radiation treatments on the liver lesion which seemed to be very successful. However, scans and bloodwork showed that the tumor was still growing, and he had another major surgery attempting to remove the lesion. Due to the location of the tumor, despite a variety of attempts during surgery, it was decided that it was too dangerous to remove the tumor because it would have involved loss of 2/3 of his liver which did not look healthy as a result of chemo. Still, recovery was rough and involved at least a 10-day hospitalization.
Following this surgery, Darrell began a second round of 12 chemo treatments, again every two weeks for 24 weeks. But now he had started teaching five different classes in three different schools, the farthest  apart were about a three-hour drive. He continued with chemo while teaching, even though he felt very weak, nauseated, and in pain. Once he completed the second round of chemo, he was feeling strong, and his blood work and scans were looking great.
Then in the Spring of 2017, his oncologist called after a routine blood workup and said his tumor markers had risen significantly (in a month). An MRI showed that there were now two tumors on one liver lobe, and liver surgery was scheduled for 7/19/17. During a pre-op scan, more lesions were found in both lobes of the liver and in his lungs. Liver surgery was cancelled, and chemo was started for the third time. After one chemo treatment, tumor markers went down from 29-11.3, yay! Then he took some time off of chemo to have a procedure called a chemo-embolism which basically places chemo-laced beads in the arteries surrounding the tumors. This involves an overnight hospital stay due to many patients having severe pain and nausea. One week after this procedure, Darrell is still not back to normal, and regular chemo treatments start again next week.
This is basically our last four years in a nutshell.  In addition, every time Darrell sees a specialist (a lot) and with every CT or MRI, there is a $100 copay. Thank God for insurance! On top of owing probably close to $60,000 just to Wake Forest Baptist Hospital (after insurance has paid), we still owe our local hospital for emergency visits, etc.
There is so much more I could say about Darrell. On top of teaching multiple Anatomy & Physiology classes at numerous colleges, he has faithfully taught our 2-3 year old Sunday School class alongside me. He has taken very few breaks.  Any financial help would go a long way in relieving the pressure on Darrell to go to work to support his family during days when he is too weak to even drive.

Organizer and beneficiary
#1 fundraising platform

More people start fundraisers on GoFundMe than on any other platform. Learn more

GoFundMe Guarantee

In the rare case something isn't right, we will work with you to determine if misuse occurred. Learn more

Expert advice, 24/7

Contact us with your questions and we'll answer, day or night. Learn more