Donation for Rick (Smiley) Bigg & family
This is the face of cancer. I'm sure many of you have other faces you can put on this terrible disease, but this is the face to those who know and love this special man.  This funny, hardworking, loyal, loving husband, father, brother and friend.
This is Rick. Or Mr. Bigg. Or Smiley as he's known to his fellow biker brothers. Rick loves to ride, he loves to crack jokes, he loves to build and fix things. He is 57.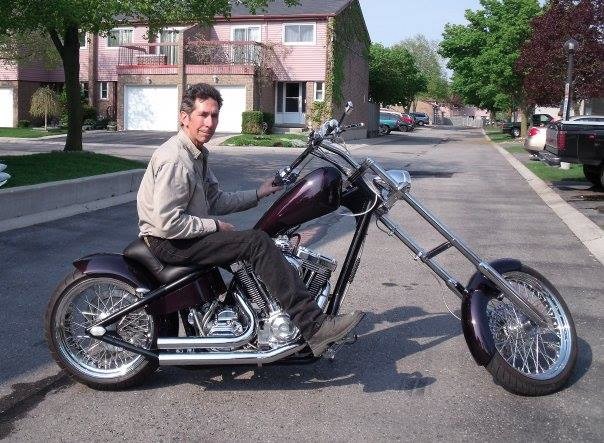 Two weeks ago, Rick was a man dealing with Parkinson's, a diagnosis he's lived with for more than 8 years. A disease that was already unfair to deal with, it's onset at the age of 49, a disease he refused to keep him from doing the things he loves, despite the difficulty, despite the frustrations, despite the long-term outlook.
On March 25th, 2014, Rick went to the hospital with pain in his chest and difficulty swallowing. Doctors told him he has stage 4 adenocarcinoma of the esophagus. A tumor the size of an orange. A tumor that is inoperable and prevents him from being able to pass food successfully to the stomach. The cancer has already spread to his spine, leaving a distinct hole in his vertabrae. Symptoms likely masked by his Parkinson's conditions:.and stubborn nature.
Doctor's have told Rick he has but months left to live, something those who love him both fiercely cherish and fear all at the same time. He will never eat solid food again, instead fed by a feeding tube inserted directly into his stomach.
Rick has Parkinson's disease. Now he has cancer. He weighs 115 pounds. The cancer in his spine has caused significant damage to his C7, causing excruiating pain at times and if he's not careful, a risk of possible paralysis.  His wife Laurie had a kidney transplant a year ago and lost her own brother in 2012.
This family has had their share of hardships. Our hope is to now give them something they both cherish and need:.time together and freedom from some of the financial burden that this illness will bring.
Please support Rick and Laurie, both in your thoughts and prayers and with a small donation here to help them through this difficult time.  We would all love to find a cure, but until then here's a family we can help right now.
Organizer