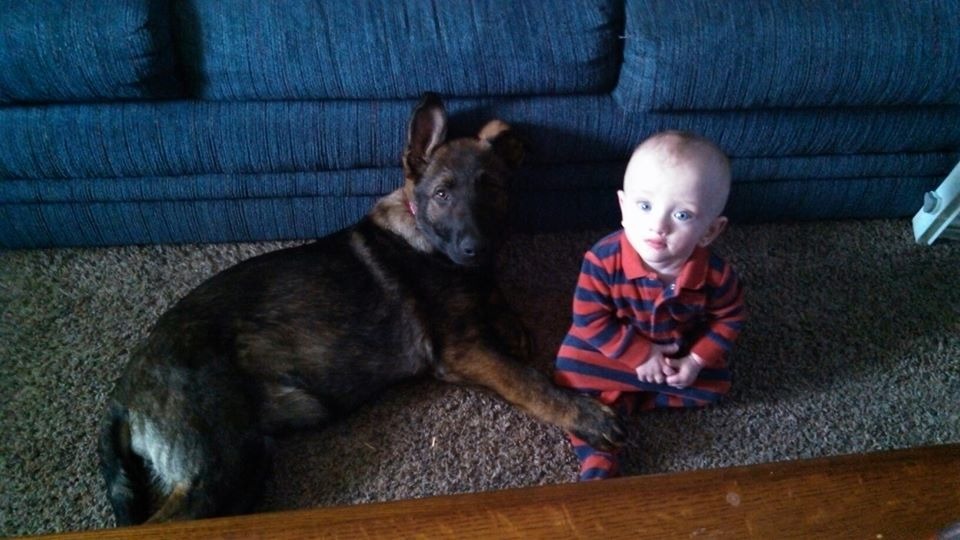 Above: Rommel and Daniel, taken not long after I brought Rommel home as a birthday present for Daniel.
My name is Clayton D. Haisley. I'm currently an unemployed 28 year old man looking for work. I reside with my family in Richmond, Indiana. Recently, we received a dose of bad news, and I hope that after reading the following information, that you might be able to help me find a solution to this problem.
My encounter with German Shepherds began as a child when my mother acquired a white female named Lily. I loved Lily very much, and resolved that when I owned my own home, I too would have a shepherd. Flashing forward, in October of 2012, my wife began experiencing serious complications in her pregnancy with our first child. Our son Daniel, was born at 25 weeks gestational age on 10/18/2012. Due to the complications arising from HELLP syndrome, preeclampsia, and intrauterine growth restriction syndrome, Daniel was the size of a 23 week baby. By modern medical definitions, our son is considered a micro-preemie and miracle in the fullest sense of the word. He was 11 inches long and weighed 1 pound 1 ounce (if ventilator tube weight is subtracted, his weight is more approximate to 14.4 ounces). After a four month NICU stay, Daniel got to come home on Feb. 22, 2013. At the end of May of that year, we moved from our apartment to a house in Richmond. Shortly thereafter, we began the process of looking for a couple of dogs.
Below: Daniel. The first photo I ever took of him.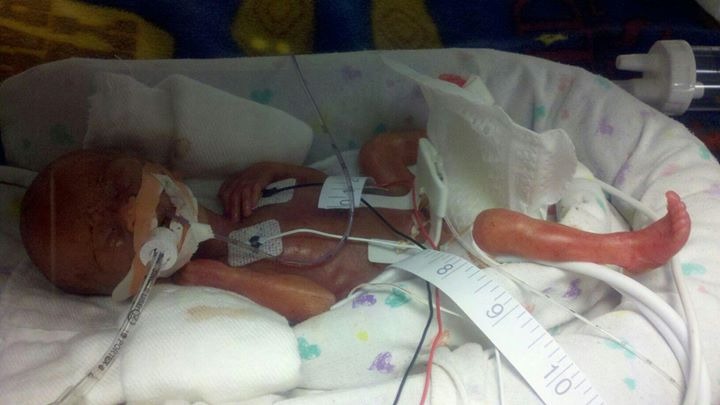 Our first dog, Daisy Mae, is a three year old red bloodhound (possibly red bloodhound-golden retreiver mix), which we rescued from the Preble County Humane Society in Eaton, OH. Our second dog, Rommel, is a sable coated German Shepherd. I purchased him from a breeder in New Carslile, IN on 10-17-2013. He was born on August 23, 2013, and in addition to my love for shepherds and desire to provide a companion for Daisy to play with, I purchased Rommel with the intent that he and my son could grow up together.
Thus far, Rommel has been a blessing and welcome addition to our family. My son loves crawling around the living room and playing with his doggies. He's everything an ideal dog should be. I've got him crate trained, he's house-broken, loyal, playful, and very good with children. We love him dearly and don't want to lose him.
Two days ago I noticed that Rommel was limping a bit after our walk around the block. The next morning, he didn't want to leave his crate to go outside, and did something he normally doesn't do- peed on the floor. When he finally decided he was ready to go outside, I noticed he didn't walk out of the crate, but scooted out, favoring his right front leg and still limping when he got outside the crate. Right away, I put Daisy Mae outside, and since Christina was off, took him straight to Dr. Woodward at Boulevard Animal Hospital, here in Richmond. After explaining everything to the doc, I knew he'd want to take an x-ray or two. Looking at the x-rays, he told me that the click he felt in Rommel's right front elbow when flexed was the result of an ununited aconeal process, and that Rommel was also exhibiting signs of early arthritis in the same elbow.
I was astounded. I know Shepherds, as many larger breeds are, suffer from an increased risk of dysplasia, but I was still shocked because of the homework I put in to the process when I went looking for a shepherd. I intentionally stayed away from the breeders known or accused of engaging in poor practices, and consulted multiple times with the breeder before I finally selected them. Rommel's parents were imported from the Czech Republic and Rommel's ancestral lines, through 4 previous generations, received the top Czech equivalent to the German S.V. breeding and veterinary certifications. But I understand that just because they were certified, doesn't mean my dog was automatically on par with that (obviously, he may have caught a bad genome). The breeder does have a hip guarantee for dogs diagnosed with crippling hip dysplasia before age two. All I am required to do is return the AKC papers to him (I may keep the dog at no strings attached on my end), and he will warrant me a replacement puppy as soon as one is available. The fact that I could keep the dog was an attractive selling point, because it seems rather heartless to allow a dog and family to become attached to one another and then separate them permanently.
My problem, is that Dr. Woodward referred me to Northwood Animal Hospital in Anderson for the surgery. As a recent college graduate, I have to take financial constraints into account, and the bottom line after talking with the woman at Northwood on the phone today is as follows- the consult alone is going to cost me $140. The surgery itself, anywhere from $2500-3000. According to my regular vet, this procedure is not a certain fix. In his words, "it may, or may not work." I could have handled about $1,000 and even been willing to accept the potential uncertainty of success, but not $2500-3000.
Due to the extremely early nature of my wife's pregnancy, it is doubtful that we will ever be able to give Daniel a little brother, and in acceptance of that reality, I love this dog like the second son I probably won't ever be able to realize. It kills me to think of him walking about in pain and being unable to remedy his affliction (even though that remedy is only possible, not certain), but it kills me even more so to know that by doing so, I've condemned him to eventual lameness. I don't want him to spend his life suffering. As it stands right now, per the vet's orders, Rommel is virtually a prisoner in his own home. He can't go outside and play with his bigger sister Daisy Mae, I can't take him for walks around the block or play fetch with him, and I can't risk allowing him into the living room with my son crawling about because (God forbid) of what might happen if Daniel was to accidentally bump into his sore leg.
I'm sorry for the lengthy nature of this story, and would like to thank you for any contributions which you may choose to provide in helping me get Rommel the medical care he needs.
Above: A current photo of Rommel.
Below: Daniel celebrating the one year anniversary of his release from the hospital with a trip to Veach's Toy Store.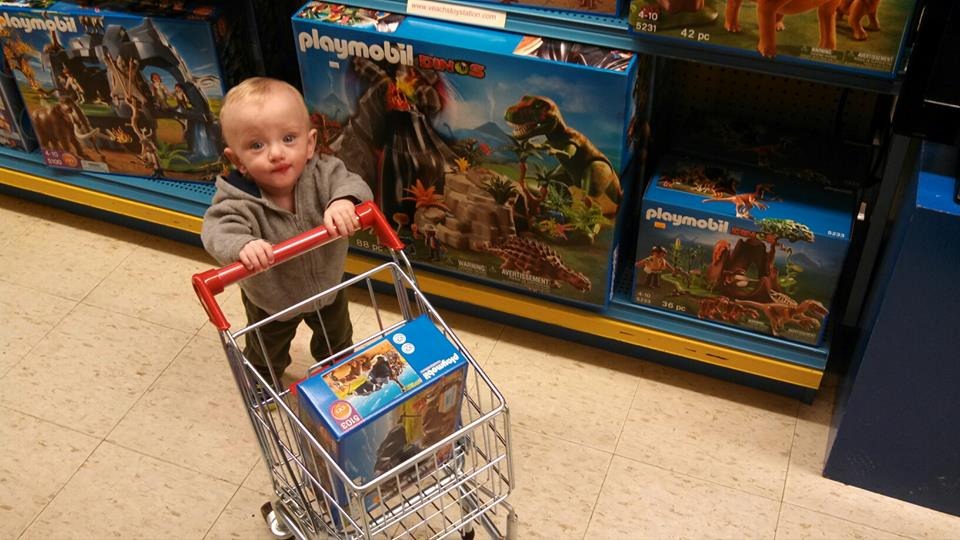 Sincerely,
Clayton D. Haisley
POSTSCRIPT: 04/07/2014

On behalf of Christina, Daniel, and myself, I would like to thank all the people who donated or shared this page in our effort to raise funds to pay for Rommel's surgery. Thanks to your efforts, Rommel will have the opportunity to have his ununited aconeal process repaired by a qualified orthopedic veterinary surgeon. We are hopeful that this process will allow Rommel to resume living a full and happy life alongside us. As events further develop, updates will be posted on my Facebook page for interested parties to follow.

Once again, thank you all so very much for helping us. We hope someday we are able to do something nice for every individual person who helped us during this time of need. May God bless you, and may he return the generosity which we received back to those kind people who have helped us by a factor of fifty. 

Sincerely,

Clayton D. Haisley
Donations

Organizer
#1 fundraising platform

More people start fundraisers on GoFundMe than on any other platform. Learn more

GoFundMe Guarantee

In the rare case something isn't right, we will work with you to determine if misuse occurred. Learn more

Expert advice

Contact us with your questions and we'll answer, day or night. Learn more