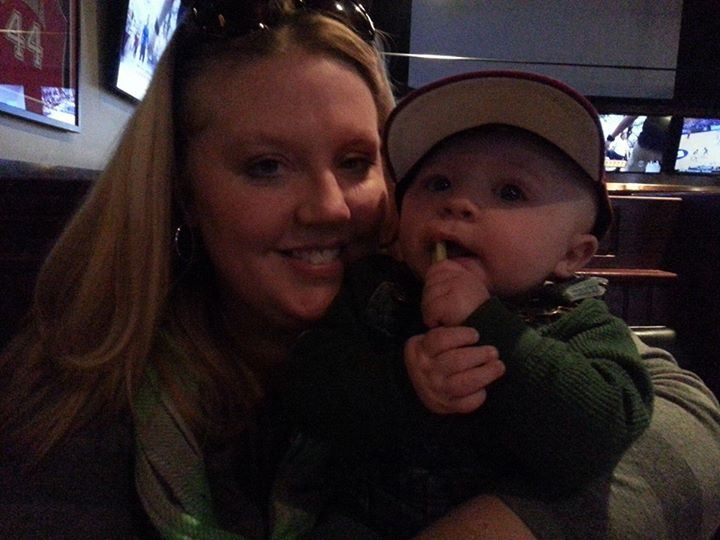 Last year was a big year for the Muellers. In early 2013, Jess and Chris announced that they were expecting their first child. Following this exciting news, Jess landed a dream summer internship with Esri, a Geographic Information Systems company in California. Although they knew that there would be some difficulties in being so far from family while she was pregnant, Jess and Chris trekked across the country and on to her temporary home. Chris, meanwhile, continued working from his home base in Bloomington, IN with their two dogs, Leo and Zerky.
Happily, Jess had a healthy pregnancy (aside from some lingering back pain) and loved her internship. In the meantime, though, Jess had a baby to bring into the world! So, following her completion of the internship she moved back home to spend time with Chris and her parents and prepare for Baby Mueller's arrival. 
All of this would have been clicking along very nicely except for that nagging back pain. After returning home to Hidden Valley, IN, but before she and Chris welcomed their son Max into the world, Jess saw a doctor about the pain "" now worse than ever. The doctors assumed that the back pain was due to the late stage of the pregnancy and advised Jess to rest. So, following the doctors' orders, Jess barely moved until Max decided to arrive two weeks early. In fact, Max arrived just one day after Jess' baby shower. Just two short weeks after Max's arrival, Jess received an offer from Esri for a permanent position. 
The following weeks were a bit of a whirlwind for Jess, Chris, and their family. The pain had not subsided as expected and Jess ended up in the ER. Scans discovered that a two-inch tumor on her spine had been causing the pain and even worse, that the cause of the tumor was Melanoma "" a highly aggressive and dangerous form of cancer.
But, if you know Jess, you know that she was not going to take this lying down "" especially with the amazing Max now adding to her family! She underwent surgery to have the tumor removed. This procedure was successful. Following that, she underwent radiation therapy. For the next series of treatment, instead of pursuing chemotherapy, her doctors recommended using an immunotherapy treatment that basically bulked up her immune system so that her own body was fighting the cancer.
Possibly the most frightening news for Jess and Chris was learning that Melanoma is one of the few cancers that can transfer through placenta while a woman is pregnant and be communicated to an unborn child. Although it is very unlikely that Max has contracted the cancer, Jess and Chris felt they couldn't be too careful. At the recommendation of Max's pediatrician, Jess and Chris decided to have Max scanned for Melanoma and have him monitored, as well.
For now, Max has received a bill of good health and Jess' most recent PET scan has shown remarkable improvement, although the cancer is still in her system. But, she has had to temporarily decline the job offer with Esri. Although they have been very fortunate to have family step in to help with their living circumstances, Jess and Chris have accrued substantial out-of-pocket costs because the cancer treatment is extremely expensive. In short, although Jess has an insurance provider, they simply don't cover all of her treatment and procedures.
Pictured above of friends in Bloomington. (L-R): Nic Matthews, Chris Mueller, Wes Fox, Max Mueller (he's there in the carrier!), Teresa Lynch, Nicky Lewis, Jess Mueller, & Ryland Sherman
I (Teresa) have known Jess and Chris for several years now through our mutual friend Nicky, and I will say without reservation that they are among the kindest, most considerate, and fun people that I have the privilege of calling my friends. They have not allowed Jess' diagnosis or the financial drain to break their spirits "" quite the contrary, they continue to fight and keep their chins up. But, they need the help of their loved ones now to help them get through this tough time. If you're like us, when you heard the news of Jess' diagnosis you probably wanted to help in some way. Well, here's that chance.
Donate what you can, when you can. Every bit will help them to keep on carrying on.

Organizer
#1 fundraising platform

More people start fundraisers on GoFundMe than on any other platform. Learn more

GoFundMe Guarantee

In the rare case something isn't right, we will work with you to determine if misuse occurred. Learn more

Expert advice, 24/7

Contact us with your questions and we'll answer, day or night. Learn more