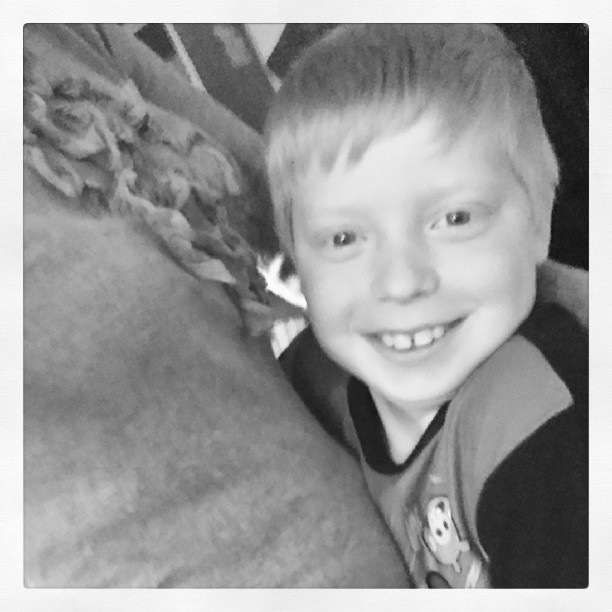 I'll just start by saying that 9 year old Brian is my buddy. He's funny, and loving, and affectionate and playful. He brightens my day and mood every time I see him. He makes me laugh and when I play with him I forget all the nonsense thats been stressing me out all day.  I am honored that his Mother Heather trusts me to care for him a few times a week. I, as everyone else who has had contact with Brian want only the best for him. We want him to have a chance to play and experience everthing his older brother and friends experience. He and his family deserve every opportunity to do things together- be active, go on adventures, encourage and support eachother, and just have fun!
Heather first noticed changes in Brian when he was about about 22 months old. They included mood changes, loss of language, and loss of eye contact. Heather was lucky, savvy, and concerned enough to know exactly where and who to go to to get Brian the intervention, testing and therapy that he needed. He received a diagnosis of Autism four months after the initial intevention, just two months before his 2nd Birthday. He was then labeled nonverbal with severe Autism. He has received years of therapy and support and now tests at a "moderate" level of Autism and is becomimg more verbal every day.I have even been one of the lucky ones to hear him say my name or a few words at a time to me. Brian works extremely hard at several different types of therapy, including ABA, OT, speech therapy, theraputic listening, and theraputic horseback riding. Brian has also been diagnosed with OCD and Apraxia. Heather has done her best to be his biggest supporter, advocate, and best friend. She has sacrificed throughout the years to make sure Brian has every opportunity possible to help him along the way. I've never seen a mother do so much to fight for her child. She is involved in the Autism Society of Maine, with whom she does fundraising and participates in events such as walks to raise money for the organization. She is an unofficial parent advocate in our area and does her best to reach out to-and help families who are experiencing the challenges and struggles that she and her family have experienced. She partners with local schools to spread Autism awareness to students within our community. In addition to being an occupational therapy assistant in the pediatric field, where she empowers and helps families gain skills they need, she also advocates for families who need help working with their childrens schools to make sure everyone receives the services they need. She is very vocal at School board meetings and within the local schools. She even recently took on another job- writing a blog in the Bangor Daily News teaching others about Autism and providing a resource to those who may feel that they are alone in their struggles. 
Due to Brians needs and challenges, it hasn't been a safe option for him to have a bike that he can ride independently along with is friends and family. Heather has attempted unsuccessfully to win a specialized bike that will allow Brian to ride along with an adult so that he can be involved in even more adventures with his family.The cost of these bikes range from 1,800.00 to 2,500.00. You can see the different models at buddybike.com. An opportunity like this would mean the world to families like Heather, her husband Colin, and sons Corbin and Brian. Going for bike rides as a family is something that we all take for granted...But for Brian, it could be a freeing, empowering, life changing experience. Heather is a giving, selfless woman who would never ask for anything, so I'm spreading the word for my buddy Brian. I want to see him on that bike! Even if we raise just a fraction for them, it's a start, and they all deserve this! Thank you for reading and caring!
Organizer