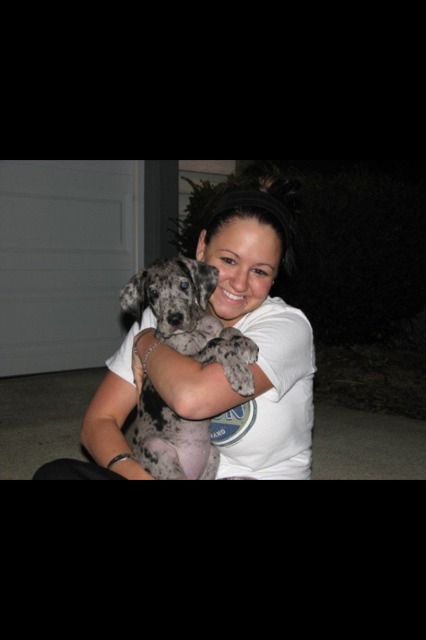 Meet our Bella Marie.  A very gentle giant with a personality that touches the hearts of everyone she meets.  She became a member of our family 7 years ago.  My 4 daughters & I drove 3 hours south to meet her, her brothers & sisters, and her parents. This trip was mostly for my first born.  She had always wanted a Great Dane and Scooby Doo had a lot to do with her love for the Dane breed.   Stevie hand picked Bella.  There was no "show" quality for Bella, for she was born a merle.  Her colored spots were not up to snuff.  She is what the breeders and show people call "less desirable".  Stevie fell in love with her blue eye and her brown one.  Traced her fingers along every black spot upon her little body.  SHE was the ONE.  SHE WAS DESIRABLE...to the 5 girls that drove so many miles to meet her, play with her, hold her and welcome her with open arms, into our family.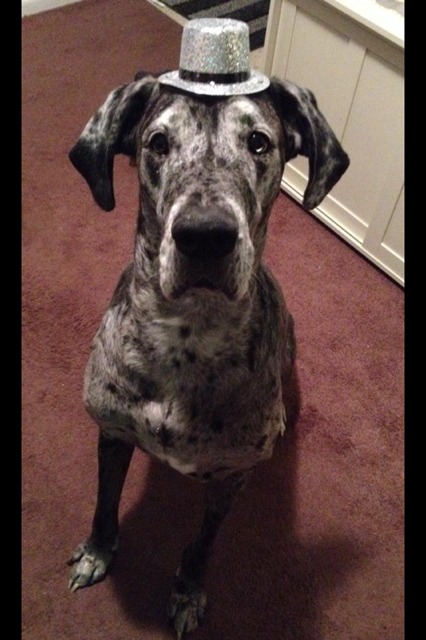 Bella has been a healthy girl all of her life.  She is taken on walks twice a day.  She eats a high quality diet.  Has seen the vet on a regular basis.  She lost her appitite 4 days ago.  Then began to struggle with doing her business.  Stevie made an appointment to see our vet on Monday.  Sunday night, Bella began to have shortness of breath.  She was then taken to the ER where they took 3 x-rays and did an EKG.  They told us there were 3 options. I'm only going to share the option that Stevie chose.


"OSU specializes in this.  This is the only place to take her.  This is her only chance.  We will pave the way for you, if you should choose this option."  Stevie and her sister then drove Bella to OSU from the ER.  They looked at all the films and reports sent to them from the ER.  Examined Bella thouroughly and now the news.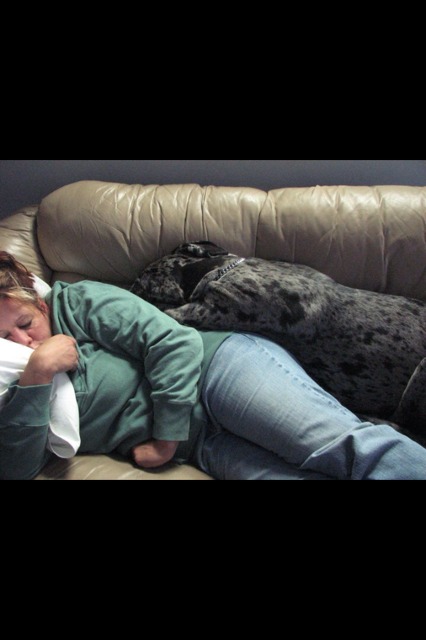 Bella has heart disease.  "She has an infection in her colon and in her uterus.  She needs surgery.  But if we do the surgery now, she will never wake up.  Her heart is too weak.  We will keep her overnight and moniter her.  If this heart medication does not work for her, it is downhill from here.  If it does, we can operate and she will be able to survive it."  When Stevie asked why no one had ever mentioned heart disease, she was told that this could have easily missed by our vet.

This afternoon we recieved word!  The meds are working and Bella will be strong enough for surgery on Thursday.  She is now on her way home.  

My family and I are humbly asking that you help us in adding another year, perhaps longer, of walks in the park with our family member Bella.  Another year of listening to her bark at the door bell, the UPS man and strangers.  Another year of vaccuming up her shedding little hairs.  Just one more year of falling asleep with her on the couch.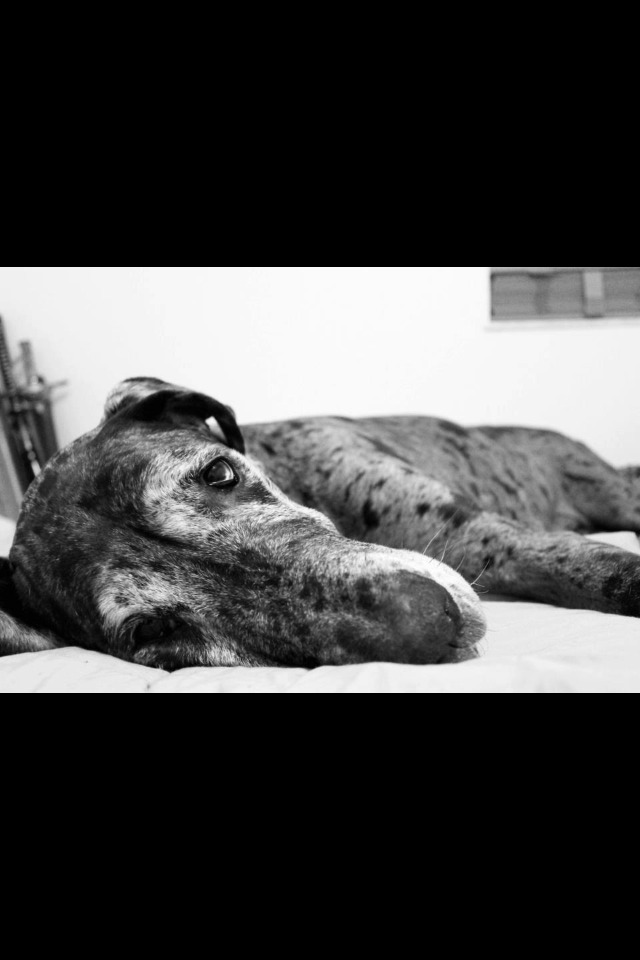 I cannot thank you enough for reading the story of Bella Marie, for your prayers and thoughts and for your donations to cover her upcoming surgery and medications.  Thank you!  Thank you! 
Thank you!







  

Organizer
Shelley Fuchs 
Organizer
North Royalton, OH