Help Katya Bring TRUE HOPE to Ukraine.
Friends & Family,
I am MORE than excited to have the opportunity to go to Ukraine and serve where there is SO much need! As many of you know, right now the country is in GREAT turmoil.
So many people are being deeply affected but the ones that are suffering the most are those that are "˜overlooked' in society""orphans. Their dependence is solely on the government, and when the country is under a great financial downfall, their lives become totally at stake.
   "¢ I was once an orphan in the Ukraine too. I know what it is to feel powerless, hopeless, and alone - wondering how you are going to survive.
   "¢ I know what it's like to feel devalued and far away from the potential to accomplish something great. I know how it is to walk in shame, guilt, confusion, and pain.
   "¢ I know what it's like to lack a sense of belonging, and have only your friends "" other orphans - as your family.
   "¢ I even know what it is like to be adopted with a family, live with them for 6 years and experience abuse, then, be fully rejected with a one""way plane ticket to go back to the orphanage you came from.
I also know how it is to "˜blend in' and be careless with yourself, just to feel accepted and loved. BUT, although, I know the negative side of life, I have encountered something positive too, GOD. Through Him, my life has not been the same. His grace and love found me and restored my identity and brokenness.
And all of the bad things I went through, truly turned as my tools to use to impact and serve others.
He is our greatest hope for the lost, the bound, and the hurting!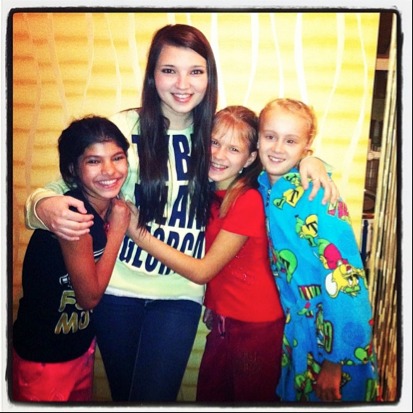 God has placed a DEEP burden inside of me to go and serve in any way that I can.
My heart to help orphans and those in need has always been there, but now it is much stronger! More then ever before, they need to experience God's LOVE for them, and His truth.
This is the reason I am going.
I have the amazing privilege to partner with one of my greatest influences and heroes,
Max Fetisov in his ministry True Hope Ukraine
. Through True Hope, I will be doing a TON of work there: ministering to different orphanages, teen dorms, handicapped dorms, helping with translation, church services, food drives, and much more!
Statistics have shown that as orphans reach adulthood:
Only 25% have stable employment
Only 1% obtain a higher education (University)
70% of the females will become involved in prostitution.
60% of males end up in crime 10% will commit suicide before their 18th birthday
I also have a personal vision to do a PRAYER MOVEMEMENT in my city, Krivoy Rog. People are hungry for revival and transformation! In the midst of uncertainty and fear "" we know the TRUE HOPE "" Jesus Christ! I want to gather people for evening worship+prayer, to do all night prayer and fasting. There is power in UNITY!!
BUT, to do this, I really need your help!!
God has been SO good and has provided my ticket!
I need your financial support as well as prayer!
I am committing 6 months to work with True Hope Ukraine and see healing, hope and love brought to young people who weren't as lucky as me.
Here's the breakdown of the financial support that I require:
Ticket to Ukraine - $550 "" already PAID through generous friends!!! Lodging - $0 "" I will be staying with friends & family while there. Monthly Food & Supplies - $1800 ($300/mo x 6 months). Travel back to US the fall - $650 (ticket + money for food for 24+ hour flight). GoFundMe/WePay 5% + transaction fees - $200
My total costs for a 6-month stay are only $2650!!!
I would SO appreciate anything you give! I would also appreciate your prayers, if a prayer is all you can give, trust me, I know how important it is.
I cannot describe how much this trip means to me and how blessed I feel to be able to go and serve those that hold a special place in my heart! I believe GREAT things are going to happen and I am truly SOOO excited for this upcoming adventure!!! ☺
I will also do updates during my stay, so you would be able to see how your support is changing lives, transforming the community, and impacting the nations! BLESS YOU ALL and thank you! Thank you!! Thank you!!!
Katya Grace Parish
Organizer
Pam Parish
Organizer
Lawrenceville, GA