Help Aimee, James and Elizabeth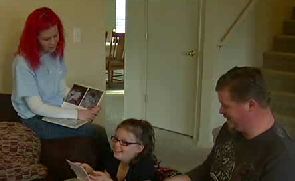 If you've seen the story about Elizabeth, Aimee and James, and would like to donate toward their medical bills, please donate here.

Elizabeth was born with an extremely rare condition called Alstrom Syndrome. Only eight hundred people worldwide suffer from the genetic disorder. Alstrom affects every major organ in her body. There is no cure, just treating the symptoms and waiting for the inevitable.
 
As a mother, Aimee Cox's emotions are amplified as she struggles with her own rare diagnosis. She too, is dying.
 
Over the last couple of years, Aimee's digestive system started shutting down. Today her insides, from her esophagus all the way to her rectum are paralyzed. At 33, Aimee is literally wasting away. Doctors give her only a couple of months to live.
 
The medical bills pile up. James has a job with insurance, but it doesn't cover everything. So Aimee applied for Medicaid, only to be told her husband makes just enough not to qualify. The government's answer? Get a divorce.
 
The Cox's say their wedding vows, for better or worse in sickness and health, have taken on a whole new meaning. They will not allow bureaucracy to break them apart.
Every penny you give will help the family with medical expenses. 

Thank you for your love, support and generosity!
Organizer