Madison's Vocal Recording Fund Raiser
Update - July 10, 2014
AMERICAN IDOL...HERE I COME!!!!!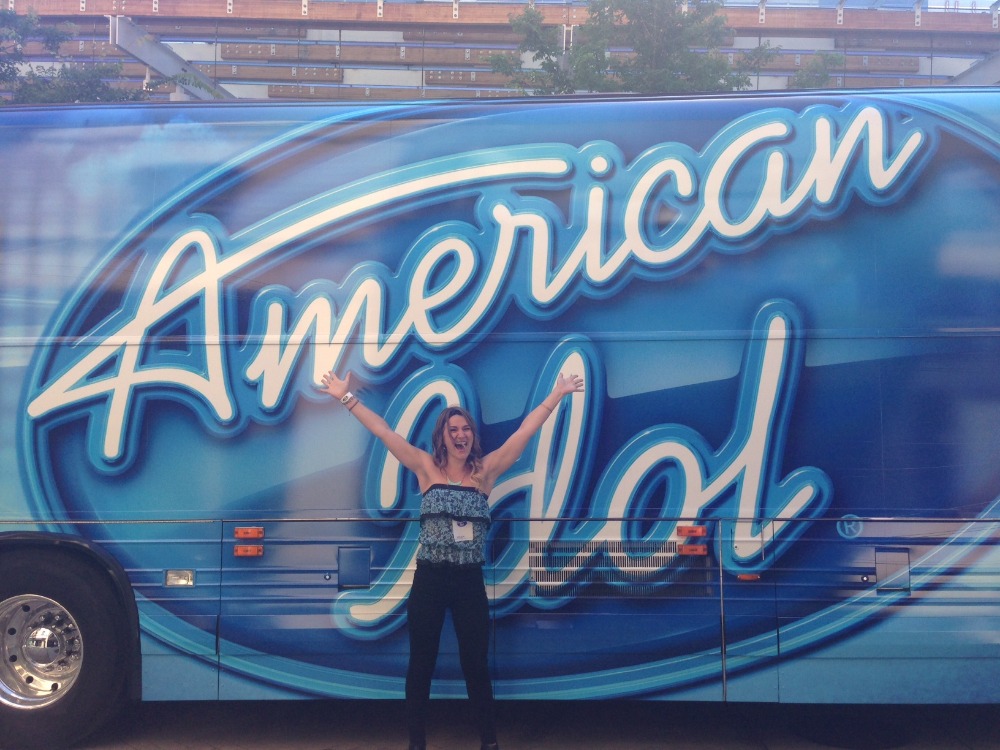 Many of you know that I auditioned for American Idol for season 11 and made it through to Hollywood and the top 80.  I was fortunate to receive a priority pass to audition here in Portland on Wednesday for Season 14.  Although this will be the only time I can share news about my progress with my fans...I'm so excited to say that I made it through the first round and will be heading to Kansas City for 2 more rounds before I get to audition before the judges.  
In addition; I've been writing music in preparation for the my album production.  I will be meeting with the Producer, Derek Clark (see details about him below) on July 16 & 23rd to complete my first album by the end of July.  Yahoo!!!!
I have not reached my goal and still have to raise $1645.00
to complete the dream to produce my album, and I've got a very short time to complete this journey.  If I continue to do well with American Idol, they will own me for one year, and it will be too complicated to produce my own music. So it's urgent that I gain your incredible support to produce my music before I become your next American Idol:) 
Please consider donating to my Record Producing Fund.  I'm looking forward to this incredible experience and I know that it will only help to prepare me more for AMERICAN IDOL!!!!
*******************************************************************************
BELOW PLEASE FIND BACKGROUND INFO AND FUNDING DETAILS:
Hello Music Lovers,First of all; I want to thank all of you for showing your support for me over the years.  Music is very important to me, but if not for my fans, friends and family...my songs would have empty meaning.I'm currently working on my Performance degree at Portland State University, which takes up a lot of my time.  I also get opportunities to showcase my talent at Timber matches, Seahawks games and on the Portland Spirit.  Although I've been posting videos of me singing on my Facebook Music Page, I grow frustrated with the quality that an iPhone recording produces. But, I give it my best shot and you can click here to listen to my recent recording:
Madison singing, "Say Something"
Most recently I've been presented with the opportunity to produce 4 high quality music tracks with a respected Producer, Song Writer and Engineer, Derek "DC" Clark.  No stranger to working with some of the best in the business, Clark has successfully produced, written for, collaborated or engineered/edited for the likes of Fred Hammond, Ne-Yo, Trey Songz, Omarion, Israel Houghton, Yolanda Adams, Ruben Studdard, T.D. Jakes' Sacred Love Songs 2, James Fortune & FIYA, Dawkins & Dawkins, Men of Standard, Zie'l, Marques Houston, The Singletons, GI, and more.  Click below to learn more about Mr. Clark:
More info on Mr. Clark
With this opportunity comes the responsibility to raise the funds required to complete this dream. While working and going to school fulltime; I've saved money toward this project; but I am finding it hard to work enough hours to earn the necessary $$$ to fulfill this dream.I am asking for the support of my fans, friends and family to help to contribute to my recording fund.  As an incentive...I have the following levels: $5.00 (share post) $25.00 or more - Signed CD of my new tracks $300 or more - Perform at one of your special celebrations (date,  times and songs to be negotiated) I find it hard to ask for your support; and I promise to not let you down. No contribution is too small and every cent will be appreciated.  I thank you in advance for your continued support.
Musically,Madison