Andrea needs a new prosthetic eye
My name is Andrea Nemethi and I'm from Romania. I am 18 years old now, but when I was around 4 a tumor has started to grow on my right eye (!). We were all scared, my parents took me to various hospitals and clinics in the country but no specialist would know what to do with me. By the age of 10 the tumor was as big as an orange, the doctors gave me a couple months to live. Desperate times require desperate measures, my parents started to contact different user groups on the internet and with the guidance of the Almighty we ended up in Boston, MA where I went under surgery. The tumor was removed but I had lost my right eye. It was replaced with a prosthetic eye, the eye socket was also re-shaped (since the tumor deformed my skull bones as well) but hey, I finally looked again like a normal teenage girl :-). I still whisper in my preyers the names of all the benefactors who stood besides me and helped me through those extraordinary weeks. God bless all of them: Dr. Fay, the Tye family and foundation, the hungarian and romanian communities in Boston, Camille Condon, etc.
Years went by, there were several follow up procedures, my last intervention took place in December 2012.
Since then my skull grew, hence my prosthetic eye was started to be loose in the eye socket and, we've been told that I will need a new prosthetic eye very soon:-(
This unfortunately comes with a price tag. My family needs to put together 10,000 euro. Here, in Romania where the average salary is 300 euro/month this is a daunting task for my family. I desperately need this surgery, could you help me to achieve this goal? I'm grateful to anyone who cares to help me. Many many thanks and God bless you.
sincerely,
Andrea Nemethi.
Andrea before surgery: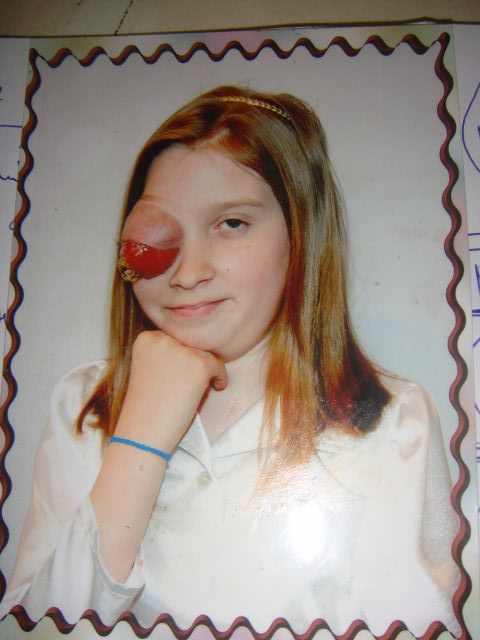 Romania girl gets life-altering surgey

Organizer