Education Centre for Children in Need
BACKGROUND
Glory Christian Educational Center is a community project that has been in existence for five (5) years having been founded by young men and women in the slums of Kawangware, Nairobi in 2009. The Center arose out of the realization of the need to afford an opportunity for slum dwellers to get their children access secondary school education in the country. The founders of this project had realized from their own experience that children from poor backgrounds often dropped out of school after primary education as their parents, most who are doing menial jobs in the slums could not afford secondary school education. Most of these parents also were largely illiterate and hence the spiral of poverty and illiteracy was spreading through their lineages due to circumstances of life, which were not of their own making.
As a result, the gap between the rich and the poor continued to widen as those from affluent families, get the best education, are enrolled into universities, get well paying jobs and bring up well catered for families. On the other hand, the children from poor backgrounds drop out of school at primary level engage in early marriages, drug taking, prostitution and other petty crimes to earn a living. Since such boys and girls are unskilled, the best jobs they could get are for shoe shining, car washing, baby sitting, touting and street cleaning which pay very little and largely leaves them with nothing to live on. This pathetic situation has led to high rates of crime in Kenyan slums.
VISION
To assist the destitute and orphaned children to get education and become competitive and productive members of society.
MISSION
The purpose of this project is to bring an urgent intervention to the problem of rising illiteracy among slum populations in Nairobi. This is achieved through education, health, nutritional, psychological and physical support to destitute children to make them useful in their various social and economic environments.
PARTNERSHIPS
 Government of Kenya and UNICEF sometimes provide rations of food to the Center
 Government of Kenya, Ministry of Education provides reading books to the Center
 Glory Christian Church provides pastoral support and spiritual counseling
 International Governance Institute provides financial support
ACHIEVEMENTS
 Beginning with 2 volunteer teachers, we now have 10 volunteer teachers in the Center;
 From 1 non-teaching staff, we now have 5 non-teaching staff dealing with routine issues like security, records keeping, cooking etc;
 Having began with 10 children boarding, we now have 110 children whom we provide shelter, food, medical support and education;
 We have handled over 250 children, of whom 52 have now graduated with high school certificates from the Kenya National Examinations Council (KNEC);
 Initially the boys and girls slept on mattresses on the floor but we have now been able to acquire beds and all the 110 boarding students in our Center now sleep on beds;
 While we were only registered as a community based organization, we are now duly registered as a full-fledged organization and in the process of approval by the Ministry of Education as an Educational Institution offering secondary education to less privileged people.
 While our children used to have only a single meal per day, we are now able to provide 3 meals, although not of the best quality and amounts.
CHALLENGES
 Payment of rent to house and educate more than 150 youths has become a big challenge as we are always having huge rental balances uncleared;
 Further training to our volunteers teachers and upscale their skills and improve their performance at work;
 Overwhelming number of those needing assistance to get secondary education at our Center, which they cannot get on their own due to lack of resources;
 Lack of proper and sufficient teaching aids including laboratory equipment and ICT tools;
 Lack of wages to compensate the staff who have sacrificed so much to bring the Center this far;
 Insufficient food to feed the children in the Center so that they can concentrate on learning activities;
 Lack of sporting and other recreational facilities for the students.
URGENT NEEDS1. Purchase of land and construction of the Centre 2. Construction of buildings for the centre3. Support to the kitty to compensate teachers for their work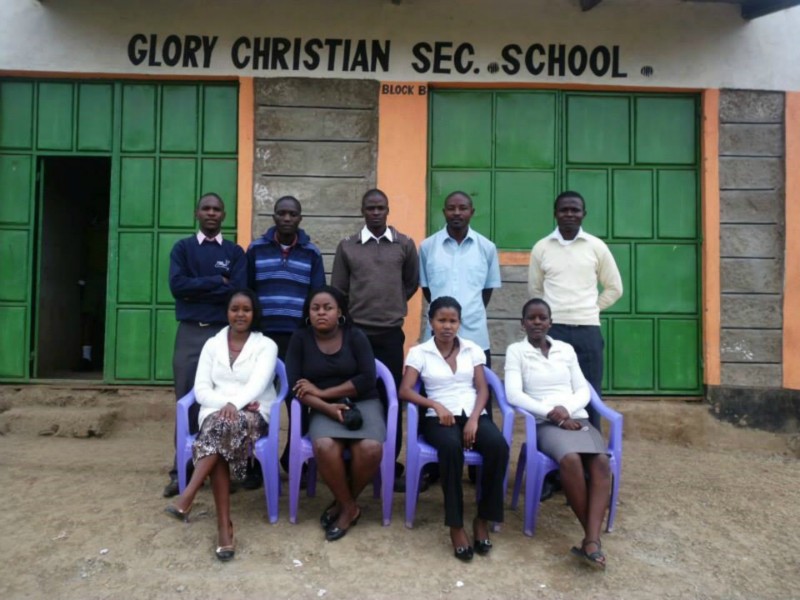 Located in Gachagi Slums, Mwiki-Kasarani, Nairobi.
P. o Box 17197-00100,
Nairobi, Kenya.
Tel: +254 721 699 197
+254 711 934 443
Email: [email redacted]
Organizer
Harshul Singhal
Organizer
Portland, ME