Baby Jordan's Fight To Conquer Leukemia
Tammy and Steve wanted to be surprised by the gender of their new baby but with twin boys they were thinking pink. Joy is not a big enough word to describe the birth of Jordan Rebecca. Finally a girl! Born on September 23rd much loved sister for her older brothers Jacob and Noah who peppered her with kisses.
Their perfect family was complete.
Now at four months of age you can not say the name Jordan without adding the word beautiful. In an instant beautiful Jordan went from being a healthy and very happy baby girl to being a very sick little lady who needs all the love and prayers and help that she deserves.
On February 12th 2014 Jordan was diagnosed with Acute Lymphoblastic Leukemia. Still in shock, the McInerney Family is full heartedly pushing forward to seek treatment for their daughter and will incur new-baby expenses no family should ever have to prepare for.
Jordan deserves a fighting chance - she is a fighter - but she needs your help too - we ask for your help in assisting the McInerney Family through this challenging time by making a monetary donation to help with these expenses.
Jordan thanks you for all your thoughts prayers and love...she is a very special little girl with so much happiness to look forward to in life.
February 20th update
Jordan had another good day.  Daddy came for a visit as well as Sean, Aunt Anne Marie and Shirley.  She is trying very hard to roll over and if I look away for one second....she is in another position whether she os on the floor or in her crib.  Her central line sure won't stop her from having some tummy time.  Daddy brought her exersaucer too and that made her VERY happy.
Tomorrow is another big day.  Jordan will get the rest of her chemotherapy started.  So far she has responded so well to her treatment that her doctors are very encouraging.  I have been told that she is doing "ridiculously  well" and that "she is a fighter".  However I know that things will get much harder from here.  My beautiful, happy healthy baby is about to go through some tough times and I am so very worried for her.  She doesn't know she is sick....and I am not going to tell her.
I know that you have been sending us your love and energy and all of your prayers.  We are so thankful for them and find comfort in the strength of those who support us.  We did not know how big our family really was.  We shouldn't be surprised though.....as that is the power of Jordan!
February 19th update

It was a good day for Jordan.  Her platelets were low and she needed another transfusion.  She had a visit from Aunt Anne and from Sean from Horseshoe.  She played on the floor with her activity center she turned over with a little hlep from mom and played with her toys.  This was her first tummy time since the central line went in.  Today was it was just mommy and Jordan and daddy went home with the boys yesterday.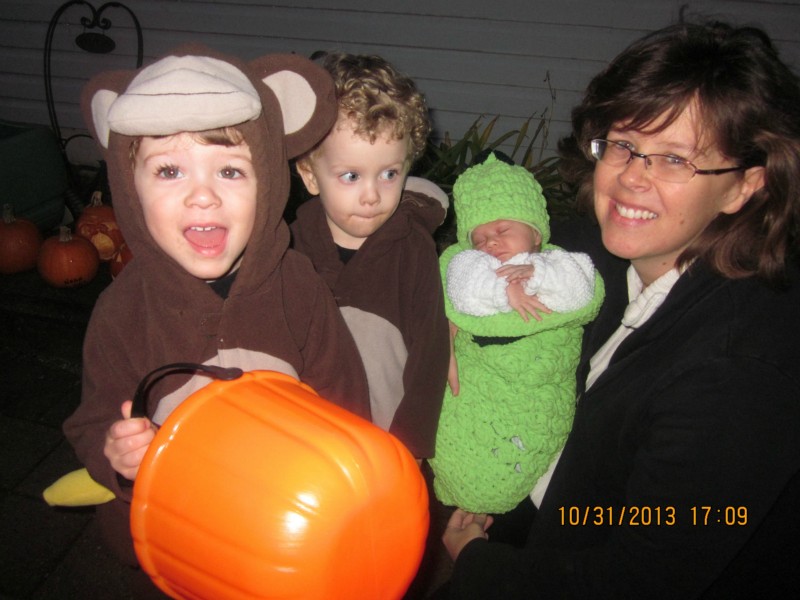 Renaud & Pauline Courchesne