Josh Beaten, Loses Life Savings
A Beautiful Sunday Afternoon Turns Violent
Sunday, March 11 was one of those incredibly beautiful days in Portland that affirmed the promise of a renewal of life. Josh Morrison, 45 and a lifelong resident of Portland, was going to fire up his barbecue in his sunny side yard for lunch. He was interrupted by a loud knock on his front door. A female was frantically urging him to open the door saying she was trying to get away from danger.
Josh opened the door immediately, as ever willing to help others. The female charged into him, striking him repeatedly in the face. Two men immediately rushed into the house behind her and also assaulted Josh. Within seconds, he was fighting for his life.
Within steps of busy SE 39th, a bloody fight was taking place in Josh's front door and porch. The three invaders eventually subdued him, knocking him unconscious. He regained consciousness and started fighting again several times. He was finally hog-tied at the wrists with his arms behind him. Then, one of the attackers locked his arms around Josh's neck and forcefully twisted, yelling at him to tell them where his money was hidden. He was threatened that Watson, his 15 year companion cat, would be killed if he failed to give them money. Finally, a shotgun was put to his head and he was told to surrender his money to save his life. Josh remained silent, then was struck with the shotgun butt repeatedly in the head. When he regained consciousness, the house was silent. He had survived after being sure that he was to meet his death.
Still bound, he managed to make it out his front door where he was found. He remembered hearing the female invader yelling, "I found it."
Decades of Savings Gone in a Nightmare
Josh is a very frugal person. He had foregone buying a car, relying on his bicycle instead. He would eat Top Ramen for a week to save a few dollars. He had managed to save enough money after years of working to put a down payment on a house. It needed help, but again he had saved and was renovating it slowly as savings had accumulated. His frugality was only exceeded by his generosity. Josh hosted many side yard barbecues for friends, family and neighbors. He had given money to a childhood friend's daughter when she had gotten pregnant. He dug into his savings to pay for expensive gastric surgery to save Watson's life. This generosity may have created a false impression that he was wealthy.
The invaders did find his savings, leaving him penniless.
OHSU to the Rescue

Josh suffered considerable injuries to his head, neck and body. He was taken to OHSU by ambulance. Facial surgery was necessary in order to save his left eye, which was reconstructed and supported with a titanium plate. Deep lacerations on his head were stapled closed. He was concussed; he is unable to sleep, awakened by memories of violence and fear of his impending doom.
Josh's house is still an active crime scene with detectives looking for additional clues to the invaders identities. Josh was released from OHSU to this parent's home on Tuesday evening.   His house remains under surveillance.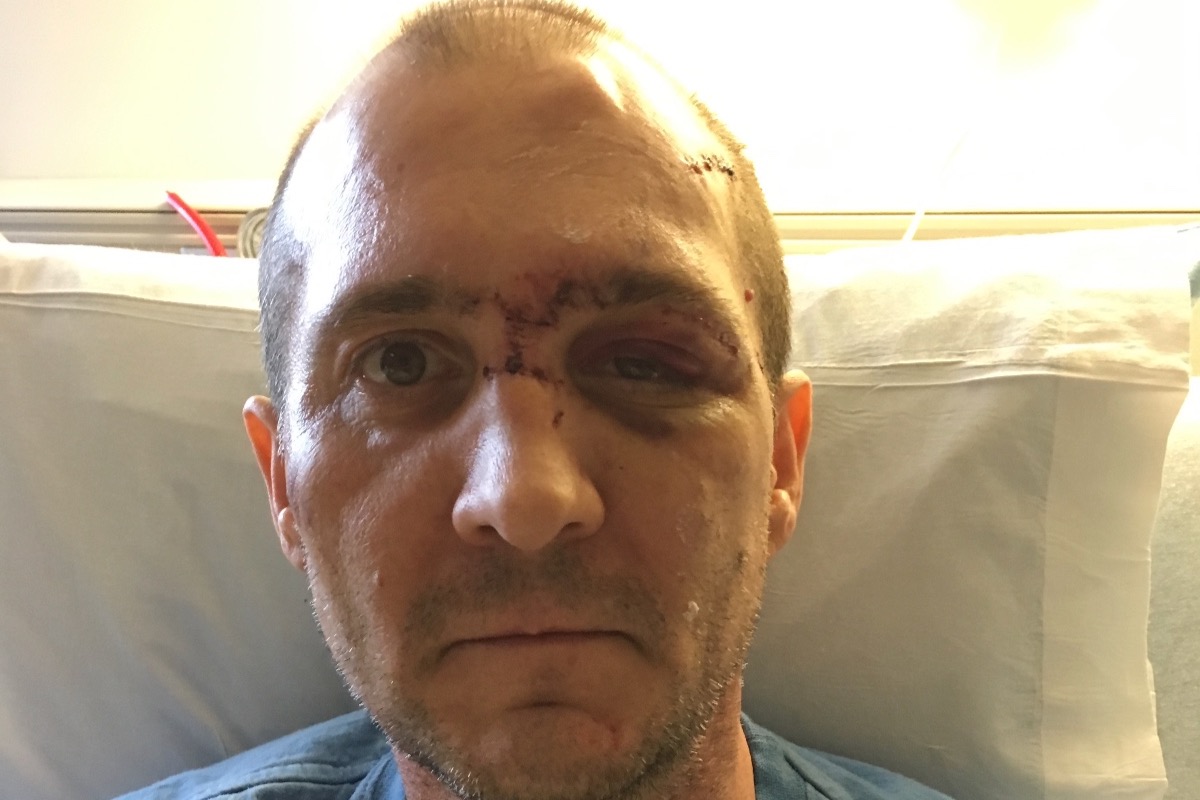 Dove Lewis Animal Hospital Helps Watson

Watson is an indoor cat with little exposure to the outside world. Josh believes she was upstairs in his bedroom when the invasion occurred, but was unable to be found. The front door of his house was wide open during the many hours forensics searched for evidence; she could have escaped the chaos by bolting out the door. When Josh would awake in the hospital, his concerns were mostly about Watson. By mid-day Tuesday, she was found lying on her bed; only she knows where she had been. Late Tuesday night, reunited with Josh, he discovered that her left front leg was injured. Dove Lewis discovered that her left scapula had been fractured. At 15 years, she is too old for a risky surgery that had little chance of healing in the thin shoulder bone. She will have to abide with medical pain management for the next two months.
Your Donation a Gift of Love
We are so grateful to OHSU and Dove Lewis Animal Hospital for their kind and competent care, exceeding our expectations.
The expenses as a result of this home invasion, armed robbery, and possible attempted murder charge are staggering.  Josh was not invested in personal insurance. Josh will not be able to work for months. Both he and Watson will require more medical attention. Much of the renovation to his house will have to be redone, if he is able to re-enter it psychologically.
Josh and Watson need our help. If you are able to donate, it will be regarded as a gift of love. Thank you. We are deeply appreciative.

Organizer and beneficiary
#1 fundraising platform

More people start fundraisers on GoFundMe than on any other platform. Learn more

GoFundMe Guarantee

In the rare case something isn't right, we will work with you to determine if misuse occurred. Learn more

Expert advice

Contact us with your questions and we'll answer, day or night. Learn more