BEES Elephant Sanctuary Fundraiser
Urgent funds needed to help elephants that need medical care, rest and retirement!!!
Come on BEES Friends, BEES needs help to continue their wonderful work helping the elephants, animals and the community. We MUST come together to help improve the lives of many more elephants to come. Can we do this? Yes we CAN!
BEES is a home for elephants to rest,recuperate and retire too. Giving the elephants freedom before theri time runs our and provide a place of rest, recuperation and a home to elephants and animals in need! They also rescue a number of cats and dogs, rescue and release wildlife and provide preventative medical, medical and rehabilitation to all animals that need this care.
In May BEES ran into issues with PayPal Thailand who limited their Thai Paypal account and with-held generously donated funds that are waiting for refunding, stuck in PayPal's Thailands hands. Due to PayPal's unfair decision they where unable to receive the funds generously donated for the emergency transfer of their sick elephant Mae Jumpee who was travelling the long journey in an elephant transfer truck from BEES to Lampang to receive emergency care and treatment after she got a blockage in her stomach and being an elderly elephant she could not pass it through easily on her own and needed help from the incredible vet team at TECC. Now home she needs ongoing care and the urgent need for more land and to build structures becomes more and more urgent everyday!
BEES need your help to help them to grow and build to their full potential providing a home to many more elephants to come and helping to improve elephant welfare and making positive difference in Thailand:
A note from BEES June blog follows:
http://www.bees-elesanctuary.org/?cat=33
'The need to grow and expand on BEES becomes more and more urgent every day with more elephants needing rest or retirement. More owners are becoming interested in retiring their elephants from work and giving their tired, overworked elephants either time to rest or to go into a longer term retirement. In order to take on more elephants though we feel that we need to expand on our facilities, buy more land, build shelters and a medical hut so that we can provide the best possible care for the elephants and be able to provide a home for many more elephants to enjoy. We are still in the process of setting-up Non-Profit registration and are just a couple small papers off the Australian registration, but we have had many delays during this process and can't wait any longer, as time is not on our side. There are elephants that need help today!'
BEES Provides an alternative for the elephants and their owners so the elephant can have there freedom and the owner can still make an income for survival.
Mae Kam's owner took her out of a trekking after she was beaten and abused in the camps because she continued to shake tourists off her back, he then kept her chained in a small patch of forest above his farm land with no interaction with elephants, Mae Kam just wanted her freedom to be an elephant:
'He had no other choice but to keep her home, he had nowhere for her to go that he thought she would be safe. Then BEES came into the picture and he had an alternative, he needed help with earning an extra income so that he didn't have to continue the back breaking work, on his own working on his farm to provide for his family. After joining bees his elephant is now safe, she lives a happy life spending her days just being an elephant and has the ability to interact with her own kind, her owner Panuu is paid rent by BEES and is now able to afford to hire workers to help him on the farm. Now, both the elephant and the owner live a better life.'
BEES may have more ele's coming to join the project on rest and recuperation but do have them they need our help and support: Word is an owner is in desperate need of help with two of his elephants, a mother and calf both suffering from medical concerns and need a place to rest, recuperate and receive treatment!
BEES urgently needs help to raise the funds needed to build an enclosure, treatment facility and small medical huts, as well as purchase more land and continue to expand and have the funds to rent more elephants to keep them out of work, to build chain-free enclosure so they no longer need to be chained at night and to have the space to help many more elephants to come.
Please help us raise awareness for the Asian elephants and help us improve the welfare of Thailands elephants! Together we CAN make a difference!
Lets get these elephants out of permenant chains! Be the change!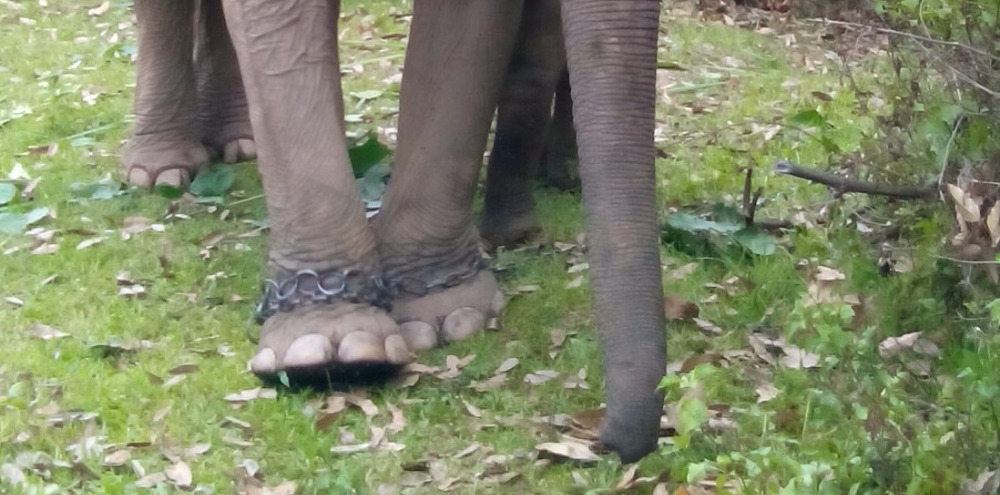 Organizer
Karyn Steele
Organizer
Upper Kedron QLD