Treatment for Moms Oral Cancer
I'm the oldest of my moms 3 children. Mom is in the above profile pic, she is in the middle with her 2 younger sisters. We are doing this because 2014 has started out to be a very hard year for my family, and we are at a stage were we have no other options and are asking for your generosity to PLEASE help us. This is my mommas story (so far):

-Dec 5 2013-
Mom had a spot on her tongue that didn't seem anything out of the ordinary, when the family all went to Dr. Ranzenberger's office that morning the words hit all our hearts hard. Mom has stage 2 oral cancer on her tongue. (Squamous cell carcinoma) and has two abnormal spots in the lower jaw that need to be addressed immediately.

-December 2014-
Mom and the family met with her team of professionals at the University of Kansas Cancer Center getting her treatment plan in place. This was the saddest I have ever seen my mom ever, she was so scared but great family and friends stood right by her side.
-Jan 9 2014-
Mom walked into the waiting room and gave her information to the receptionist and we all sat close together until they called her name to go back. This was the moment it hit me. After some time, about 7 hours later, Dr. Shnayder called us all into the counseling room and said, "your mom did good." She had 30% of her tongue removed and replaced with a synthetic material (removing the cancer) and they had to cut an 10" incision across her neck to remove all her left side lymph nodes. Mom was hospitalized for 4 days, she made an amazing post surgery recovery. And finally got to go home. Where she had to re-learn to speak and eat. The doctor said the muscles in her neck, which control her ability to smile. I might not ever get to see my momma smile again :(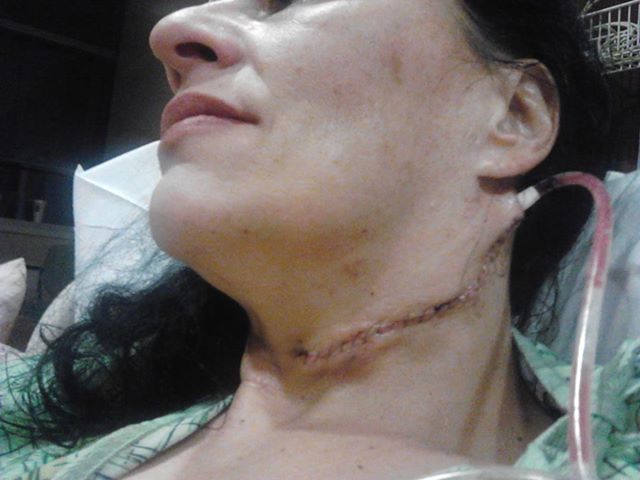 -Jan 24 2014-
Mom was able to eat some semi solid food finally after a 3 week liquid diet. She can speak but sometimes it is hard to understand. She has lost 9 more lbs. The hospital called with some bad news, her tongue is a rapid cell type and the recommend radiation treatment, which will improve her chances of it not coming back by 60%.


-Jan 27 2014-
Before Mom can start her radiation she had to go see a dentist, he had to refer her to another dental specialist. The next day, she meets with the specialist and gets a quote: for her to have 7 teeth surgically extracted (2 of the impacted) while under anesthesia.

-Feb 5 2014-
Since the launch of this page, Mom apprched Dr. Krueger DDS in Overland Park and showed him the site and gave them half of the bill (which was raised) and said he would go ahead with the surgry and she could do payments with the rest of the balance with monies raised and/or our tax returns.

-Feb 10 2014-
Mom underwent her oral surgry. All 7 teeth were removed with out any probloms during the procedure. Mom came home and was not feeling the greatest. But she was tough, 2 days after her entire jaw and cheek area were black and blue. We kept to the post operation checklist and eventually everything went back to normal (minus the teeth) Mom had post op checkups every Monday.

-Feb 26 2014-
Kansas University's Dr. Lauesten DDS fitted mom for her mouth stint, while the Oncology staff at UKMC fitted mom for her mask, that is used durung the radiation treatment, once Dr. Krueger gives the all clear for it.

-March 19 2014-
Mom got the all clear from Dr. Krueger, she finished up the paperwork with University of Kansas to start her radiaition treatment. Which starts 3/25/14, Mon-Fri, for 5 weeks.

Updates to Come
________________________________________


Mom is the backbone of my family & my best friend and I will do everything in my power to keep my mom as healthy as possible.
              Elisabeth               William                  Nicholas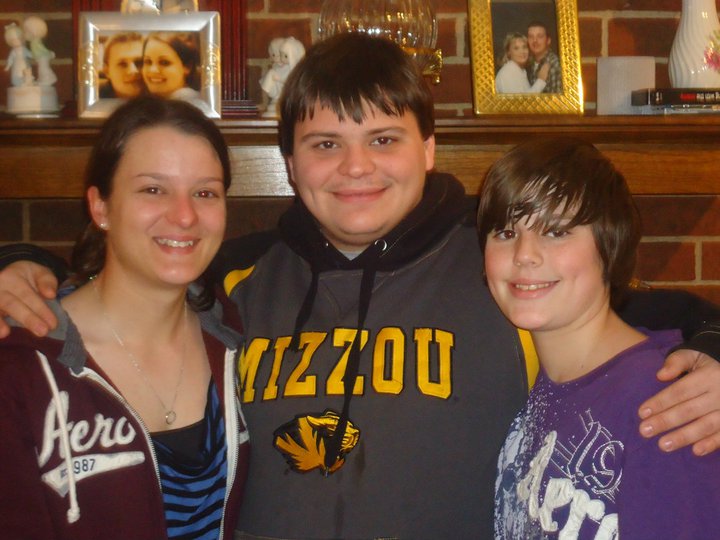 Yvonne & Brittany Jenkins/Stevenson 

Keasha, Zeb, Arionna, Dallin, and Kenden  
Organizer