Jason Jacenko (a.k.a Atomika) is an extremely talented fine artist, toy designer, and tattooist whose sole income has been dependent on his artistic abilities and passion for art.
Jason suffered a massive stroke on September 7th, 2013 that resulted in 2/3 of his brain being removed, his entire right side being paralyzed, and neurological disorders that affect him both mentally and physically. The neurosurgeons didn't believe Jason would make it through the night of his surgery as he suffered several brain bleeds during the procedure BUT, because he is an amazing bad ass he did AND, he is now relearning how to do what brings him joy (and income) in life with his left side!
******LEFT HANDED PAINTING***
As you can imagine, any money he had has gone to medical bills and his recovery. Jason, his girlfriend Sally Ann and their son have been busy trying to get used to living with his disability, creating a new norm and dealing with the challenges of raising a child while battling aphasia (impairment of speech and the ability to read or write) and dyspraxia (developmental coordination disorder).
As if trying to raise a family and this awful stroke and it's hardships wasn't difficult enough, all of his belongings were stolen while he was in the hospital and rehab for 9 months. Everything.
Without the ability to create for a living and his struggle to overcome his disorders, he is dependent on state disability to make ends meet. While his partner and care taker Sally Ann is a bargain shopper, they can't justify spending their money on things that would bring Jason joy and make it easier for him to communicate with his friends and the art world again. His laptop, art supplies, camera, half his body and more than half his brain was taken yet this crazy guy still wants to paint.
Let's help him paint! Let's spark that passion on his left side and see what this brilliant man can create with our help.
A little bit will mean a LOT of smiles for our friend Jason and his family.
If you can't do it for them, do it for the elephant in bunny slippers.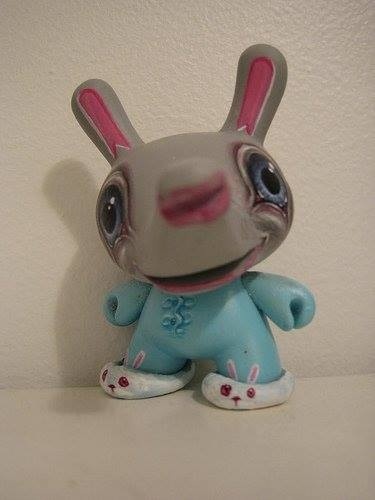 ****a custom toy done by Jason before his stroke ****