As some of you might know, Addie and myself became engaged on October, 25 2013. We had been in a long distance relationship for a year at the time. I finally mustered up the courage to ask her the question after visiting her and her family in Ecuador for about a month. I was pretty sure that she would say yes, but I was still nervous about talking to her father. Being the romantic that I am, I asked her to marry me on the bus from Shell to Banos. When we arrived in Banos, her father and I had to run to a pizza restaurant to order pizzas for the missionary group that was visiting. So as we made our way to the restaurant, Jason Trusty mad the announcement to the bus what had happened. He was sitting behind us when i had asked the question and was wondering why we had both teared up. he took this picture moments after I asked her to marry me.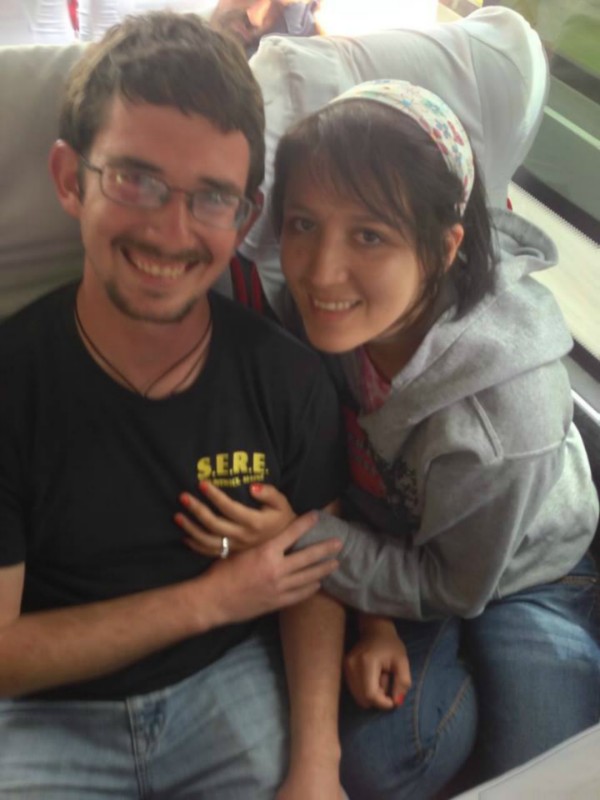 So by the time everyone got to the restaurant, her dad was the only one that didn't know. I was having to tell them to not say anything cause they all wanted to congratulate us, but i still had to let her dad know that she had said yes. So after everyone got seated, Addie and I, with knees shaking, went to her father. I said to him "I already know her answer to the question, and now we want to know how you feel about it."
He looked at me with a confused look on his face, and then Addie raised her hand and showed him the ring. It took him a second to realize what was going on, but then he said, "ooh so that's what you meant." he smiled and shook my hand and then we proceeded to sit down and eat.
This is the story of our engagement. Even though we were so happy to have taken this step in our relationship, the joy was somewhat short lived because we both knew that I had to return back to the United States the next week.
Since then we have been looking into the options for marriage and getting a visa for her. One way we could do it was for me to travel down to Ecuador and stay there for 75 days to let us be eligible to get a marriage license there in Ecuador. This would take a good deal of money, so we started to look for other options. We decided that the best course of action was for me to submit the paperwork for her to get a Non immigrant Visa for a Fiancé(e) (K-1) first. That way while the visa was being processed I could be here in the States, going to school. Then once the visa was approved, I would go down to Ecuador, visit with her family and maybe get to meet some of the ones that I didn't have the chance to the last time I was there. We would then board a plane and return here to Montgomery, AL. where we would be able to go and get a marriage license. Then we would be able to start our lives together the way we have been dreaming of for the past few months.
Some of you may have already heard this story, for others this is your first time reading this.
We wanted to make this page to tell people our story and if they felt so inclined, to make a donation to help this process move a little faster. There are a few different things that we will need to pay for even before we start to think about and start planing a wedding. Here is the list
To have help with filling out all the paperwork and know what forms need to be mailed at what time, we will be using the online service Rapid Visa. The cost for that is $350.00
When I go to send in the petition for the K-1 visa, there is a $340.00 fee, plus the shipping.
There will also be some forms that I will have to print out and sign and mail to her, along with some forms that she will need to do the same, so we estimate around $150.00 to mail those forms to each other.
Once the petition is approved then the government will mail her information down to the embassy in Ecuador. They will contact Addie and set up a time for the interview. Before she goes in for the interview she will need a medical exam to include some shots and we estimate around 200 for the exam and shots.
The fee when she goes to the embassy for the interview is $240.00, plus any traveling fees she will encounter. We are guessing that that will be around $60.00
Then there are the plane tickets. For my round trip and her one way ticket, it will be around $2050.00
Next we are adding in to the list a buffer of $200.00 for any unforeseen expenses.
So in summery there is
Visa prep-$350
Visa petition-$340
Mailing between us-$150
Medical Expenses-$200
Visa interview and travel-$300
Plane Tickets-$2050
Buffer zone-$200
That brings the total to $3590.00
Many of the people that will be seeing this will be invited to the wedding. We are doing this as a way for our friends all over the country, that will be unable to attend, to still help us make our wedding day special.
Any gift would be appreciated and every dollar raised will be used to fund getting the visa, the plane tickets, or the wedding.
Thank you for taking the time to read all of this, if you are in a position where you cannot donate anything, your continued support through prayer would be greatly appreciated.

Organizer
#1 fundraising platform

More people start fundraisers on GoFundMe than on any other platform. Learn more

GoFundMe Guarantee

In the rare case something isn't right, we will work with you to determine if misuse occurred. Learn more

Expert advice

Contact us with your questions and we'll answer, day or night. Learn more