Destination: Cure Reina's Scoliosis
In May 2013 Reina was diagnosed with Infantile Scoliosis, which is an abnormal curvature of the spine, & Reina's case is severe. Scoliosis occurs in 2-3% of the population but Infantile Scoliosis is even more rare and its the one the doctors know the LEAST about, If Scoliosis is left untreated & it gets worse it can crush vital organs & become fatal. The doctors recommended the "wait" method to see if it gets better, gets worse, or stays the same. If it gets worse then surgery is the only option, which has a 92% complication rate. We researched as much as we could other options while we waited to see what her Scoliosis would do because we did not want to put Reina through surgery. We finally found a non-invasive surgery option that is called Mehta Casting. It's a full torso cast that cannot be taken off & it helps the spine to de-rotate & grow straight. The best time to get casted to see the most effective results are before the age of 2 years old so time is of the essence!! We contacted Shriners Hospital in Philly, they looked at all her x-rays & immediately determined that she should get casted ASAP! On Halloween 2013 our baby was finally casted. She's had an emotional & rough few days but now that we are finally home she is doing much better. She's getting used to the cast & she's walking, playing, & laughing like normal. Her curve has gone from 46 degrees out of cast to 23 degrees in her 1st cast. Once they took the 1st cast off and remeasured her curve was at 41 degrees which means it did get 5 degrees better. The doctors are estimating that she should be recasted every 6 weeks from 1.5-2yrs total so this is the beginning of our Scoliosis journey.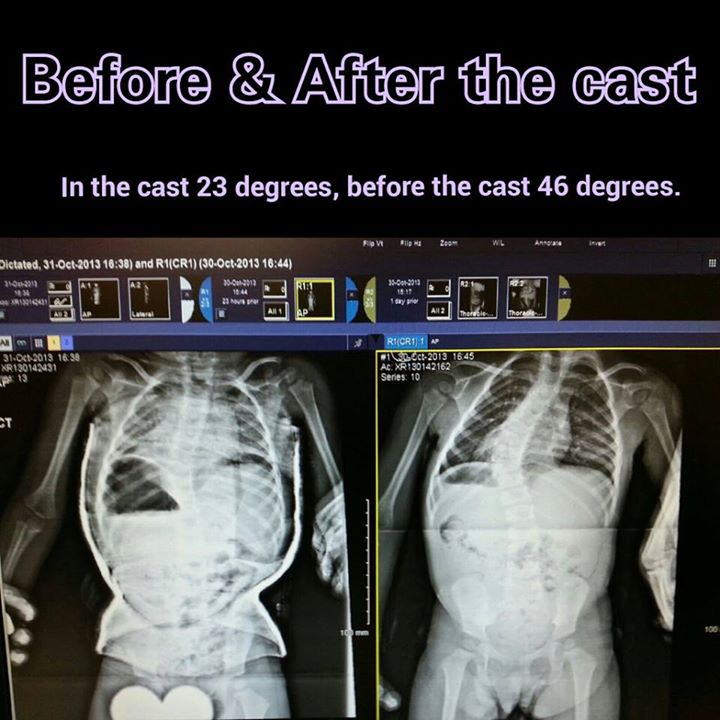 We have to make a 4 hour drive roundtrip to Tampa and back home every 6 weeks to get her cast taken off. She was so happy when it was taken off and she finally got to take a bath.
We flew back to Philly for her 2nd cast which also went well.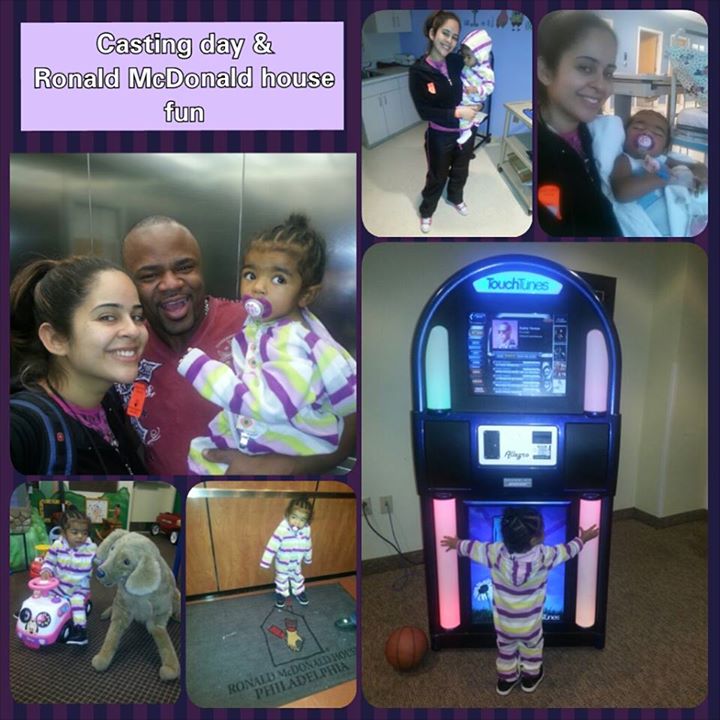 Now we found a Hospital in South Carolina, 7 hours away from our home that we can drive to and get her recasted for the remainder of the time. Even after this 2 year casting process nothing is guaranteed and we will have to watch her spine closely until she is a teenager and stops growing. We are asking for donations to help pay for any medical and travel expenses we will incur for the next few years while she is getting treated. We thank everyone for their prayers and support.
Organizer