This charity's goal is to raise the funds to provide crucial services to Ivorian refugee, friend, and engineering student Bouazo Boguhé and his two sons. These funds will support his struggling family with food, educational tools and opportunities, financing for English courses, and ultimately relocation to a more secure city with greater employment opportunities. All funds will be managed by both Bouazo and me, Alan Smith, in order to ensure that they are used in the most effective manner to support the Boguhé family.

Please reconsider the fleeting satisfaction of a $30 restaurant meal and contemplate the long-lasting comfort of philanthropy. Any support will go towards a great cause to better a hard-working man's pursuit of dignity, comfort, and opportunity.

Bouazo (Boo-a-z-oh) and his two sons, Gnolou (knoll-oo) and Yao (Yow-oh), make up the Boguhé (Bow-g-you-ay) family - a strong, cohesive, intelligent and unfortunate family that I am grateful to have met. I first met Bouazo during a graduate engineering class at the University at Buffalo and quickly became enamored by his determination to better his family in spite of his disastrous socio-economic situation.

Photos: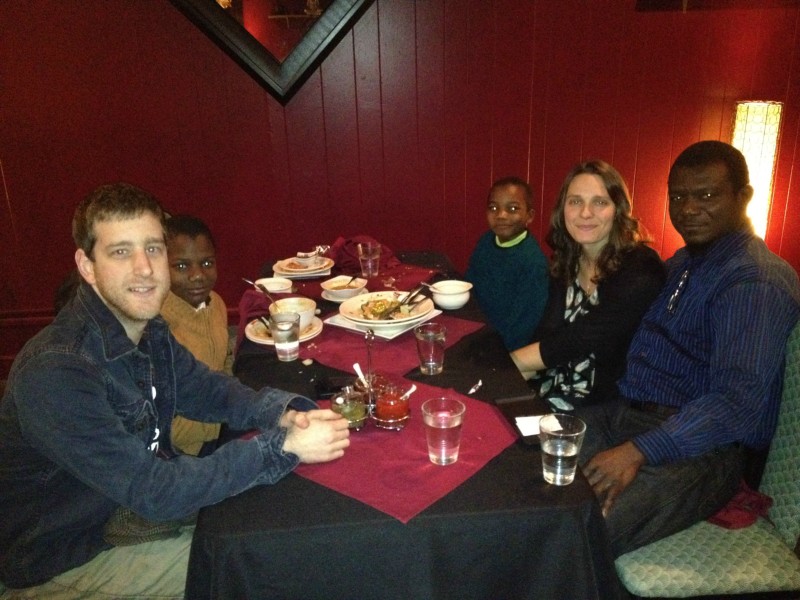 A farewell dinner the eve of my departure from Buffalo. (From left to right: myself, Yao, Gnolou, the head of the local Boys and Girls Club chapter, and Bouazo)




Chicago St. Buffalo, the infamous neighborhood of the Boguhé family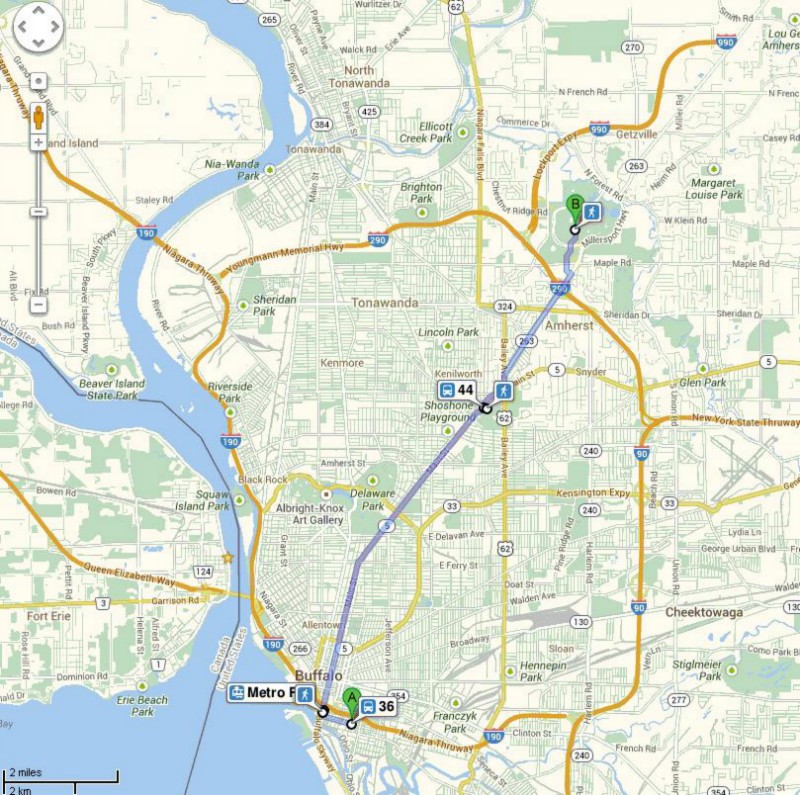 Bouazo's daily commute between Chicago St. and the UB North Campus.

Background:

An immigrant from the Ivory Coast, he escaped its 2002 civil war in pursuit of a better life in the United States. He previously held the uncommon and extraordinary position as an educator in Electromechanical Systems and Higher Education at the University of Abidjan, a school now shut down due to continuing violence plaguing the country. During the first few years in NYC, Bouazo worked as a gas station attendant until receiving a debilitating work-related back injury preventing him from continuing his employment.

Because education and academia was his professional specialty, he moved to Western New York to continue his education in the hopes of receiving an accredited American degree. It was during this time that his sons were forced to immigrate to the United States due to escalating violence during the 2010 Ivorian Presidential Elections leading to the country's second civil war. Because of his aptitude in mathematics at the Erie County College, he received an acceptance to the University at Buffalo where he is currently struggling to finish a Masters in Mechanical Engineering.

This is when I had the fortune of recognizing the French accent of a middle-aged man sitting behind me during one of my 2012 fall semester courses. I still had fond memories of a year-long study abroad in France and took the opportunity to practice my French "" his native language. I quickly realized, though, that Bouazo was neck-deep in difficult economic times and struggling to understand a confusing foreign system based on unfamiliar technologies. Having missed the orientation due to parenting obligations, he was completely unaware of the online system used by professors to assign homework, hand out online notes, and provide class updates. In addition, it was also clear that his English skills were not good enough to understand much of the material being taught in class. Without knowledge of online notes or assigned homework, he was struggling to receive a passing grade.

Although Bouazo had worked in a University setting for over a decade, the reality of limited technologies available to African universities limited his exposure to computers, powerful software, and the internet. After familiarizing myself with his difficult financial situation, I decided to purchase for him a cheap laptop from Newegg.com and give him some introductory courses in MATLAB, computational programming software required to complete most homework assignments. This small deed permitted him to work on assignments from home "" a grueling 90+ minute commute from the UB campus.

Prior to receiving this computer, he spent many full nights toiling to learn to use library computers and their tools. Because of his parental obligations and the dangerous neighborhood where he lives, his children were often forced to stay with him throughout the night after the public transportation system closed down. On one occasion, a concerned citizen reported his children's situation to the Department of Child Services believing that he was incapable of supporting their needs.

Once again, the Boguhé family lives in abject poverty in the projects of Buffalo, the third poorest city in the United States. I once attempted to purchase an internet plan for their apartment only to realize that no providers actually offer service to his neighborhood "" a problem I never knew existed in this country. Below is a list of some of the socio-economic conditions which plague the family.

· Public housing's economic and social limitations
1. There is no available internet service in or around his apartment which limits his ability to stay connected to school or access related materials.
2. Bouazo has been attacked on several instances by gang members as he walked home from school.
3. Frequent violence requires his children to be accompanied at all times. There are even bullet-holes on the apartment's exterior siding.
4. The public housing projects are of shoddy construction and he has frequently laughed about how when it snows outside, it also "snows inside."
5. His apartment recently suffered a break-in resulting in the loss of two borrowed net-books and a flash-drive containing all of his personal documents. For the first time in the US, he is concerned for his safety even at home.
6. He is reliant on old appliances including a refrigerator that once stopped working, spoiling a 2-month supply of groceries.

· Reliance on public transportation (NFTA)
1. His daily trip to school involves a walk to the bus stop, a bus to a subway station, a train to the children's school, another train to the UB South Campus, and finally another bus to the UB North Campus. This trip takes about 90 minutes on a quick day and places limitations on when he has access to the internet and other school services.
2. The NFTA closes at 12:30am most days requiring him to leave the library at 11:30pm if he wants to sleep at home.
3. While still living in Buffalo, I frequently picked up his children from the Boys and Girls Club. Unfortunately this after-school organization decided to no longer support his children due to his inability to pick them up before closing.

· Financial Hardship
1. Bouazo's income comes from high-interest loans and a meager 500 dollars/month salary earned through AmeriCorps, a government organization that pays less than minimum wage for community service outreach.
2. The family is ineligible for food stamps or other government aid due to their immigration status. Although they all have green cards, their sponsor, Bouazo's brother, is in similar financial straights in NYC.
3. The family typically only purchases groceries once every two months in order to buy in bulk. They typically only eat 2 meals per day at best.
4. Because of his poor credit, he in unable to open a bank account providing many common services that come from such basic "luxuries".

· Unfamiliarity with many technologies/resources that most take for granted
1. Relating to trivial tasks, It takes practice and familiarity to effectively use Google for efficient searches
2. MATLAB is still one of his biggest academic obstacles although he has come a long way since 2012.
3. His unfamiliarity with the US society along with the other hardships has frequently resulted in poor grades and wasted opportunities.

· Medical Conditions (and costs), language limitations, and parenting obligations prevent finding employment
1. Even working conditions requiring standing for long periods of time are not possible. Unfortunately, the insurance company paying out workers compensation has canceled his benefits.
2. Work-study positions at the university are unavailable to him
3. His English language limitations prevent him from excelling in interviews or even becoming a STEM tutor.
4. Every time one of his children goes to the ER for a minor medical condition, he is the recipient of a large on often-unpayable bill.

· High-interest loans
1. I am not up-to-date on his debt situation, but I presume that he has about 20,000 dollars in school loans through his education at the University at Buffalo and Erie Community College.

Of course, the above conditions only highlight the most significant obstacles to the success of the Boguhé family. Related to this economic plight is a particularly important subject - the future opportunities of Yao and Gnolou, respectively 9 and 13 year old. Each has limited access to not only food and sleep, but also a decent education away from the horrors of the inner-city Buffalo school system. Both are clearly very intelligent and contain the innocence and curiosity that all children are born with. I have become a mentor to their eyes and hope to provide them with the educational materials, tools, and toys which they have not had the fortune of growing up with. They deserve the right to a successful future if they so desire.

Unfortunately for the Boguhé family, I was offered a Ph.D. position in 2013 at the University of Colorado and thus moved 2500 km to the southwest. The move meant that I could no longer serve as transportation to the family nor could I provide the direct support that comes with physical contact. It was difficult to see the heart-break of Yao and Gnolou as we parted after our last meal.

Organizer