Me Too - Not Backing Down
Hello world, l'm Marita  Murphy. I was seven years old when l was sexually abused. Over forty years later, 
after my Mother was dead, 
and when I could no longer hold it in, 
I went to the Police. When l first rang them l found l couldn't utter a single word. !!
The  Policeman kindly said "Lady I don't know what's happened to you but I think you need to see a counseller." I did that, but what I really needed was justice and to be heard. Luckily for me, as a stay at home Mum my life is good. 
I finally made a report. It was really harrowing to relive the experience over again. But I felt brave, like I was breaking the silence that had protected, not me, but the perpetrators. I was very angry. My husband of over 32 years also made a statement, as I had told him about the crimes against me before we were married and then did my sister and two of my brothers that Mum had confided in when HER burden got to great to carry.  None of us have any criminal records. In fact my sister a registered nurse and midwife was "Mother if the Year" in Wesrern Australia in 1994.

My Dad died in 1968 from a brain tumour after a long illness leaving my Mum alone to raise seven children under 17 wiith me the youngest. That is him with me above and me below in front row,  right. Still innocent.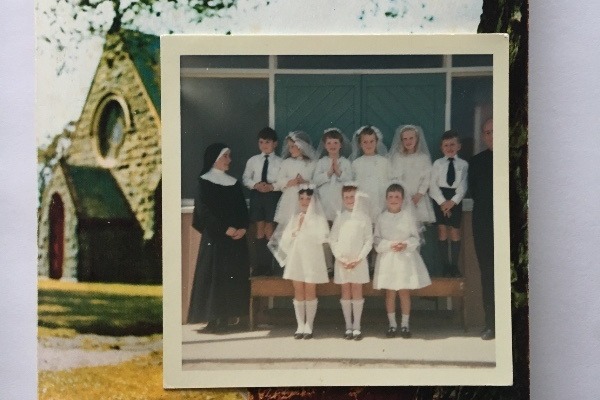 Mum wrote this book too, another one she edited and produced, l've found out was prior to her marriage and the forward was written by Archbishop Daniel Mannix, head of the Catholic Church ⛪ Victoria and a great revered world leader, citizen  and speaker. Mum still comes up on google under her maiden name as an author today!!! 
M. M Harding,  "This City of Peace"
I used to love school, got good grades. 

But all that changed.......
My life was great until my Dad died when l was only six and Mum became unwell for a bit and  l became a vulnerable child for a couple of weeks. That's what happens and thankfully The Royal Commission and #metoo are making people aware that they may well be held accountable one day.. 

Despite my own Mother being university educated my grades fell. I mentally shut down and left school completely when I was only 12, and cut off all my hair on a number of occasions. I didn't want boys to notice me. Getting  the copy of this last report below  in September 2015 
was shattering for me, l cried, then l thought Mum was right, it's a miracle that the owner of this report has a good life. (she was heavily into miracles and virgins etc....)

l got this midterm and final school report for year 8 or form 2  Australia. N is fail. F also, the lowest mark!
I tried to get into a Court to be finally heard, but was to be rendered voiceless by the legal system and made to pay for the privilege of NOT being heard!. Thanks goodness for the internet, FB and GoFundMe as it's the only platform left for me.

You can read about it here. Murphy, Marita [2017] VSCA 116 or google "Marita Murphy Court case" (there wasn't one) So please note, no charges have been laid, hence no convictions. The legal justice system is called the INjustice system by many l've met on this journey, and now l know why.!!
The judges don't want to rely on the memory of a 7 year old. To bad then if you are only seven and bad things happen to you! 80% of sexual abuse happens in private settings.
I have/had a supportive psychiatric report ready for Court that cost me (AU $3500) sadly no one is ever going to see it. Also well over a hundred character references that no Judge will ever view.
Three male judges over ruled a WOMAN judge who ruled my case go to trial. I had/have paid cost's for both.
Just because you haven't never said anything doesn't mean nothing happened, it just means you're suffering in silence. I went to the Police and reported first. When nothing was happening then chose to stand up and fight back and stand up.
I hope you might support me to continue to stand, to raise awareness of child abuse and of a court system that continues to deny us justice.
#METOO  will bring sweeping change and my reasons are two or three fold for doing this, create change by daring to stand up and NOT crumble when l was bullied in to (hopefully) shutting up. Who would risk a "six figure amount" on a lie? Also l don't want pity or anyone else's hard earned cash. I just want awareness and thus change. If people can help and want to help that's fine.
Thank you very much.
Mrs Marita Murphy.
Organizer