Empower an Animal Rescuer from India!
Please meet Anirban Chakraborty. Known by his friends, family and fellow rescuers as Joy.
Joy is a young man who lives in Calcutta, India. Joy has worked hard for the last 10 years helping and saving the street dogs in his neighborhood. With his own money, he has built a compound and a clinic to help the street dogs. Now, it is Joy's time to take the next step! Spaying and neutering!!! In the first picture, Joy is with the Spay and Neuter expert and trainer Dr. Jeff Young of Planned Pethood International, a registered not-for-profit organization based out of Denver, Colorado. Dr. Young has invited Joy to come to Mexico for his next Spay and Neuter training campaign in Merida, Mexico (January 17th to January 28th 2014) where he will personally train him on techniques that will bring Joy's spay and neuter cost down to only $10 per dog!!!!!! That will help empower Joy to have an even BIGGER impact in his area and beyond!!!
Joy is so dedicated to the animals in his area, he was once beaten for helping a seriously dehydrated and malnourished dog. That was 10 years ago and since then, he has dedicated his life to saving the animals and leading by great example ever since. Joy works with the poor which is why the low cost spay and neuter training is even more important!!!
Just so you have some info on India, and why this is so important to Joy, me and the people of India, here is some information.
The street dog population in India is estimated at 25million by the World Health Organization.
India is suffering from a rabies epidemic and a child is dying every minute in India from rabies.
1 third of all rabies deaths in the world, happen in India alone.
Joy recently participated in Mission Rabies, put on by Worldwide Veterinarian Services, a rabies campaign that took place through out India and over 60,000 dogs were vaccinated in this campaign. In Joy's area, 5,000 dogs were vaccinated.
Here are some visitors from the Mission Rabies visiting with some dogs at Joy's compound.
Joy with Dr. Luke Gamble, founder of Worldwide Veterinarian Services. Dr. Gamble was in India and heading the campaign Mission Rabies which vaccinated over 60,000 dogs in total from Rabies.
A mother and her pups that were out on the street, rescued and are healthy and happy with Joy.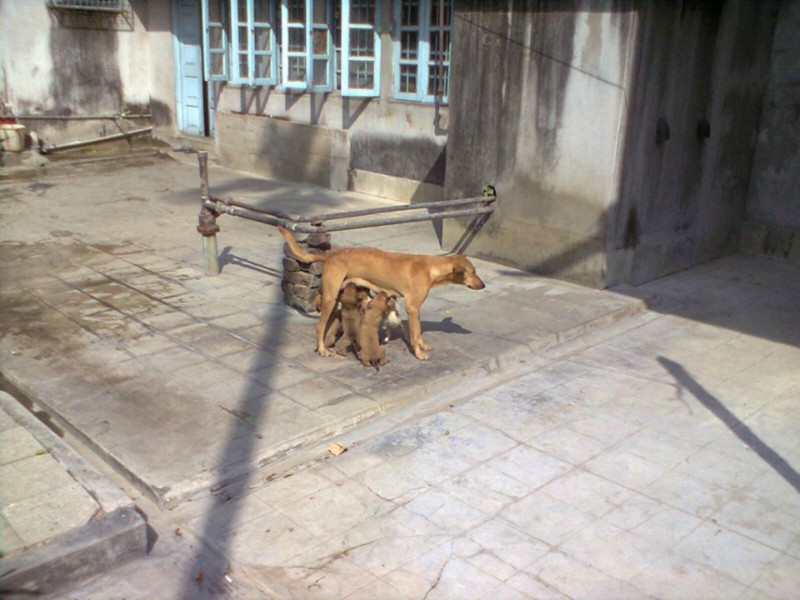 Here are the pups afterwards, all grown up, resting and playing happily!!
Here is Dr. Young prepping for a cat surgery at Joy's clinic
THis is why we MUST help JOy get the training he needs! This young man has spent every last cent he has to build a compound with an EXCELLENT clinic for these dogs to not only get the surgery they need to stop reproducing more street dogs, but also an area to recover before they are re-released. He has dedicated himself totally to these animals and by getting the needed training by Dr. Young, it will greatly reduce the time the dog or cat is under anestetic (reducing costs), using his techniques they have super small incisions, (reducing the chance for infection and other complications), lowering the time of each animal to 15-20 minutes per surgery will allow him to do more dogs and cats in a day and will have the positive impact need to help curb the street animal population in his area!!!!
Here are some more visitors to his clinic.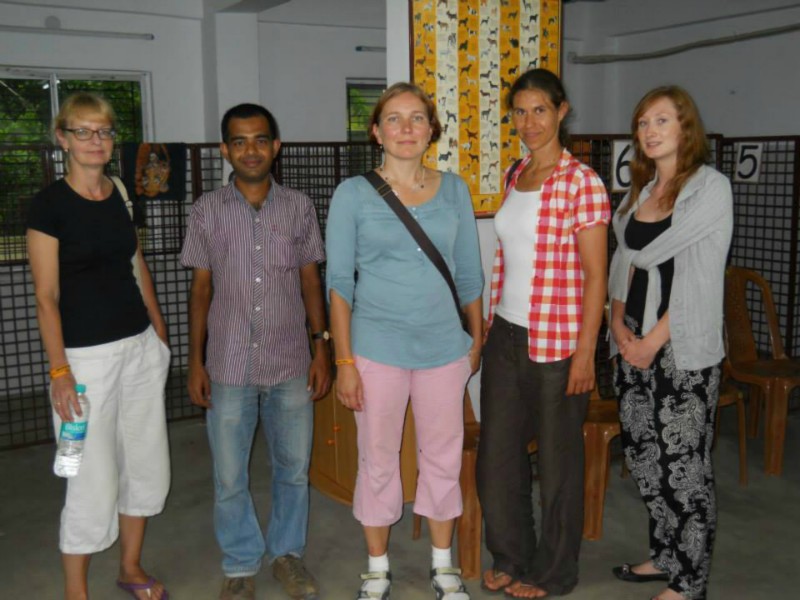 Center is Joy's beloved Aunt Madhura with Joy's dog DOOSTU BURI (translates into Naughty Old lady). Joy describes his Aunt as "my closest friend, philosopher and guide."
As you can see, this young man is dedicated to bettering the lives of the animals and the people in his community. Please help me to help him by getting his training that he need to take this dedication to the next level. Dr. Young has committed to paying for his food and lodging while he is in Mexico, so lets help get Joy there!!!! Please share, please spread this far and wide!!!!! If you have any questions please do not hesitate to contact me!
~Pamela

Organizer
PLANNED PETHOOD INTERNATIONAL
Registered nonprofit
Donations are typically 100% tax deductible in the US.
Learn more
#1 fundraising platform

More people start fundraisers on GoFundMe than on any other platform. Learn more

Expert advice, 24/7

Contact us with your questions and we'll answer, day or night. Learn more