Taz needs a Surgery...
Taz is only 4 years old. He was brought to us by my wife's co-worker when he was only about 2 weeks old. He had suffered a head injury somehow and was in a VERY bad way. We decided to try and bring him back to health and foster him until we could find a forever home for him.
It started with eye dropper feedings, then bottle feedings. We had to teach him everything, including how to use a litterbox.  He fought and fought to hang on every bit of the way. His original name was Timex (because he took a licking and kept on ticking.)
On my birthday, almost 2 months after bringing him home , he decided to purr for the very first time.   We decided then and there that We would be his Forever Home.
As he healed, we realized he had numerous issues he was going to have to overcome. The head injury had left his left eye slightly askew so that his pupil was not straight up and down vertical but at a slight tilt in the socket. This makes him VERY far sighted and the closer things are, the harder it is for him to focus. Also, his pupils don't always dilate the way they should so he's very sensitive to bright light and will often find some way of covering his face while he sleeps, even if its just with a paw. On a more serious note, the head injury has also left him susceptible to occasional seizures, as well as made him what we refer to as "Highly functioning kitty autistic". He has to do things in very set patterns and routines or else he gets very cranky (a little bitey.) New things, new places (even rearranging furniture) make him very stressed out and anxious which brings us to the point of this campaign.
Taz has been diagnosed with FLUTD, Feline Lower Urinary Tract Disease. Sharp crystals begin to form and will build up and create a blockage preventing him from urinating.  These crystals form faster when the animal is stressed.  2 years ago, we went through taking him in and getting a catheter to relieve the blockage several times, and he was put on a prescription diet which seemed to alleviate the problem.
Unfortunately, the problem has returned. In the past 24 hrs we've spent over $1,500 at his regular vet and a trip to the Pet ER last night. He is staying over night again to see how things go, but he will HAVE to have surgery. At this point surgery is inevitable. If things do clear up, it may be able to be postponed for a few months. If it doesn't, it may be needed as soon as tomorrow. Repeated insertions of the urinary catheter can damage his urethra and make it difficult for him to go even without the crystals.
Right now, that appears to be the case.  The surgery is called a perineal urethrostomy and will open up the urethra and allow him to go without issue.  The vet estimates the surgery will cost between $2,500 and $3000. This surgery is considered to be a last resort. The only other option is to say goodbye.
For our family... that is not an option...
All of our previous cats have enjoyed very long happy lives. My wife and I's first furbaby, Ghatti lived to be 18, and our daughter's cat Castle is 17 and still going. We had to make the hard decision for Ghatti at the end of her life when her health failed, but to make this decision on a pet who is only 4 and who has struggled and fought so successfully against all odds up to this point, is unconscionable for us.
Taz is strong and determined and a stubborn fierce fighter. He will pull through and live a long happy healthy life, but not without this surgery.
I am a retired USAF MSgt. I served 20 years and had numerous trips away from home downrange. Taz has become for me an unofficial therapy cat. He means the world to me. He has been a source of comfort and calm when I've needed him most. He soothes my nightmares and makes me smile everyday. He has truly changed my life for the better. Only my wife and my children mean more to me than this feisty feline.
Please help me save my boy....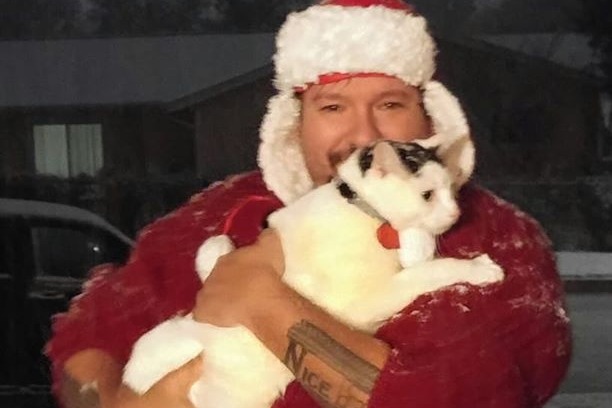 Organizer
#1 fundraising platform

More people start fundraisers on GoFundMe than on any other platform. Learn more

GoFundMe Guarantee

In the rare case something isn't right, we will work with you to determine if misuse occurred. Learn more

Expert advice

Contact us with your questions and we'll answer, day or night. Learn more