Paddy, a street dog from Thailand
Hi, I'm Paddy the dog
and I currently live in a rural village in Thailand. I don't have an actual home, but am on the market to move to the U.S. I'm a very sweet and loyal girl who loves food, running and being near my family. I'm a bit shy at first, but come around quickly. I will need some potty training as I've never been inside before. I'm beginning to learn to sit, but get so excited that I sometimes jump instead. I would like to live in an active household. I come from rice farming country and love to run and be outside. Where I'm from it's very hot and I've never seen snow before - I may need a coat as I'm pretty small (about 8-10 lbs.) I like to play with children and am fine with farm animals and cats. Please help me find a forever home.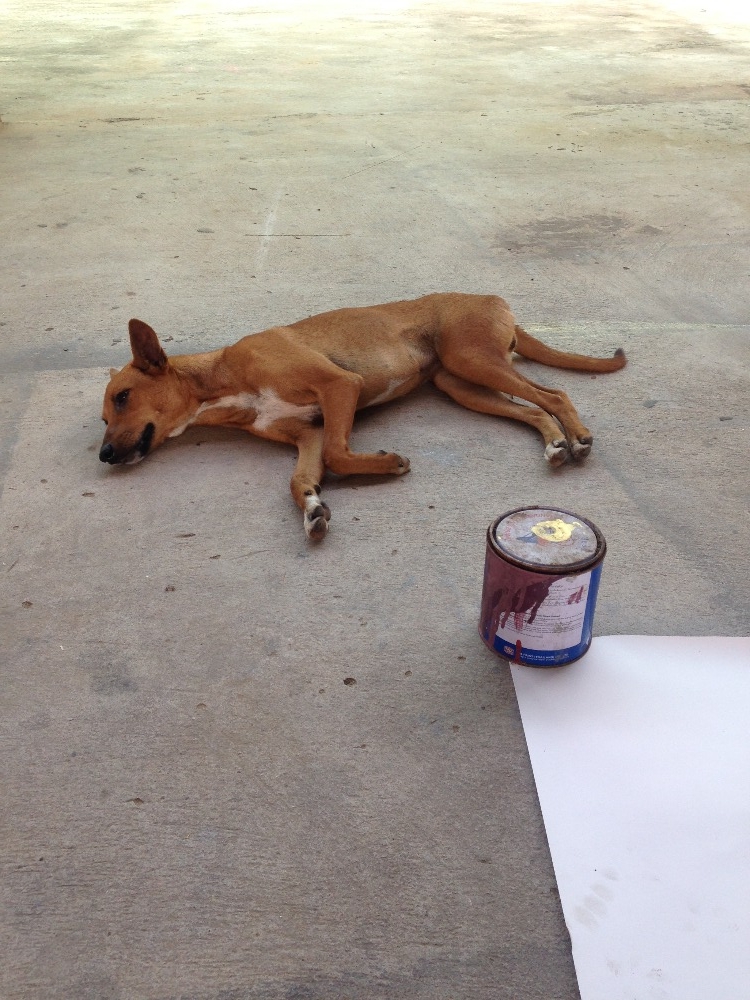 Painter's Assistant
Our Story:
We met Paddy while traveling in rural Thailand for an artist residency for 2 weeks in October. She greeted us after our first day with a gentle lick on the leg while crossing the street.  After that, she ran after us wherever we went. We began feeding her scraps from our meals at the delicious shop across from where we were staying. I'm guessing she's about a year old as she has white puppy teeth and is quite playful. We want to begin the process of getting her the required vaccinations and documentation to bring her to the U.S. for adoption. Once she has been quarantined for 30 days at a foster home in Bangkok,
we need to find a flight volunteer to help her get from Bangkok to Detroit.
 We can then help assist her to her new family. The cost of vaccinations, foster care & travel for Paddy will be around $600-$800. Since we are not in a financial situation to pay these costs ourselves, but want to find Paddy a home we've started a gofundme campaign. We currently have two dogs ourselves, but think she would make a great companion with the right person or family.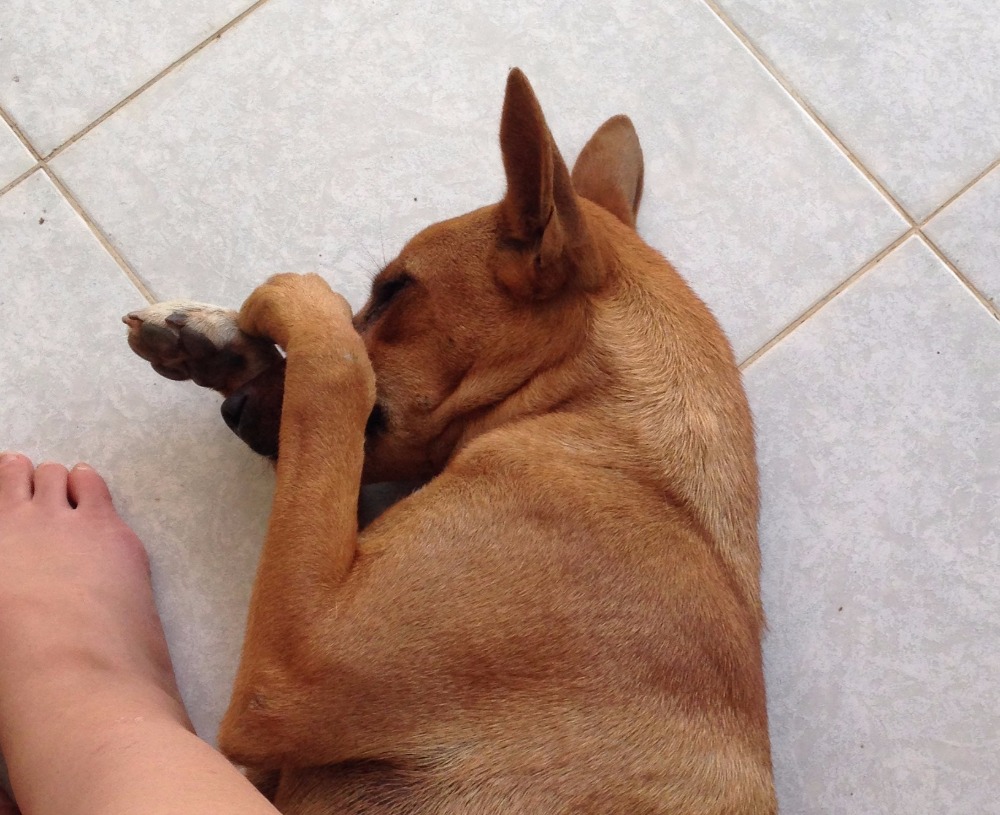 Why this dog?
Maybe you're asking yourself, why should I care about this dog? There are lots of dogs and cats allover the U.S. (and world) that need help and to be cared for. There are parts of the world where dogs are illegally smuggled for the meat trade industry, including in Thailand.
The village where we found Paddy is the poorest area in Thailand, where the rice farmers are facing tough competition from Cambodia and the strain of overfarming on the land due to cycle of conventional fertilizer. I got to know the people in this area and they are generous, kind and always smiling. In a few short days, after several shared meals and learning to catfish, we felt like a part of their family. Feeding Paddy is an expensive financial burden here and getting her neutered and vaccinated is a luxury. Paddy is one dog, but for relatively little we can make a big difference for her and take one unneutered, female dog off the streets in a place where it would make a difference. Please help us raise the funds so we can bring Paddy to the U.S. and give her a home.
This is a breakdown of the costs
quoted by a woman out of L.A. who runs a non-profit called K-9 Aid and has experience with this exact situation:
1.) Transporting Paddy from NE Thailand 4 hours to Bangkok: around $50-100
2.) Fostering, Logistics, Vaccinations & Paperwork in Bangkok: around $200-$300
3.) Crate for the flight: around $100
4.) Flight from Bangkok to Detroit, with volunteer: around $200-$300
Paddy needs to be neutered and was in heat towards the end of our trip in Thailand. There is no way of knowing exactly how much everything will cost until we have completed the process as there are unknown variables including finding a flight volunteer (it is significantly more to fly her in cargo) and we won't know about Paddy's exact health until we get her to the vet in Bangkok. Any money that we raise beyond what it costs to find Paddy a home will be split and donated between
Little Traverse Bay Humane Society
 in Petoskey, MI and
K-9 Aid
, a dog rescue charity based out of L.A. that raises money to help support small shelters who rescue and care for abandoned and abused animals.
Thank you for your generousity, support and helping to find Paddy a home!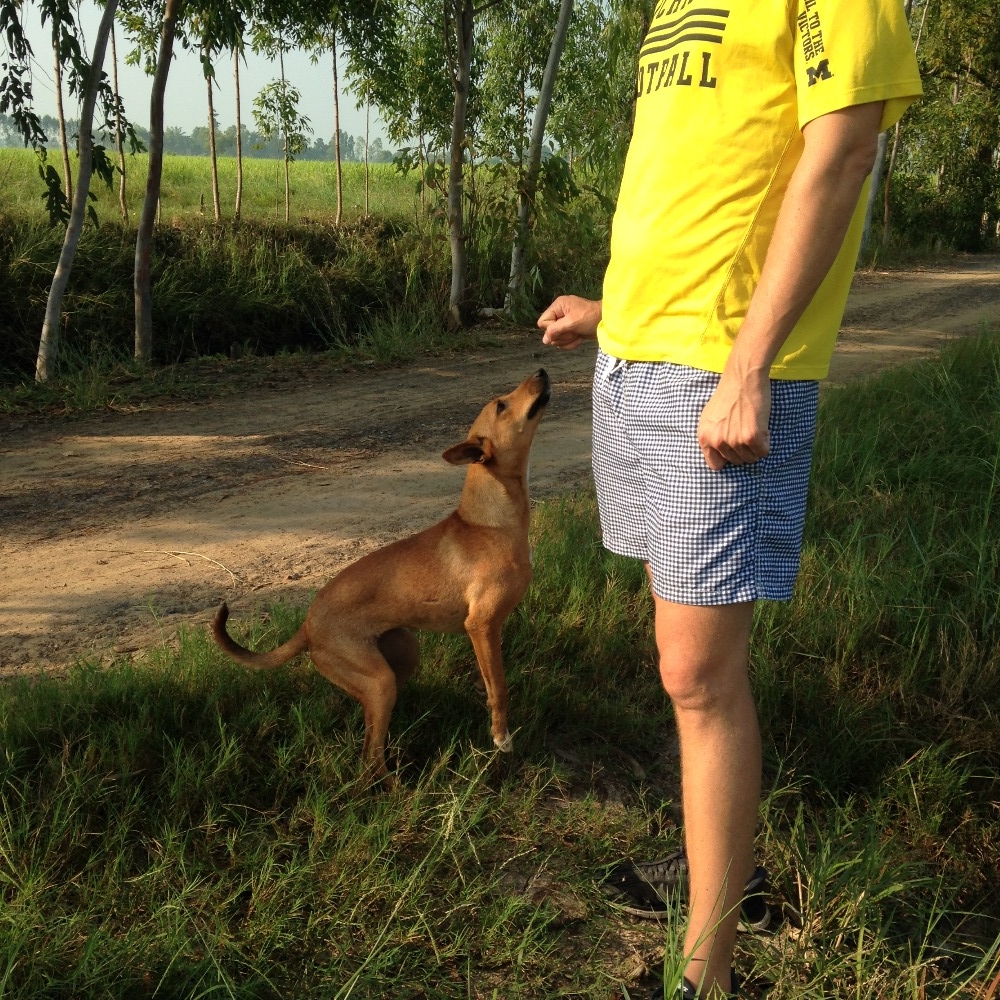 Trying to teach Paddy to sit. She was significant in cheering up a 2 a.m. while in Thailand Michigan fan after the Michigan vs. MSU game this year.
Organizer