50 TRICKS. 50 STATES. 50 VIDEOS. 50 DAYS.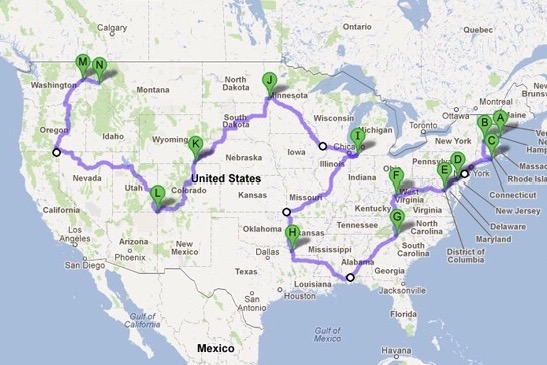 TIMELINE: MONDAY, APRIL 1ST - MONDAY MAY 20TH, 2019
Last Summer I did a challenge on my YouTube Channel where I learned a new trick every day for 31 days straight while editing and uploading the videos in the same day. This was one of, if not THE MOST difficult and rewarding things I've ever done.
So... While being cooped up all winter here in NY I've had plenty of time to think of a new challenge and 2 days ago it hit me...
In exactly one month (April 1st) I'm going to be learning a new trick in EVERY state for 50 days in a row I didn't fully realize how insane this is actually going to be until I was mapping out every stop for the trip and seeing that it's over 10,000 miles  
WHY YOUR SUPPORT IS NEEDED:
 


One of my main worries with completing this challenge and producing this 50 video series in 50 days is that there are so many variables that could get in my way... Injuries, weather, broken boards, equipment failure ect. 
Also... not sure if this beauty of vehicle ( 2005 Grand Marquis, 180,000 miles ) will last or if I will be able to afford 50 nights of hotels (most likely sleeping in the car) but there is NO turning back now because I just took two months off of work and booked the flights for Day 49 ( Alaska ) and Day 50 ( Hawaii ).
I saw that the flights lined up perfectly on those two days and didn't want to miss my window of opportunity so I just pulled the trigger.I'm definitely going need all your help throughout this thing. Any ideas, recommendations ect. will be greatly appreciated. This is all I have been able to think about the past 2 days and my palms are sweating as I'm typing this. Can't wait!
 
GOALS:


Monetary Support
I am seeking personal, group and corporate donations as well as sponsorships to help offset the many expenses of this intense challenge such as travel, gear, lodging, equipment, flights and the list goes on. 
Thank you so much for being apart of this journey and helping this dream come to fruition.
Follow Along!

YouTube.com/c/chadcaruso
Instagram - @chad_caruso