Bob's Heart Recovery Fund
If you have ever met Robert (Bob) Thibeault, I can guarantee he has left a lasting impression on you. He is one of the friendliest and funniest men you will ever come across, who spreads his contagious smile and amazing sense of humor everywhere he goes. He is a positive, upbeat person, who works hard with everything he puts himself into, especially his job. He loves to spend time with his family and friends. His hobbies include motorcycling, scuba diving, RV camping, and traveling. This GoFundMe has been created to help him, his wife, and daughter get through this long difficult time.


On October 20, 2017, Bob underwent heart surgery to place an LVAD (Left Ventricular Assist Device) in his heart. After this surgery, he suffered a stroke, which affected the right side of his body. Below is a very long outline of his medical conditions of 7 years leading up to this, and where he is now and how it has affected all of our lives. 



Cindy (his wife), Jaimie (his daughter), and Bob in November 2016.


Background of his condition:
Bob was first diagnosed with central sleep apnea (Cheynes Stoke) 2010 when his wife noticed constant pauses in his breathing as he slept. He went from a CPAP machine to a BIPAP machine within a year's time. He felt better but still needed multiple naps during the day. 
During 2010-2011, he was diagnosed with congestive heart failure and atrial fibrillation. This caused difficulty with breathing, leaving him struggling to walk short distances. His heart was enlarged and was pulling his mitral valve apart. At this time he went from one medication for acid reflux to 12+ to help control his heart issues.
In February 2012, he had an ICD/defibrillator implanted. It was implanted as an insurance of his life due to the arrhythmias. If it is not there he could potentially go into to cardiac arrest. For those who don't know, this is a device that sits around your collarbone and has 2 leads that screw into your heart. The ICD is programmed to send electric shocks (some small, some large) to the heart, to get it back into a sinus rhythm. Within a two year period, the device fired 5 times, which lead us searching for additional solutions to help his heart issue. 
In 2015 and 2016, he underwent two atrial ablations. Atrial ablation is a procedure that is used when medication cannot control the arrhythmias and shortness of breath. The doctors use heat to destroy scar tissue in the heart where the faulty electrical signals lie. Both procedures were deemed successful. 
On to this year, July 2017, where it was decided he needed a ventricular tachycardia ablation. This procedure is the same as with the atrial ablation (which is focused in the upper chambers) however it is used to burn the erratic electrical signals (in the lower chambers) that cause your heart to beat too quickly. When it beats too quickly, it causes your heart to quiver, and no longer pump. The procedure went well and Bob was given doctor's permission to rest in his RV while his wife and two dear friends drove with him out west for their vacation. He was doing very well for the first three days after the ablation but then started to decline. Once they arrived in Yellowstone, they decided to turn around and head back home as Bob needed medical attention. He was unable to move about without extreme fatigue and shortness of breath. All the while he was maintaining his positive attitude and good spirits, reassuring everyone that he'd be fine once he was home back at the hospital. Bob decided he would rather just fly home to Brigham and Women's Hospital and asked his wife to help their friends drive the RV and trailer of motorcycles home. Unknowing to them, that when he arrived in Boston, he was diagnosed with cardiogenic shock. This condition is rare, but it's often fatal if not treated immediately. After remaining hospitalized for a week, he was stabilized, and they replaced his ICD with a pacemaker
On August 14, 2017, a new lead was added to accommodate the switch from the ICD to a pacemaker/defibrillator because now he is pacemaker dependent. We were trying to avoid this, but after the last ablation, his heart would no longer sustain sinus rhythm on its own. This procedure also went well. 
For the next month, Bob continued to work but wasn't able to breathe well due to his heart function that was continuing to decline. On October 10, he underwent a week-long hospitalization for testing and evaluations for the candidacy of an LVAD (Left Ventricular Assist Device), and/or a heart transplant. But on October 5, he found he could no longer function well and after he finished what was needed at work, he and Cindy went to Brigham and Women's to be admitted, 5 days early. (By the way, my dad works as a maintenance manager at an apartment complex of 240 units, where he takes great pride in his work and loves the residence that live there.) He was then evaluated where we found he was eligible for both the LVAD and transplant. 
On October 20, 2017, after being in the hospital for about a week, he underwent urgent LVAD surgery. We were very thankful for this, as the LVAD wasn't supposed to be available for another few weeks or longer. The surgery went very well (Thank you to the doctors at Brigham and Women's Hospital in Boston)! We were very excited for the future, as this LVAD would allow his heart to function properly, finally, he would be able to breathe efficiently and his body the ability to function better.
Cindy and Bob in South Dakota after riding their motorcycles.
The aftermath of the surgery:
Bob was slated for surgery at 1:30 pm, Friday, October 20. That morning they got him up at 4 am for labs and the surgery quickly changed to 7:15 am. Bob texted Cindy, who was just out of work and heading back to the hospital, to let her know. She quickly headed to the hospital. At 7:15 am they took him in for LVAD surgery. At 3:25 pm (8 hours and 10mins later) my mom got a call from the doctor that everything went very well. While they were in his heart they had also repaired a hole and strengthened the tricuspid valve on the right side of his heart with a ring.
We were expecting him to wake up from the anesthesia after just a few hours, however, he just kept sleeping. But as the sedation was starting to wear off, he was moving both feet and would wake up briefly but was groggy and would fall back to sleep. Everyone reassured my mom and I that everything was fine and we just had to wait for the sedation to wear off totally.
I left the hospital around 9 pm, where he was still asleep. At 11 pm, I called my mom (who was staying with him) to see how he was doing, and he was still asleep. At 12:30 am I received a phone call from her. They had done a CT scan in order to restart him back on his blood thinning medication and found that the reason he wasn't waking up was that he was having a stroke. There was a blood clot in his brain, due to him being taken off blood-thinning medication for the surgery. Luckily, my college is right around the corner from his hospital, so I was able to be there right away. Until 3 am, doctors were discussing with both my mom and I what our options were. We could've either done nothing and waited to see if the clot would pass on its own, or the doctors could perform a very high-risk surgery, where they went through a vein into his brain and suctioned the clot out (which could break the vessel, and cause a brain bleed). It was a very difficult and emotional time for us since we were faced with the possibility of losing him on the table. In the end, they decided to perform the surgery, which went perfectly! 
At 5:21 am, his blood pressure plummeted to 35/?. There were 8-10 doctors and nurses in the room trying to figure out what was happening to my dad. He was losing blood somewhere but they didn't know where. They quickly gave him a number of units of blood to stabilize him and get him back into surgery, but first did a CT scan on his head and a full body scan. He was brought back to his room when they decided that surgery wasn't needed and that he had a severe chest cavity bleed that required two chest drains to stop. They kept an eye on the drains and found it to be old blood and nothing new suggesting that the bleeding had stopped, still not knowing where it originated from. He never did fully waken, since they kept him mildly sedated until Monday, October 23, when they finally removed the breathing tube. The stroke left him unable to speak and move the right side of his body.
 On November 3rd, not even a full day after being moved out of ICU, my dad was supposed to have a G peg feeding tube implanted but had a high fever, low blood pressure, was losing blood somewhere again, and his kidneys were suffering. They performed another procedure and found he had a severe esophagus bleed. They emptied his stomach of blood and cleaned is esophagus. This led him back to being sedated with a breathing tube and had an infection due to an aspersion. The following day there was still a slight bleed so they went back down his esophagus and further cleaned the area. They did find two areas of bleeding and used 5 clips to close the areas. Because of this, he was no longer able to have anything down his throat, no breathing tube or feeding tube, which may have contributed to the whole ordeal. They could not feed him intravenously because there was a risk worsening the infection. My poor dad was unable to receive any nutrition for 7 days! He lost about 20+ lbs of weight and muscle. Thankfully, he was a very strong and fit person before all of this, so he faired well. They kept him comfortable and sedated until Monday, November 6th. On November 8, Bob finally had the J peg surgery so he was finally able to receive nutrition on the 9th.
On Wednesday, November 15, he was finally able to go into rehab at Spaulding Cambridge. Then he developed a cough and slight fever Thursday night. My mom had to get up all night long to suction out his mouth every time he coughed due to all the mucus that followed. On Friday, his fever spiked to 101.9°F. My mom stayed with him again overnight instead of going to work an kept cold compresses on his head and neck. On Saturday, November 18, he spent a good amount of the day sleeping. Everyone at the rehab facility deemed this okay considering the last two nights were disruptive with the severe coughing and fever. However, about 5 pm, my mom expected him to be more awake and he wasn't. She called the doctor and asked for a CT scan in fear of another stroke was happening. They told her that they were unable to do CT scans there, but they would perform all the necessary labs and tests and keep an eye on him. He was still sleepy on Sunday but was more awake in the evening. The physical therapists were able to work with him on Sunday, where they learned that he could read and was more responsive than with verbal commands. Finally, we were able to communicate with him, though he wasn't able to communicate with us. This was very frustrating for him! 
On Tuesday, November 21, dad had a check-up appointment at Brigham and Women's for his LVAD and a CT head scan. Through this, they found that he had a brain bleed and that my mom's suspicions were correct. They immediately admitted him back into the ICU and stopped the blood thinning medication. Now the doctors are faced with the balancing act of keeping the brain from bleeding by stopping the blood thinner and also keeping the LVAD to function properly, which needs the blood thinner.
From that day until now (December 4th), he has been working with physical therapy to regain his strength and abilities.  
Before his LVAD surgery, posing with a get well soon teddy bear, sent by his employers.
Where he stands now:
When he left Spaulding a week ago, he was walking with a cane and two people assisting him. Today he can walk alone with his wife by his side! He still has troubles with his right arm weakness. He better understands verbal language, though he is difficult to understand as he nods his head when you say/ask something (we can never tell if it's him acknowledging that he heard us, or if he is answering yes to a question). Our current use of communication is writing on a whiteboard to him. Every few days we try to get him to write to us on the board, and even though we are not sure of the words/letters he writes, we are sometimes able to make out what he is trying to say. For the most part, we've been able to communicate with him and tend to his needs. He does try to talk at least once a day, though his voice fades and he gets frustrated. He has recently been cleared to start eating puree food. They had planned to release him back to rehab today (December 4) as his medical needs have been met and he needs more physical, occupational, and speech therapy. However, due to an insurance glitch, we have to try again tomorrow. Each day my dad has shown small improvements towards his independence and future. He does not like being in the hospital, but we keep him occupied by watching movies/TV, playing games (such as tic tac toe or card games), chatting with him, or letting him play with my fish.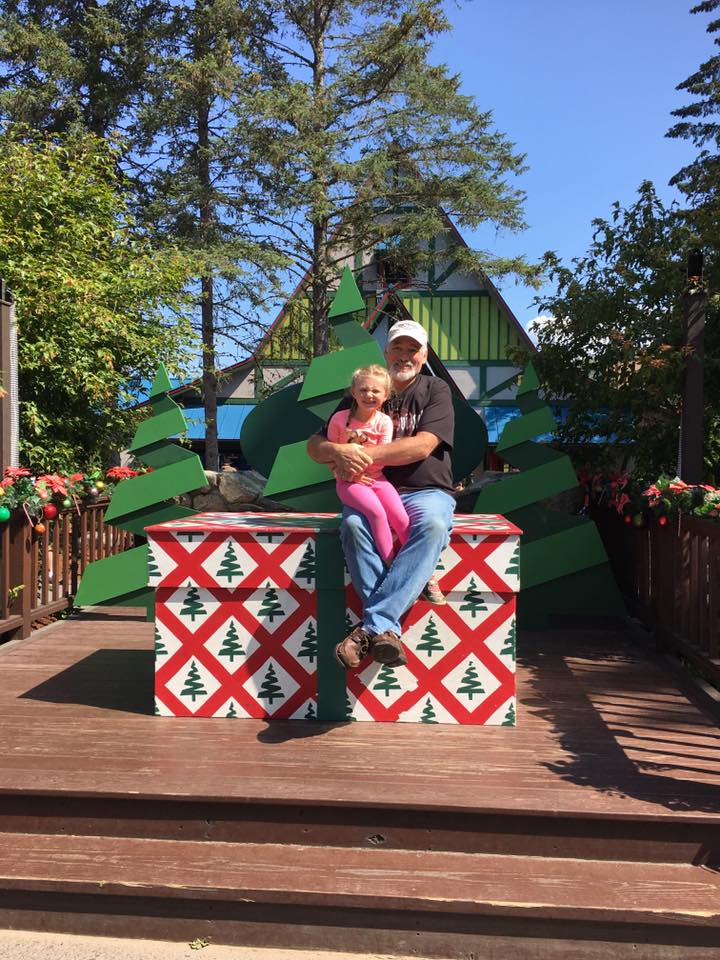 Bob and his youngest granddaughter, Haylee, at Santa's Village in August, 2017.
The road to recovery:
No one knows how long it will take until he is able to be fully independent again or when he'll be able to return to home/work. The doctors expect him to make a full recovery from the stroke, but it is unclear how long it will take. As for right now, he is doing physical and cognitive therapy daily, where he is making small improvements each time. We know it is going to take a while to regain the strength and abilities he had before, but he is working hard at reaching it! He is currently in limbo until he is back on the blood thinning medication before being placed back on the heart transplant list and able to have the surgery. 
The LVAD is an amazing device and has been working beautifully for him and that will help him greatly, but ultimately a new heart is what we want and need for him.
Bob and his daughter, Jaimie, at her senior prom in May 2017. 
Why we made a GoFundMe:
Alone, both the LVAD and heart transplant are very expensive surgeries. On top of those, Bob will be out of work for a long time, and Cindy tries her best to get to work every night, as she is staying full-time at the hospital with my dad to tend to his care. Although we do not want to ask others for money, we are in need of assistance to cover the payments. We are currently unsure how much either of them will cost, so it was very difficult for us to come up with a goal for this GoFundMe. The money raised will be used as needed, mostly applied for the LVAD surgery and future heart transplant and all the future expenses that go with them. I love my mom and dad and I would love to alleviate any stress of money as they go through this unexpected and difficult time in their lives. Any amount of help is very much appreciated by my mom, my dad, and I. 
Bob and Cindy at Corcoran Management's Christmas party.

If you have any other questions, feel free to contact us (my mom and I) through this website, or our phone numbers.

Thank you for taking your time to reading this, any donations you offer, and sharing!
Judy, Frank, April, Russ, Robin and Bill D 
Organizer and beneficiary
#1 fundraising platform

More people start fundraisers on GoFundMe than on any other platform. Learn more

GoFundMe Guarantee

In the rare case something isn't right, we will work with you to determine if misuse occurred. Learn more

Expert advice, 24/7

Contact us with your questions and we'll answer, day or night. Learn more