Meet Sandra Vallee, all 3 are Beautiful women,  she's the one on the left, the other 2 are her older sisters Elaine Cowan and Andrea Stewart.
Sandra is 6th of 7 children in the Spink family. The Youngest ( Bobby ) was diagnosed with Brain cancer in 2013. Our family was shocked. He was given 8-14 months to live. Sandra and her family Husband Scott and daughters Cassandra  Ashley and Michael took him into their home and nursed him until his final days only a few months later. Too young to die and we were all devastated. During this time before his death Sandra started to have some things happen to her that worried her husband and children. She was dropping things and was uneasy on her feet. We started to take notice. 400 million -1 that 2 members of the same family will develop brain tumors but it has happened to us. She went in for Brain Surgery and they removed as much of it as they could but it is wrapped around her brain Stem. She has gone through all the treatments and they were working to some degree ( its been 6 years ) We will not give up with out a fight. Shes starting to have seizures because the tumor is starting to grow again and we need help. The doctors want to put her on Avastin  ( it's a leading drug to prevent tumor growth ) but the drug is not covered by insurance and the injections are $5000 each and she needs 4 of them to start.. Even compassionate grounds requests have been denied, we have tried everything and i mean
everything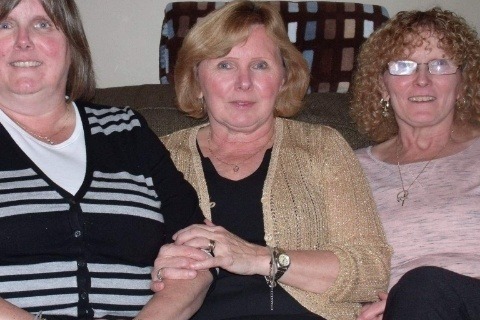 .
She needs help and we don't know where to turn so we are pleading for it on this forum. If you can help please help , if you can't, just offer encouragement. Anyone that donates will receive a personal thank you from us if you supply your email.
Here's a little something for you get to know Sandra a bit better thanks Shelley!
https://www.youtube.com/watch?v=GhsNCyLhWYw#action=share
Sandra went in for a biopsy this past week and had to stay do some complications with her previous surgery she was released a few days later and is resting at home . I would like to thank each and everyone of you for your donation and well wishes. We are short of our goal but I can tell you the donations have taken a lot of pressure off of the family and for that I am personally thankful. We have seen first hand the pain that this disease has caused the Vallee's and it has hurt everyone of us. None of us have been spared. Sandra has never quit, she's been discouraged many times but she has never been a quitter and we won't quit either. While we have a tear in our eye's she has a smile on her face each and every time we see her.  Love you Sandra!
Lets get to the goal and we thank you.