Miracle Medical Fund for AZ Mastiffs
AZ Mastiff Rescue has
more than 40 dogs
in rescue right now, and we're a small rescue! Some of the dogs have tremendous medical needs. We want to make MIRACLES happen for all of these MASTIFFS, but we need help.
Please contribute
to help us pay medical expenses and build up our rainy day medical fund.
EVERY DOLLAR HELPS, and allows AZ Mastiff Rescue to KEEP SAYING YES to the emergency calls for Mastiffs who need Miracles!
Take a look at some of our current dogs:
DEVON
Devon is a fila mastiff who was rescued after being advertised on craigslist. He has lived outside, in a hard dirt yard, for most of his young life. When Devon got to his new foster mom, she had a baby mattress ready for him.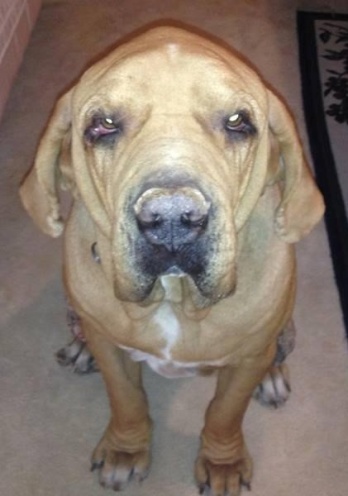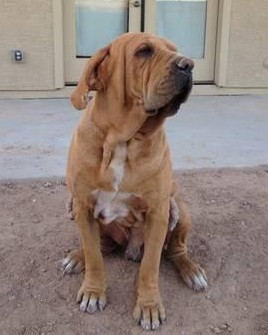 After a couple of baths to remove the top layers of dirt, he fell asleep. We can only imagine how good that bed felt after sleeping outside on the ground for so long. Devon's foster mom has spent an enormous amount of time just getting this guy clean and free of his damaged and brittle fur. Devon needs (and will get) lots of vet care and TLC. He is covered in callouses, hot spots and bald patches, and his feet are sore and swollen.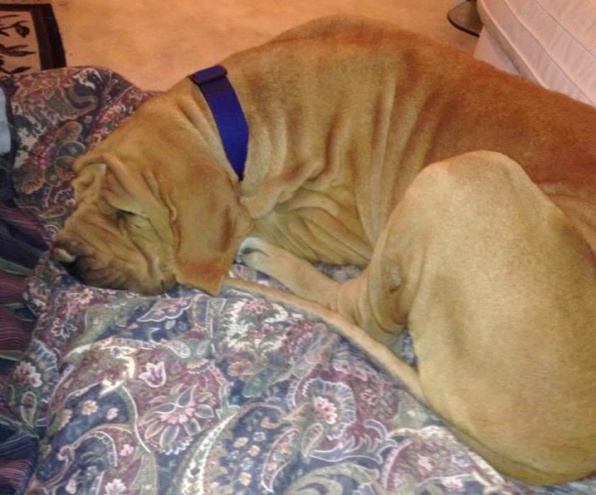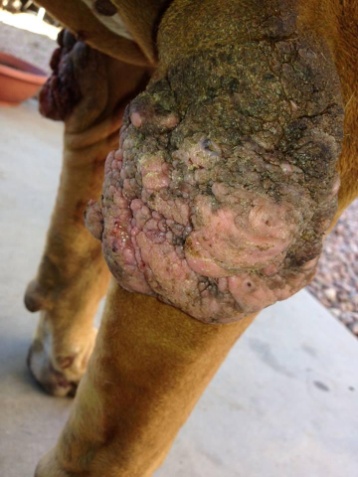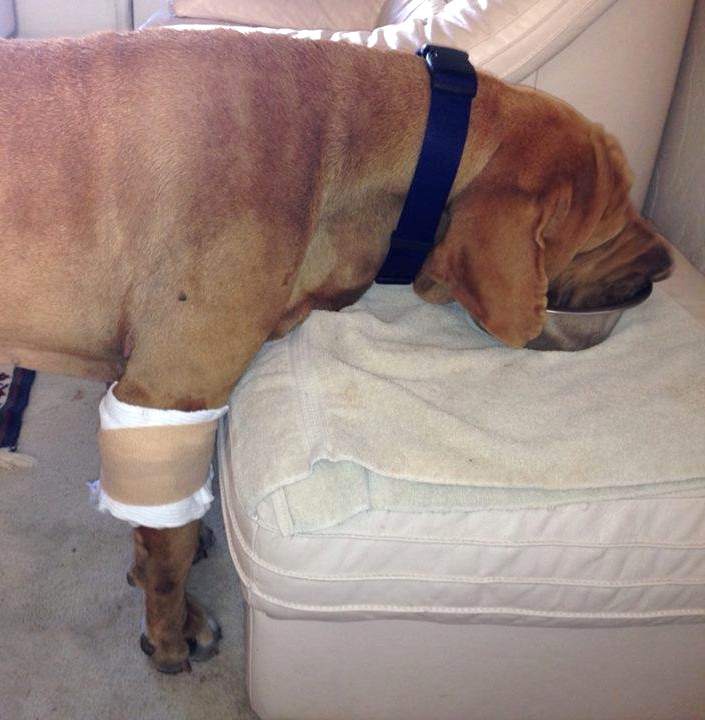 BONNIE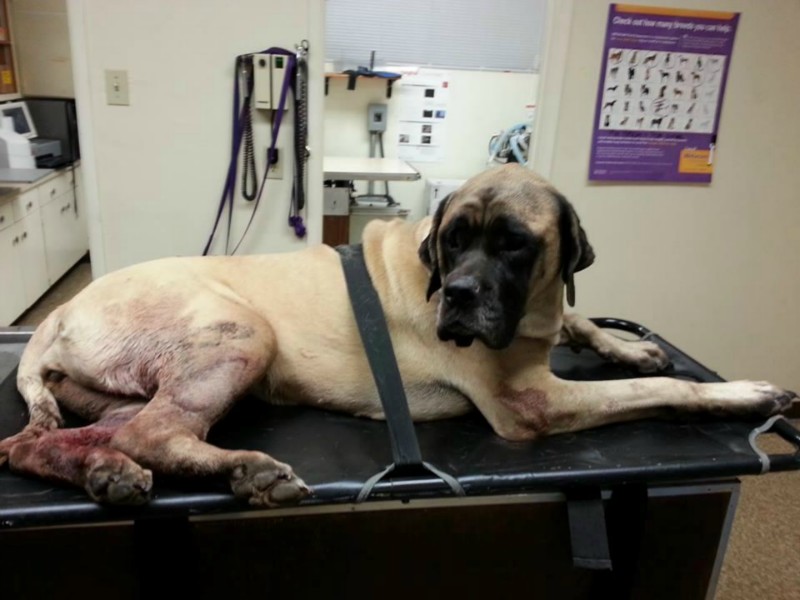 This beautiful girl was found dying on the street in Stockton CA. She had been shot multiple times and left for dead. The vet thinks she wandered the streets, bleeding, hungry, dragging her necrotic leg, for at least a week. When an animal control officer found Bonnie, when she should have been afraid and angry at all of us humans, she was sweet and gentle. AZ Mastiff Rescue has worked with veterinarians, a volunteer transporter, a fantastic vet tech who is now Bonnie's foster mom and other volunteers to save this girl. After Bonnie's leg was amputated, she has had to fight infection and sepsis, and she is on high dose antibiotics.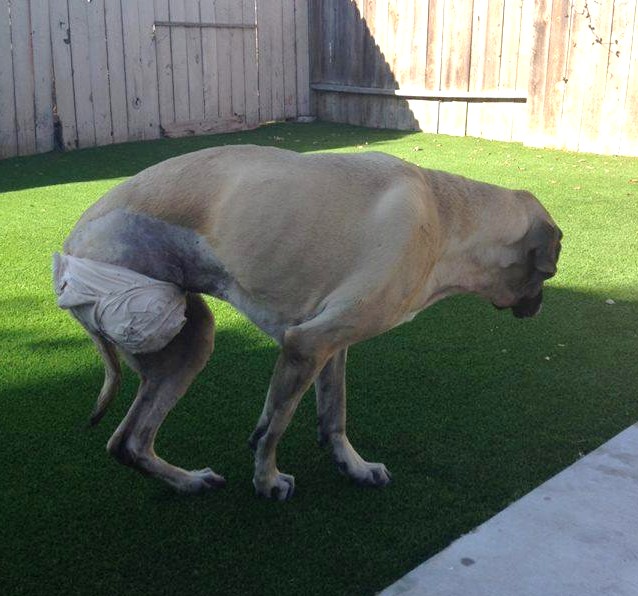 Bonnie is now recovering in her wonderful foster home.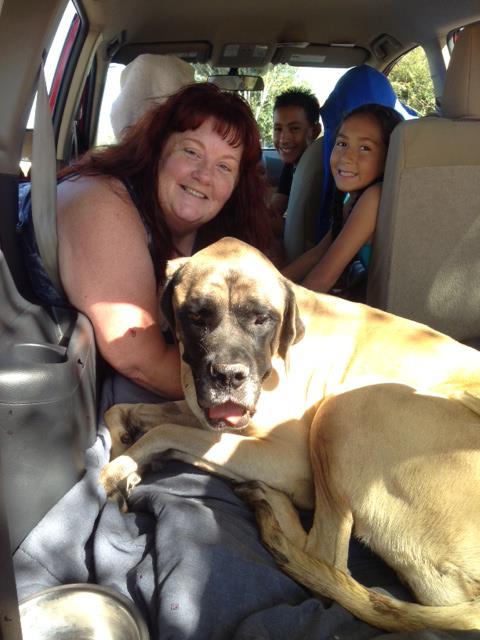 Bonnie's medical costs, which are being shared by AZ Mastiff Rescue, a fantastic and kind hearted vet and Bonnie's awesome foster mom, are likely to exceed $5,000.
SHELBY AND HER PUPPIES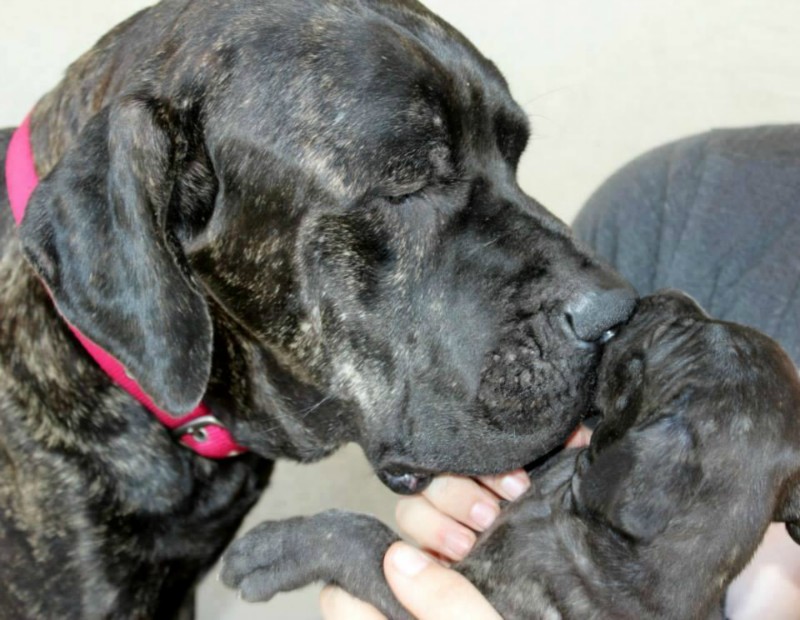 Look at this sweet mama dog, loving her puppy. Shelby was confiscated by Animal Control right after her litter of puppies was born, not a moment too soon! When Shelby was taken away from her owners, with her nine puppies, this is what Shelby looked like "" starving, emaciated, trying desperately to keep her pups alive.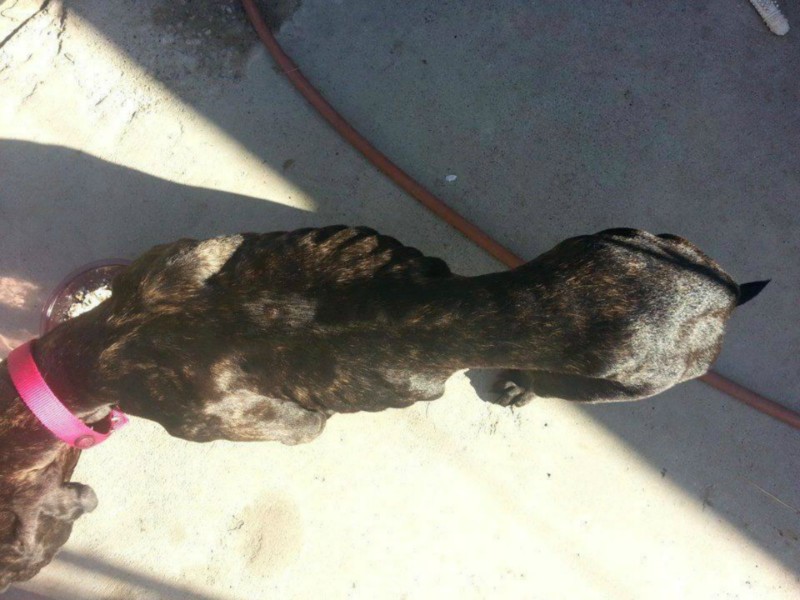 The shelter that received Shelby and the puppies from Animal Control called AZ Mastiff Rescue and we agreed to take Shelby and the pups. Before we could even get to Shelby, two of the puppies died. Once the family was rescued and put into one of our awesome foster homes, the puppies had to be weaned as soon as possible so Shelby could be saved. Volunteers took time off work to care for the puppies 24/7, feeding them, providing IV fluids, dealing with horrible worm infestations, getting the puppies their medical care and vaccines.
Shelby is recovering beautifully, and is a natural guard dog for all the animals in her foster home. She likes to sit watch over a baby horse when she is not with her pups. The surviving pups are almost 8 weeks old now and some will be ready for adoption soon.
The medical costs for Shelby and her puppies are estimated at $2,500.
MAX
Max is a young boy who was surrendered by his owner as a result of costly medical problems. This big boy came into a San Bernardino shelter because he has a torn ACL. The shelter called AZ Mastiff Rescue and Max was brought back to Phoenix for foster care. He is living with several giants, taking it easy and resting until his surgery can be arranged.
The repair of Max's ACL will cost between $2,000 and $5,000, depending on the type of surgery performed and the success of the operation.
LOUIE
Louie was surrendered by his owner to a shelter in Nevada, and the shelter contacted AZ Mastiff Rescue. Louie suffers from cataracts and will lose his sight without bilateral cataract surgery. Louie is a young boy, 2 or 3 years old, and probably has juvenile cataracts. He will have a long and happy life ahead of him when he can see again. Louie is being fostered by a lovely couple who opened their home to this sweet guy, even though they are dealing with tremendous health issues of their own.
Louie's eye surgeries will cost approximately $3,000 - $4,000, and we can't wait to share a picture of Louie after his eyes are fixed!
AND THE LIST GOES ON:
When we rescue a dog, we often don't know the full story but we deal with the consequences once the dog is in rescue. AZ Mastiff Rescue picked up several dogs from a Humane Society location and didn't know that the dogs were carrying canine flu. Canine flu is contagious and can be quite severe. In a rescue dog whose health may already be compromised, canine flu can quickly become a life threatening case of pneumonia. The cost of treating flu outbreaks and pneumonia are substantial and always are unexpected. We must have money in the bank for treatment "" the pneumonia does not wait for us to do fundraising!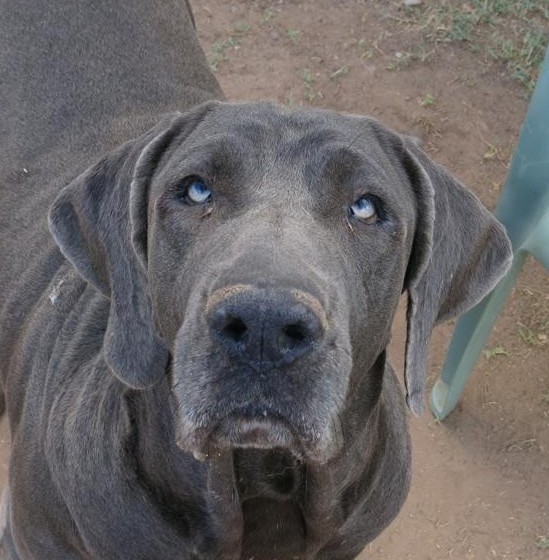 One of the dogs with canine flu also was pregnant "" another fact not known when AZ Mastiff Rescue picked her up. We nursed the mama back to health just in time for her to go into labor. Five of the eight puppies were born alive, and one went straight to the emergency vet. To save the puppies, our volunteers will now go into "puppy overdrive." Volunteers will take care of the puppies 24/7, taking time off work to feed them, provide extra fluids, keep them clean and healthy. The saying that "it takes a village:" is definitely true when it comes to raising puppies!
The average cost to rescue a litter of puppies is approximately $1,500.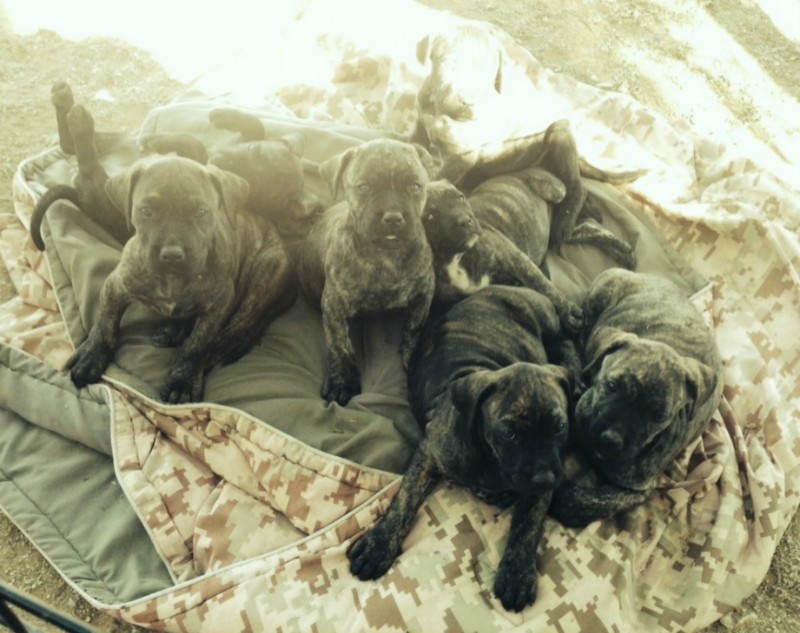 All of these costly medical issues are in addition to the rescue's "normal" medical costs -- spay and neuter surgeries, serious ear infections, vaccinations, wound care and various checkups. And because we rescue mastiffs, foster homes are hard to come by. Most of our rescues are in boarding at various facilities in Phoenix and Southern California, and boarding these big guys is expensive!
HERE ARE SOME OF OUR "EVERYDAY" MASTIFF MIRACLES
POPPA "" Before and After Cherry Eye Surgery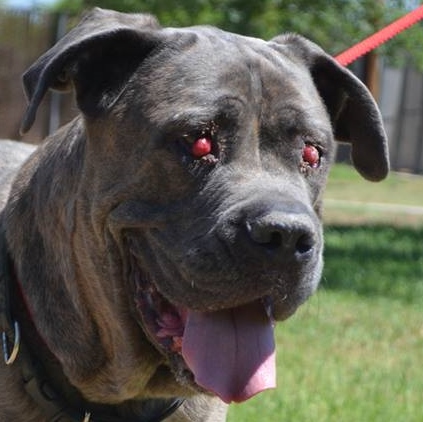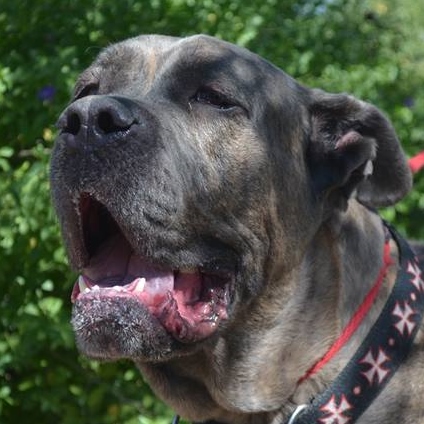 SINGE "" Before and After Treatment for Mange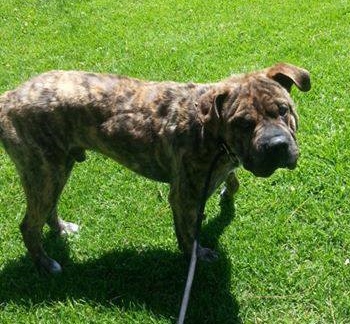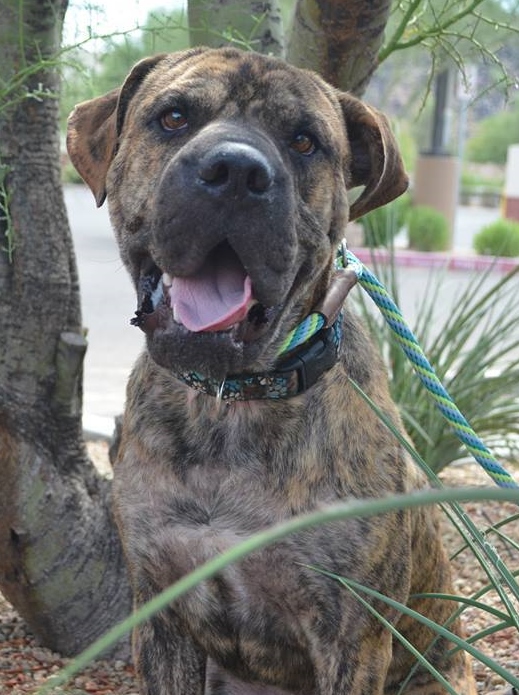 If you enjoy seeing the pictures of AZ Mastiff Rescue success stories, please donate so we can keep making MASTIFF MIRACLES happen!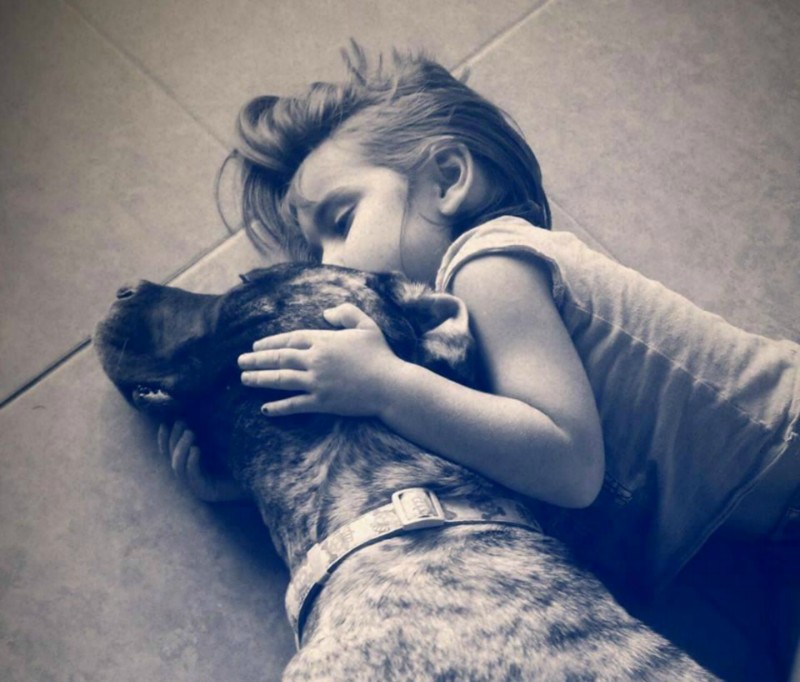 Organizer
#1 fundraising platform

More people start fundraisers on GoFundMe than on any other platform. Learn more

GoFundMe Guarantee

In the rare case something isn't right, we will work with you to determine if misuse occurred. Learn more

Expert advice

Contact us with your questions and we'll answer, day or night. Learn more