4th Annual: Cruisers for Leukemia
In honor of my son's Jason Ray and Richard George Achica I have decided to make a commitment to finding a cure for Leukemia. I have created this event in hopes of bringing awareness to this awful disease. On November 15, 2014 the first Cruisers for Leukemia Bike-a-thon was held. I along with a few colleagues rode from the DPR Office in San Francisco to the DPR Office in San Jose, riding together in solidarity cruising for a cure.
Our Story:
As you may or may not know my family has been personally battling Leukemia (specifically Acute Lymphoblastic Leukemia B Cell) since 2008. My eldest son Jason Achica was diagnosed in 2008 and nobly lost his battle in 2009. This year marks 9 years since Jason's passing. Cancer may have taken Jason from this life but we have his legacy to carry on. We refuse to let Jason go, we carry him with us. Through I our broken hearts we continue to fight for Jason.
When Jason was diagnosed with B Cell ALL we knew little about this cancer and were told it was not genetic, to quote the Doctor "it would be like lighting hitting twice." In March 2014, FIVE years later, we were hit again. In the same month we had lost Jason, my youngest, Richard was diagnosed with B Cell ALL. We will never understand the why, what, where or when. We do know now that beyond fear lays freedom. This is what you fight for, freedom. In our obligation to Jason we could not let cancer win this time, this time needed to be different.
As of May 2014 I can proudly say Richard is in remission.  Having finished his last Chemothrapy treat on July 5, 2017. My son is a fighter and so are we. This is where four years has taken us, where beating cancer is possible and lasting love exist.
As their father and a man of faith I cannot believe that this is just a coincidence. It is now my job to ensure that research is done to ensure the lives of my grandchild. My faith matters and leads me in believing there will be a cure. The strength of a family lies in its loyalty to each other. In my loyalty to my son his fight is my fight, this is our fight. Together we are stronger than cancer, and can beat this.
Leukemia:
Every 4 minutes someone in the US is diagnosed with a blood cancer, and every 10 minutes someone dies from a blood cancer. There are an estimated 1.1 million people in the United States alone that are either living with or in remission from a blood cancer. More specifically Acute Lymphoblastic Leukemia B Cell shortened B Cell ALL is the most common leukemia in children on set with low incidence in adults accounting for just 15%. The chances for a cure in adults is greatly reduce, due to its low occurrence rate in adults leading to little research.
B Cell ALL is a type of blood cancer in both the blood and bone marrow. It is a progressive cancer rapidly producing immature blood cells wasting resources from the bone marrow, affecting the white blood counts.
Many patients receive bone marrow transplants, and I encourage anyone and everyone to become a bone marrow donor, as my wife and I Have. You can sign up at
http://bethematch.org
It is at this time I now ask you, for your help to make a difference. Please consider supporting my foundation by making a donation. In raising funds for cancer research can help a family like my own. I plea to you today to make a difference by making a donation no amount is too small. All monies raised will be donated in the Achica Family's name to the Leukemia and Lymphoma Society.
The Leukemia and Lymphoma Society exists to find cures and ensure access to treatments for blood cancer patients. LLS mission: Cure leukemia, lymphoma, Hodgkin's disease and myeloma, and improve the quality of life of patients and their families. Today, LLS is the world's largest voluntary health agency dedicated to finding cures for leukemia, lymphoma, myeloma and other blood cancers. To date, LLS has invested nearly $ 1 billion in research to advance therapies and save lives. Thanks to research, survival rates for patients with many blood cancers have doubled, tripled and even quadrupled since the early 1960s. Despite these advances, about one third of patients with a blood cancer still do not survive even five years after their diagnosis, which is why more funding is needed to bring better therapies to patients, and faster.
Continuing in our dedication to bring awareness and finding a cure, on November 21, 2015 we held our Second Annual J&R Cruisers for Leukemia. My son Richard,  was able to ride with us. It is a major accomplishment for him and I am blessed that my son is able to ride. Together my son and I will ride in honor of his brother Jason keeping his name alive and in honor of Richard himself in his ongoing battle.
Our Thrid ride was on August 13, 2016.  Richard again was able to ride with us, all while still undertaking chemo treatments. 
This will be our fourth year we will ride. On September 2, 2017 we will continue on our journey, riding for a cure. 
Although my son Jason will never be able to ride with us physically he will be with us in our hearts and in our thoughts.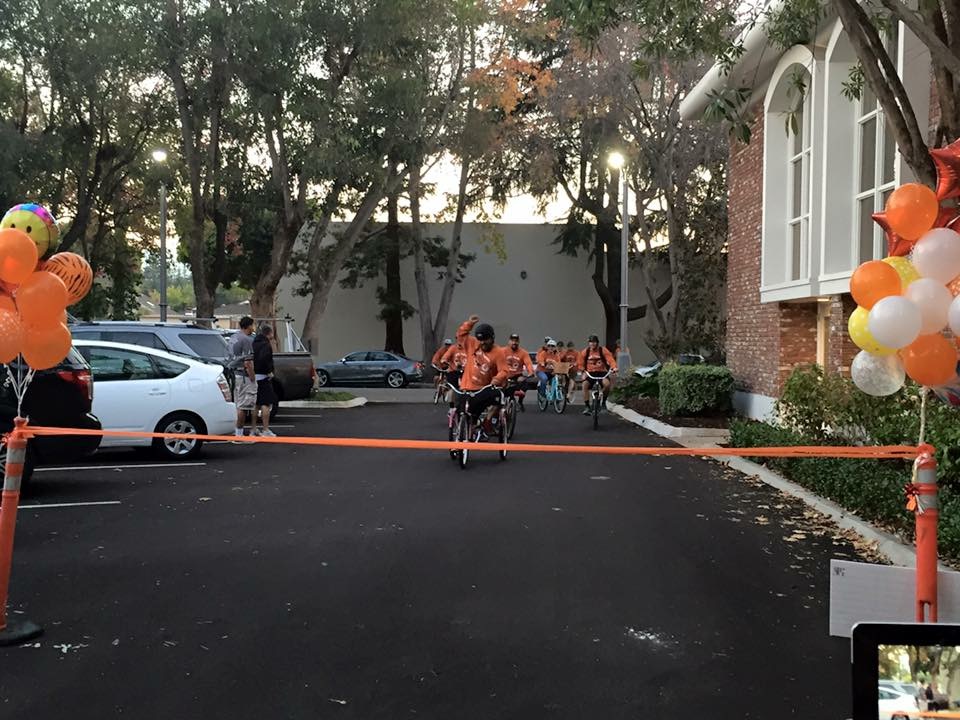 The first year I rode for both my sons, it is with immense gratitude Richard and I ride together, riding for Jason. My sons are my legacy, and I have created this event in their name to be continued in our family for generations to come in the Achica name.
Organizer