Help with AJ's Fight Against Leukemia
Help with AJ's Fight Against Leukemia
On October 6, 2020 a friendly, happy, and loving baby boy, Alexander Justin "AJ" was diagnosed with Acute Myeloid Leukemia. 
AJ was a few days shy of turning 9 months old when his parents, Eric and Maria received this devastating diagnosis.  He is their miracle baby and has been loved by everyone even before his birth.  He is their one and only child.  He is smart and curious and is their pride and joy. He is their LIGHT.
His decline was subtle at first mimicking symptoms of "teething" as he got them early at 5 months old.  AJ began to turn down food and liquids. This progressed to being unable to keep down what little food he did take.  His growth stalled and what had been an energetic boy began to get fatigued.  Eric and Maria consulted their pediatrician and continued to monitor AJ.  On October 5th he was seen at their clinic where his doctor diagnosed him with pneumonia and started him on antibiotics.  They took AJ home. However by the next morning, he was unable to keep anything down and they took him immediately to the emergency room. 
The day was a blur of doctors and nurses in and out of the room, blood draws, and endless tests as AJ continued to be in respiratory distress.  All Eric and Maria can do was to pray for their baby boy to be okay.  That evening they were informed of the severity of AJ's condition and their world was turned upside down with his leukemia diagnosis.  A few days later, he was officially diagnosed with minimally differentiated Acute Myeloid Leukemia (AML-M0).
Leukemia in infants is rare.  Only about 160 cases are diagnosed per year.  Furthermore, it is very rare for minimally differentiated leukemia to present in an infant less than a year old.  AJ has also developed a mediastinal tumor.  This chest mass is pressing on his airway and blood vessels.  This is not typically a symptom of AML, further complicating AJ's condition.
AJ has begun chemotherapy treatments. There is a possibility that he will need a bone marrow or stem cell transplant to cure his leukemia.
Only one month before AJ was born, Eric was laid off from his job.  Due to the current pandemic, he has not been able to find new employment.  Unfortunately, his unemployment benefits will be exhausted before the end of the month. Maria had exhausted her benefits for paid leave of absence when she took her maternity leave with AJ's birth.
AJ's oncologist expressed having him on aggressive regiment of chemotherapy which will require him to be hospitalized for several months.  We know the importance of having his parents at bedside to be a part of his journey to fight this leukemia and have him back home.
We set up this GoFundMe because many of you have asked how you can support the Isons during this difficult time.  All money raised will be used for AJ's care as well as to offset the financial burden for Eric and Maria to be with their baby boy during his chemotherapy.  There is no amount too little and absolutely anything is appreciated.  If you prefer to donate directly to Eric & Maria you can Venmo her @MDL217 (Maria de Leon).
The overwhelming love and prayers has been such a tremendous comfort to Eric and Maria during this time.  AJ has a long road ahead of him, but he is strong.  This little boy will fight for the chance to live a long, happy and healthy life.  We are believers in God's ability to heal AJ's body and guide the doctors, nurses, medical staff in his journey to beating AML. 
Thank you in advance for continued love, support and prayers!
Love and gratitude -
Eric and Maria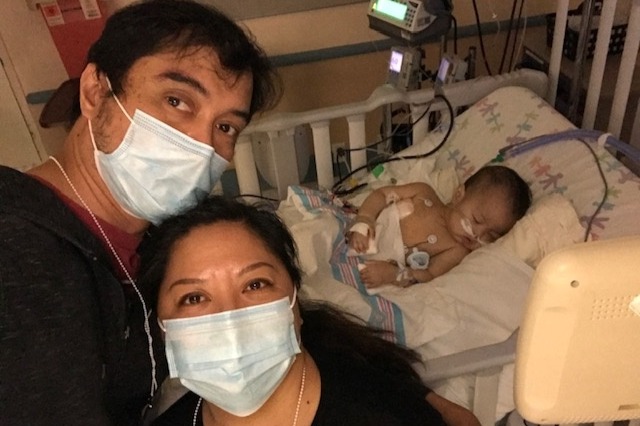 Organizer and beneficiary
Thrieza De Dios Zapanta
Organizer
Hayward, CA
Maria De Leon Ison
Beneficiary