MASTOCYTOSIS : The Fight for Papa John
I'm going to tell you a story about the greatest man I know. The first man I ever fell in love with. My father. To the world, he is just a man. To those who know and love him, he is Papa John. He is a son, a father, a grandfather, a brother, an uncle, a cousin, and a friend. Most of all, he is the rare example of selfless love and what beauty this world has to offer. An Italian born and raised in Harlem, NY...typical. He is one of six children. As a teenager, he moved with his family to East Islip, Long Island. He met, fell in love with and married his high school sweetheart, my mother. They moved to Florida and started a family, their first love being my older sister. Then two years later, came their second, me. With a passion for helping people, my father put himself through college at Barry University and earned his Master's degree as a Licensed Clinical Social Worker. My father and mother made a lifetime of memories in a very short period of time. In 1989, when my sister was ten and I was eight, my mother passed away from Leukemia. My father went through a severe depression after that, battling his demons in silence. I wasn't even aware of this until recently. I know now, that he sacrificed his own feelings to make sure his daughters were emotionally where they needed to be. That makes him the strongest man I know. My father, dealing with losing the great love of his life, now had two young girls to raise on his own. Needing to support us, and having just been laid off, he took a leap of faith and opened his own practice. He is the founder and owner of Stony Brook Counseling Center, which still successfully runs today.
My father was recently diagnosed with AGGRESSIVE SYSTEMIC MASTOCYTOSIS. This is a very rare blood disease (1 in 200,000 people are diagnosed per year) where the body produces too many mast cells. There is no known cure for this disease, however, in hopeful cases it can be managed through treatment. There are four types of Mastocytosis, his being the most aggressive having caused cancer. For the past six months, his loved ones have watched as he deteriorates. Because this is such a rare disease, not many doctors are equipped to treat it or know much about it. As a result, for the past few months all we heard was "I'm sorry. I can't help you, and you only have a few months to live if you do not receive the proper treatment." For months he has been passed from one doctor to another. So needless to say, time is of the essence. He was finally referred to MD Anderson in Houston, Texas, where he is currently awaiting Chemotherapy to be followed by a Stem Cell Transplant. The doctors were glad to hear that he is one of six children, because it is one of those lucky siblings who will hopefully be his perfect match for donating their stem cells to him!
The cost of a Stem Cell Transplant ALONE is $1,000,000 + . This does not include Chemotherapy, blood work, hospital stay (we've been told at least four months) and all other needed testing and expenses. Being a small business owner, his insurance will only be covering a small fraction of his medical costs.
My father has dedicated his life to helping others in more ways than one. One of his specialties is Spiritual and Transitional work. Helping people who are about to pass away from illness prepare for their next journey... making what he is facing, now that the tables have turned, the greatest challenge of his life.
Being that his support system is so far away, I know we are all feeling helpless at the moment. For the past few weeks I have been on the phone with family and friends, and everyone has asked the same thing..."Is there anything I can do to help?" I have thought long and hard about that question. This site is one way my sister and I can give our family, friends and supporters the opportunity to help the man who has given so much so selflessly to so many others throughout his life. Any donation is sincerely appreciated and prayers are always welcome.
Before my dad left for Texas, he said to me "I don't want to spend what little time I may have left wondering, 'Why me?' Because, why anybody? Why mom? Why people who lose limbs or babies who get cancer? Why any of us? Diana, did I ever tell you the story behind the wooden chest in my room?" I said, no. He said "I bought it at a flea market on a really hot day. I had nothing to put it on so I carried it for blocks on my back. I thought, 'Man I'm getting too old for this shit!' I almost knew what Jesus felt like carrying the cross! It was so heavy and I was dripping with sweat, so I had to put it down for a moment to rest. When I put it down, a young man walked past me, sees me struggling and says...'Man, that sucks!' I laughed for a moment realizing he had no intentions of offering to help a guy out, but he actually did help, because I took what he said as a life lesson... 'Sometimes things just suck...and that's simply just the answer.' "
So as my story comes to a close, I have learned to acknowledge my reasons for sharing it with all of you. I have written it for the ones that I love, the ones I refuse to give up on, the ones who have lost their fight, and the ones who have no idea how much they are worth fighting for.
"We're in your corner all the way. Go get 'em, Champ!"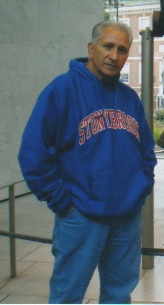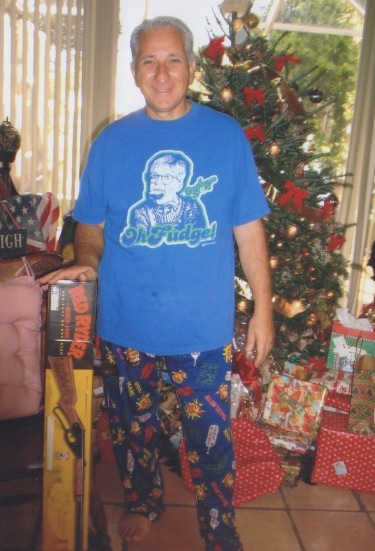 KIMBERLY FAFLIK-NAGELBUSH 
Organizer
Diana Molinari 
Organizer
Fort Lauderdale, FL
#1 fundraising platform

More people start fundraisers on GoFundMe than on any other platform. Learn more

GoFundMe Guarantee

In the rare case something isn't right, we will work with you to determine if misuse occurred. Learn more

Expert advice, 24/7

Contact us with your questions and we'll answer, day or night. Learn more